:: Serves 4-6 ::
All ingredients available from your local Romeo's.
This is one of those show-stopping dishes that looks like it might be a bit daunting, but actually is quite simple when you follow along with the steps! What it really comes down to is top quality ingredients, which is exactly what you get from Romeo's.
Tip: the uncooked beef wellington can be prepared a day in advance. Follow through to where you refrigerate the pastry wrapped beef and then refrigerate for up to 24 hours.
Ingredients
800g-1kg piece of eye fillet beef (ask the butcher at Romeo's and they'll help you out)
200g finely sliced prosciutto from the Romeo's deli counter
1 tbsp Dijon mustard
400g button mushrooms
40g butter
2-3 shallots
2 garlic cloves
2 tbsp finely chopped fresh thyme
2 tbsp cooking cream
2-3 sheets puff pastry
1 egg, beaten lightly
4 tbsp olive oil
Sea salt & cracked pepper
2 bunches broccolini, to serve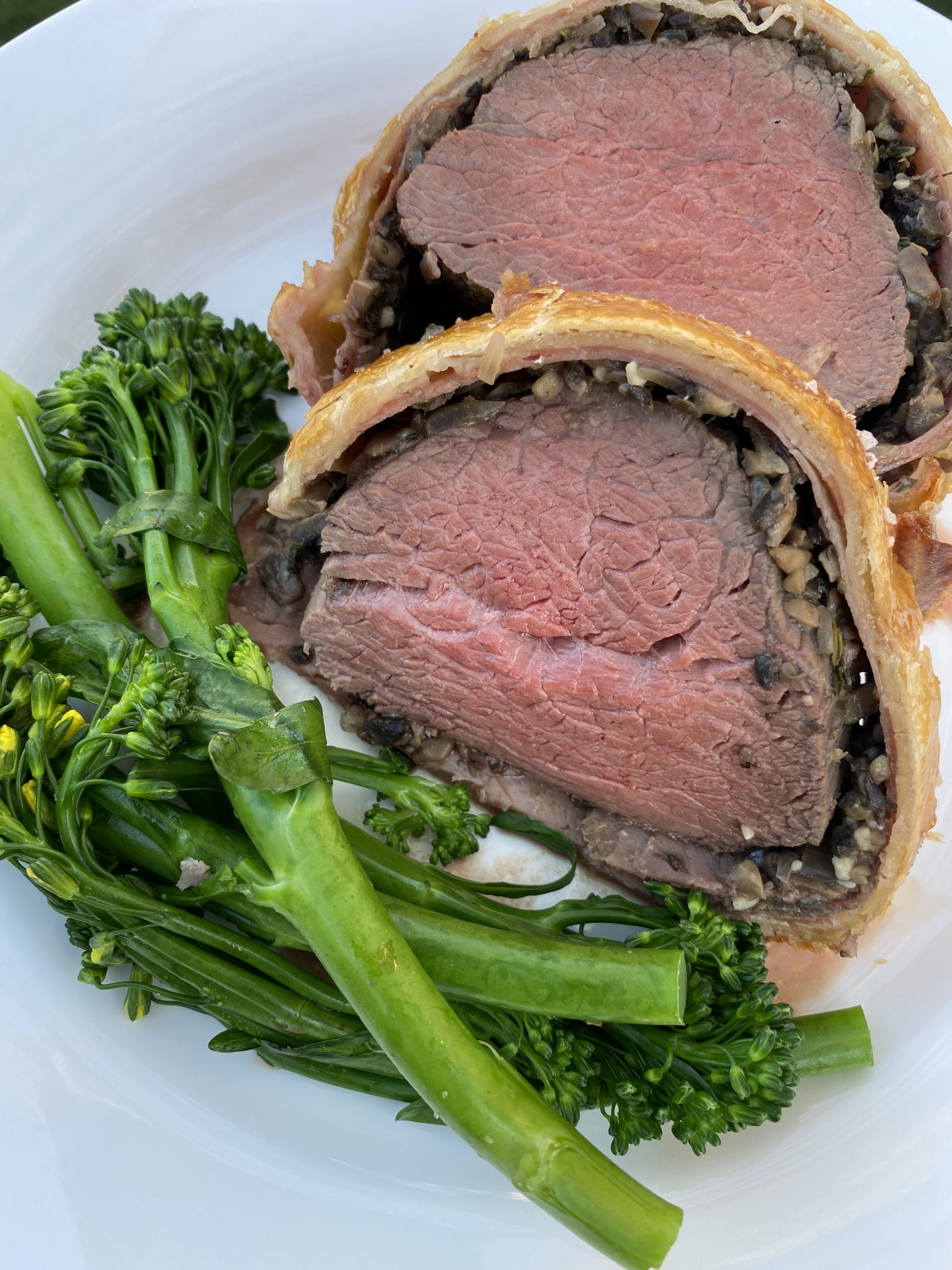 Method
Season beef fillet with generous amounts of sea salt and cracked pepper, making sure to cover all the meat.
Heat 3 tbsp olive oil in a fry pan over high heat and sear beef, turning occasionally for 3-5 minutes or until browned all over. Transfer beef to a piece of paper towel and pat dry.
Brush a thin layer of Dijon mustard all over beef fillet. Tip: this will help the prosciutto to stick to the beef. Refrigerate uncovered in the fridge for about 30 minutes.
Meanwhile, very finely chop the mushrooms, shallots, and garlic. Alternatively, you could pulse them in a food processor to form a fine crumb.
Melt the butter and 1 tbsp of olive oil on low-medium heat in the same fry pan used to sear the beef. Add the mushrooms, shallots and garlic. Season and cook for 8 minutes or until softened.
Add the thyme and cook for a further 2 minutes. Now add the cream and simmer until there is no liquid remaining. Transfer mixture to a plate and refrigerate for about 20 minutes.
Lay a large piece of baking paper onto a clean bench and cover with overlapping prosciutto pieces. Make sure the piece of baking paper is the length of your beef fillet and wide enough to roll and cover the entire fillet.
Spread the cooled mushroom mixture evenly over the prosciutto layer. Lay the beef on the closest edge to you on the prosciutto and use the baking paper to roll into a cylinder. Discard the baking paper. Now you should have a tightly wrapped beef cylinder with the prosciutto on the outside.
Wrap the entire cylinder with glad wrap tightly and refrigerate for at least one hour.
Preheat your oven to 200 degrees (fan-forced). Lay your square puff pastry sheets next to each other and brush the edges with egg wash. You may need to cut and join (with your finger tips) some of them together to make one long sheet that is long and wide enough to enclose the entire beef fillet.
Remove the beef cylinder from the fridge and roll the beef and pastry into a tight cylinder.
Pinch the edges together. Optional: use a knife to make a pattern on the pastry.
Brush pastry with egg wash. Chill in the freezer for 30 minutes, or alternatively refrigerate for up to 24 hours.
Season the uncooked wellington with sea salt and bake for 35-40 minutes or until the pastry is golden brown. Set aside and rest for 15 minutes.
Meanwhile, blanch some broccolini in boiling water.
Slice cooked beef wellington into even pieces and serve with broccolini on the side. Pour yourself a glass of red wine and enjoy, you've earned it!