As seen on Season 4 of Adelady TV on Channel Nine — Thailand Special 
This authentic Pad Thai recipe comes directly from the Cooking @ Home Thai Culinary School. Made with fresh and flavourful ingredients, you can enjoy delicious Thai food at home!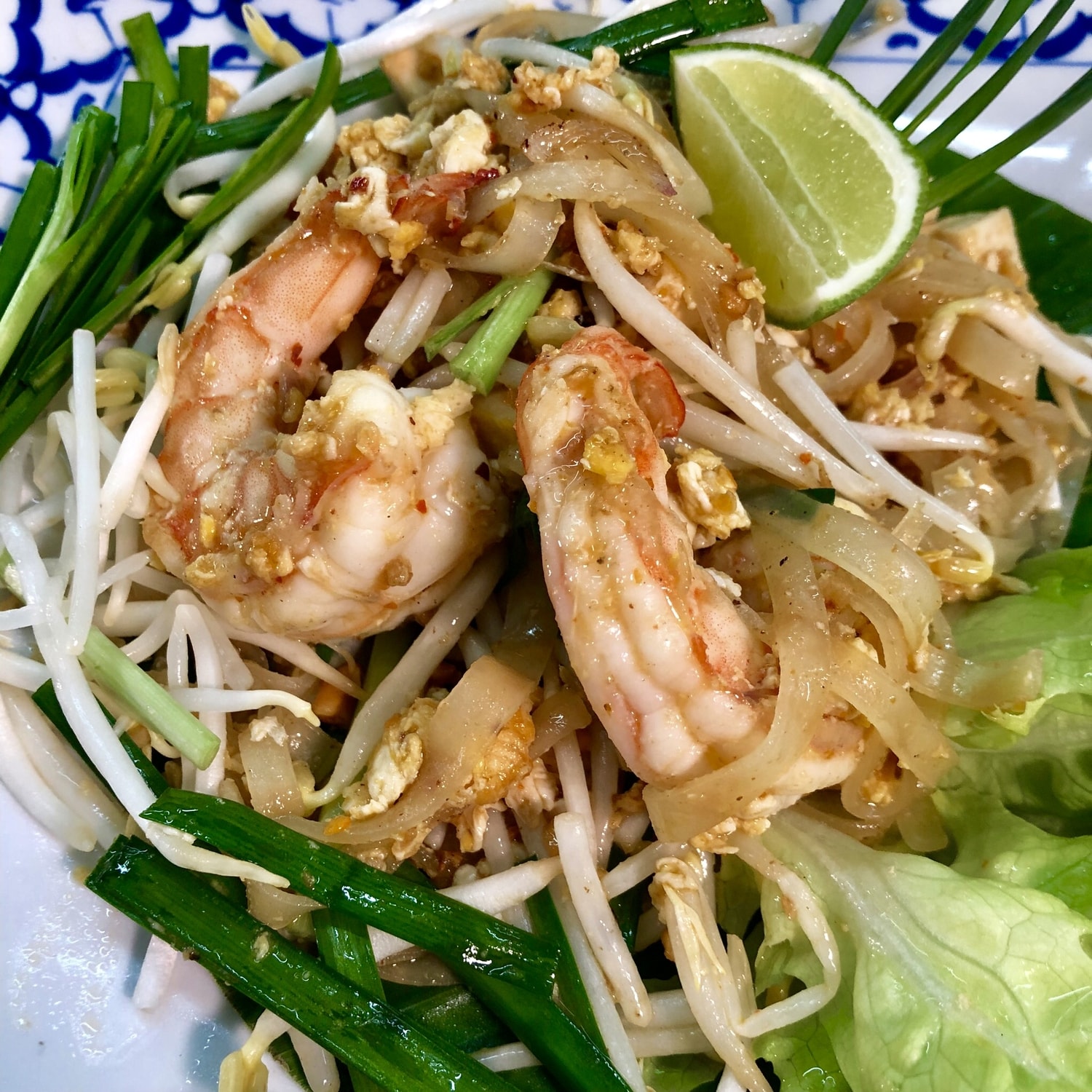 Serves :: 2
Ingredients
¼ cup fish sauce
¼ cup tamarind paste
¼ cup palm sugar or brown sugar
1–2 tsp chilli powder (optional)
1–2 tbsp crushed peanuts (optional)
2 tbsp cooking oil
5 shallots, crushed and roughly chopped
¼ cup diced firm tofu (approximately 1cm cubes)
8 fresh prawns (peeled)
2 eggs
150g fresh rice noodles OR 100g dried rice noodles, cut in half|
3 tbsp stock or water (optional)
1 cup garlic chives, whole stems
1 cup bean sprouts
1 lime, halved
NOTE :: add some seasonings on the side of your choice. Some suggestions are chilli powder, crushed peanuts, and wedges of lime.
Method
Combine the fish sauce, tamarind paste, sugar, chilli powder and peanuts together and mix well. Adjust the flavours to the desired combination of sour, sweet, salty and a hint of spiciness.
If you're using dried noodles, soak them in lukewarm water for 15–20 minutes or until soft. No soaking is required if you're using fresh rice noodles.
Heat the oil on a medium heat until hot. Stir in the shallots and tofu, and stir-fry until you can smell the luscious fragrance from the shallots, and the tofu turns a beautiful golden colour.
Add the prawns, and fry until they are partially cooked. Push them up along one side of the wok, and crack the eggs into the cleared area. Scramble lightly until the eggs are cooked, and chop into small chunks. You can add a tablespoon of oil before you crack the eggs in if the ingredients get too dry.
Add the noodles and the sauce mixture, and stir well until the sauce evenly coats the noodles. Get a spatula under the noodles, flipping and stirring quickly until the noodles absorb most of the sauce and soften completely. If the noodles are still too firm, add a little stock / water (one tablespoon at a time) to allow to cook a little longer.
Lower the heat, or turn it off completely. Add chives and bean sprouts, and toss, mixing them well with all the other ingredients until the vegetables are cooked to your liking. The leftover heat will cook the vegetables and keep the noodles from over cooking.
Serve warm onto individual serving-size plates and tailor the taste to your liking with side seasonings.