When you think of the Riverland, 6-star luxurious waterfront accommodation probably isn't the first thing that springs to mind. But I'm about to really shake things up and tell you about SA's award winning, super duper fancy, ultimate outback luxury accommodation on the Murray River —The Frames Luxury Accommodation.
Third generation River locals and husband and wife duo, Cathy and Rick built these stunning private retreats over looking spectacular views of the River, in the hope that more people will see the beauty of the Riverland through their own eyes. "We just want everyone  to come to our region and have the most magnificent experience so they go home and tell all their friends just how spectacular the Riverland is!" says Cathy.
The three retreats: Montage, Collage and Pastiche, have been designed with world class luxury and ultimate privacy  in mind — and no stone has been left unturned when it comes to detail. Even the bath towels have been folded to look like a piece of art! I had an elephant at the end of my bed, what a lucky girl I am!
But which retreat do you prefer?
The Collage :: Book HERE 
4 guests, perfect for two couples
Luxurious bedrooms and ensuites
Stunning views and heated private pool
The Montage :: Book HERE 
2 guests
Private hydrotherapy spa
Infrared sauna
Outdoor pool
Private outdoor bath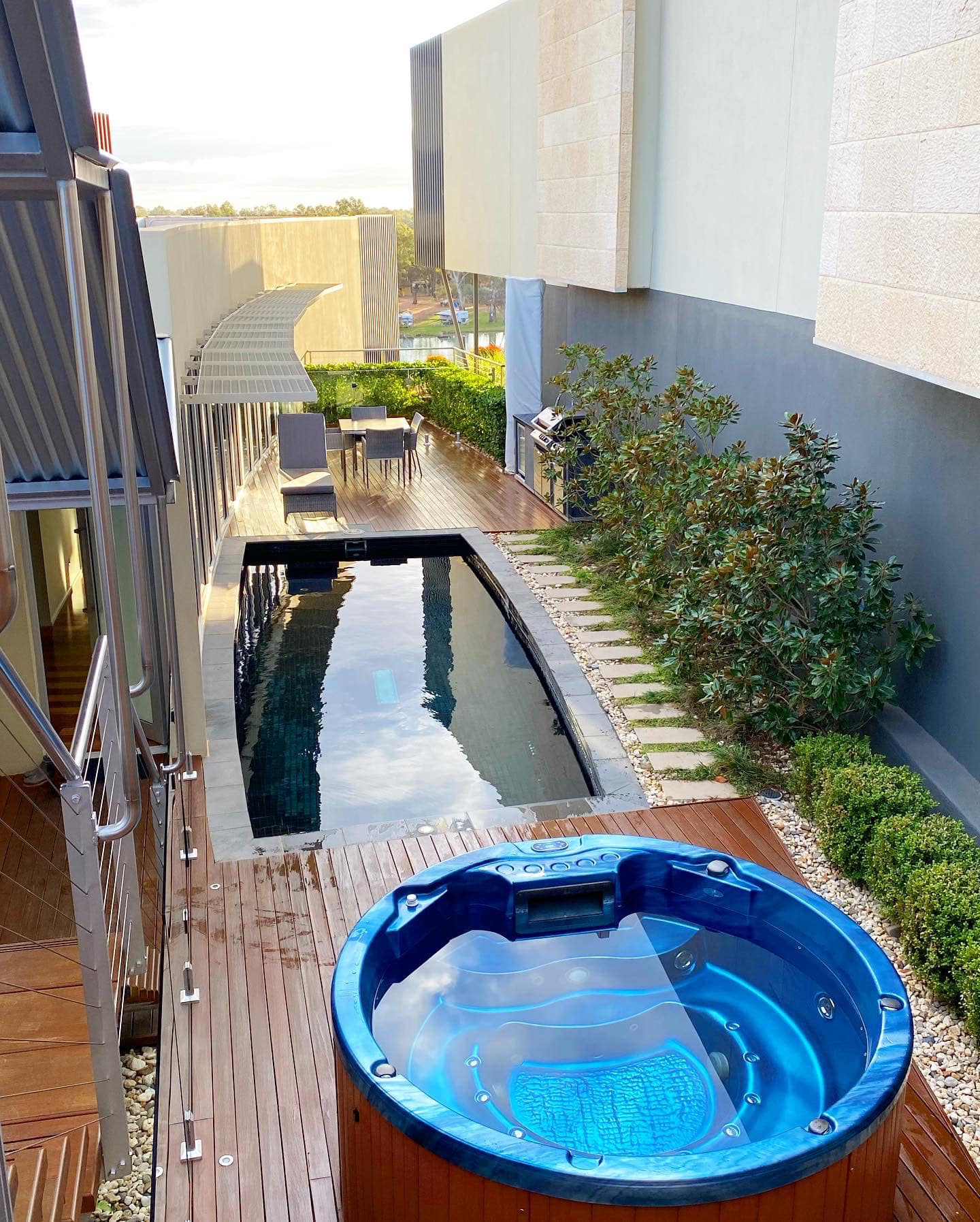 The Pastiche :: Book HERE 
2 guests
Bedroom river views
Sunken Spa
Waterfall Feature
Private heated pool
As part of your stay, you'll receive everything you need to put together the perfect  continental brekky — muesli, fruit, croissants, eggs, tomatoes, mushies, fresh bread, milk, tea and coffee. But if you want to up the ante a smidge and feel like a big time celebrity, you can have your own private chef Pete! Pete will whip you up a decadent feast in your retreat while you hang poolside. Oh, and he even washes the dishes for you afterwards.
It's not just the luxury accommodation at The Frames that have put them on the world map, it's the experiences they offer to their guests. We've been lucky enough to take one for the team (lols) and had an absolute ball doing the following experiences.
+ Sunset cruise with champagne and nibbles in their beautifully restored Gondola — this is a must, especially for couples, it's SO romantic!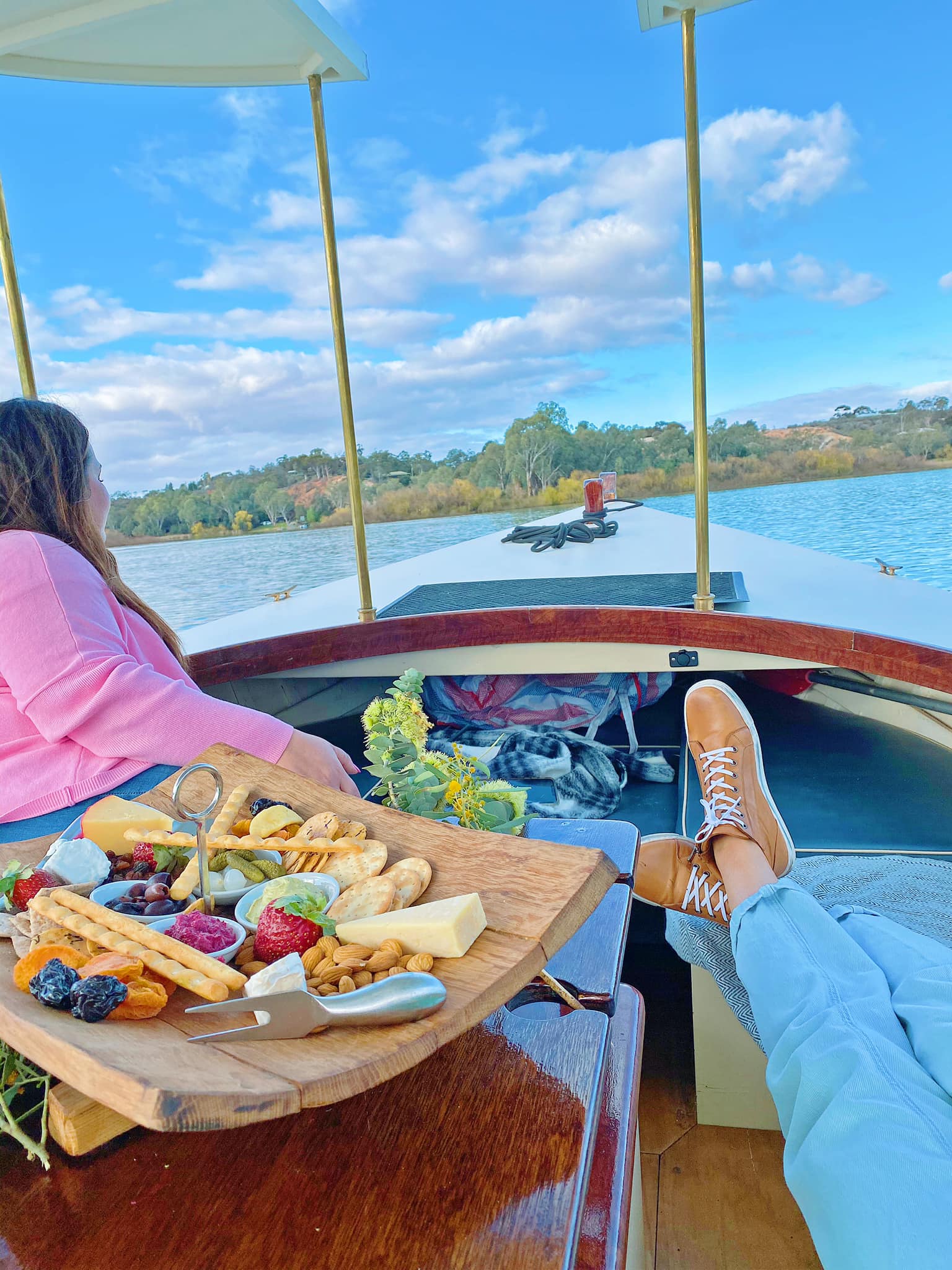 + Wetlands and Wildlife Safari cruising through the backwater creeks and wetlands in The Frames' awesome new customised dinghy! You'll get to see parts of the Murray River that most people will never get to see. It also includes morning tea and a delicious gourmet BBQ lunch on the riverbank. In winter, you can also warm yourself by a crackling fire.
+ Massage therapy. Nothing screams luxury like your own personal massage therapist! She will come to your retreat and set up a massage bed whenever you want: in the pool area, over looking the river on the outside balcony, in the bedroom… wherever you want it!
And the great thing is, all their tours are private which means you don't have to hang out with other groups of people… if you don't want to. We only just scratched the surface, there's loads more exclusive experiences on offer, just head to their website HERE.
So how do you get there? Well, you can of course drive yourself like we've done many times, or if you prefer to arrive in style, The Frames can arrange a professional zero emissions chauffeur service. For those who prefer to fly, they also offer a pickup service from the airport.
The first time we came to the Frames was three and a half years and MANY tourism awards ago. Since then, we've told so many people about this magical river accomodation and of course boasted about the lovely owners Cathy and Rick, who continue to pour their hearts and souls into making The Frames what it is today… absolute bliss.
So, if you want to WOW your lover or surprise someone special, whisk them away to The Frames, it'll be everything you've dreamed of and more! Head to their website HERE.
Hayley xx