For those in the know, the Murray River, Lakes and Coorong region is absolutely spectacular with breathtaking scenery, plenty of native wildlife, loads of river fun to be had and, of course, great food and wine! 
But if you aren't in the know, well, that's our job to tell you all about this fabulous part of South Australia. For those who want a little more, then the Murray River, Lakes and Coorong is your kind of gal!
Here's everything we did during our two-day adventure…
It's the only inland lighthouse in the Southern Hemisphere and it's right here in SA! It stopped working back in 1931 but today it's used as a marker between Lake Alexandrina and Lake Albert. And the views from the lighthouse over the lakes are definitely worth the visit!
Image: Point Malcolm Lighthouse by Garry Searle
If the Coorong was a man, it would be named Glen. Glen is known in the region as The Wild Man of the Coorong because let's face it, he IS wild! Coorong Wildside Tours offers a range of personalised experiences in the Coorong and they know the region like the back of their hand so they can even tailor a tour to your needs. I tried the Seafood and Seals tour but don't expect a relaxing cruise with Glen. Glen is all about fun and giving his customers a raw and wild time on the water… I mean, I wasn't expecting to be driving his boat, or doing donuts, but hey, C'est la vie!
Coorong Wildside Tours takes you to places where other boats can't and that's why they have such a great rep. Once you've had your fun on the water it's lunch time and they sure do serve up an incredible seafood feast. Their Coorong Mullet Burgers and Salt and Pepper Carp were A-grade.
The new kid in the block, Freshies is a must-visit when in Meningie! From 7am every day (excluding Monday and Tuesdays) they serve up the best brekky, lunch and dinner and the locals rave about it — AND I know why! Their gourmet rolls, classic bacon and egg rolls are super popular, but the dish that I keep dreaming about is their granola bowl. Oh, it's mouth-wateringly delicious and worth the drive to Meningie, just for that! This family-owned business — mum Sharon, daughter Jackie, and her partner TJ, are nailing the vibe and the coffee. Their oat milk lattes are second-to-none.
Right next door is the Cheese Factory Museum which, I should point out, has absolutely no cheese. It holds thousands and thousands of memorabilia dating back to the 1900s. For history-loving Adeladies, you will get giddy at the sight of these old-time artefacts and the stories behind them.
What a classic story this is. South Australia's only claimed bushranger was transported to the region from London after he would climb down chimneys and steal precious jewels from the wealthy. It turns out, he didn't learn his lesson and he continued to do this in the Coorong — and the best part of the story was that his getaway vehicle was an ostrich! You'll find this statue on the Princes Highway and, yes kids (and adults), you can climb on top for a photo.
I love a group of creatives who come together to sell their works. Cottage Industries is a gorgeous building (opposite the Birdman of the Bush) and inside is an array of homemade fashion, plants, arts and crafts, pottery and more — all made by locals. You can also meet the maker, as all the business owners have a turn working in the shop. It's such a lovely, welcoming place, you won't want to leave. 
Trust us to find another awesome accommodation, just 100 meters from The Coorong. Coorong Cabins offers two fun and beachy-vibed cabins — a studio and a family-sized retreat. The studio has everything you could possibly want… and some! A kitchen, a fire, the comfiest bed, lounge area and amazing bathroom. The owner, Mick, has thought of everything — you even have a pantry full of things holidayers might need, like pasta, cereals, tuna, snacks and more. The family-sized cabin sleeps up to six people, has a great sized kitchen and lounge area, a deck, a fireplace and all the bells and whistles you need for a great river holiday. These 4-star cabins are also super family friendly with an award winning garden, sandpit, trampoline and games room!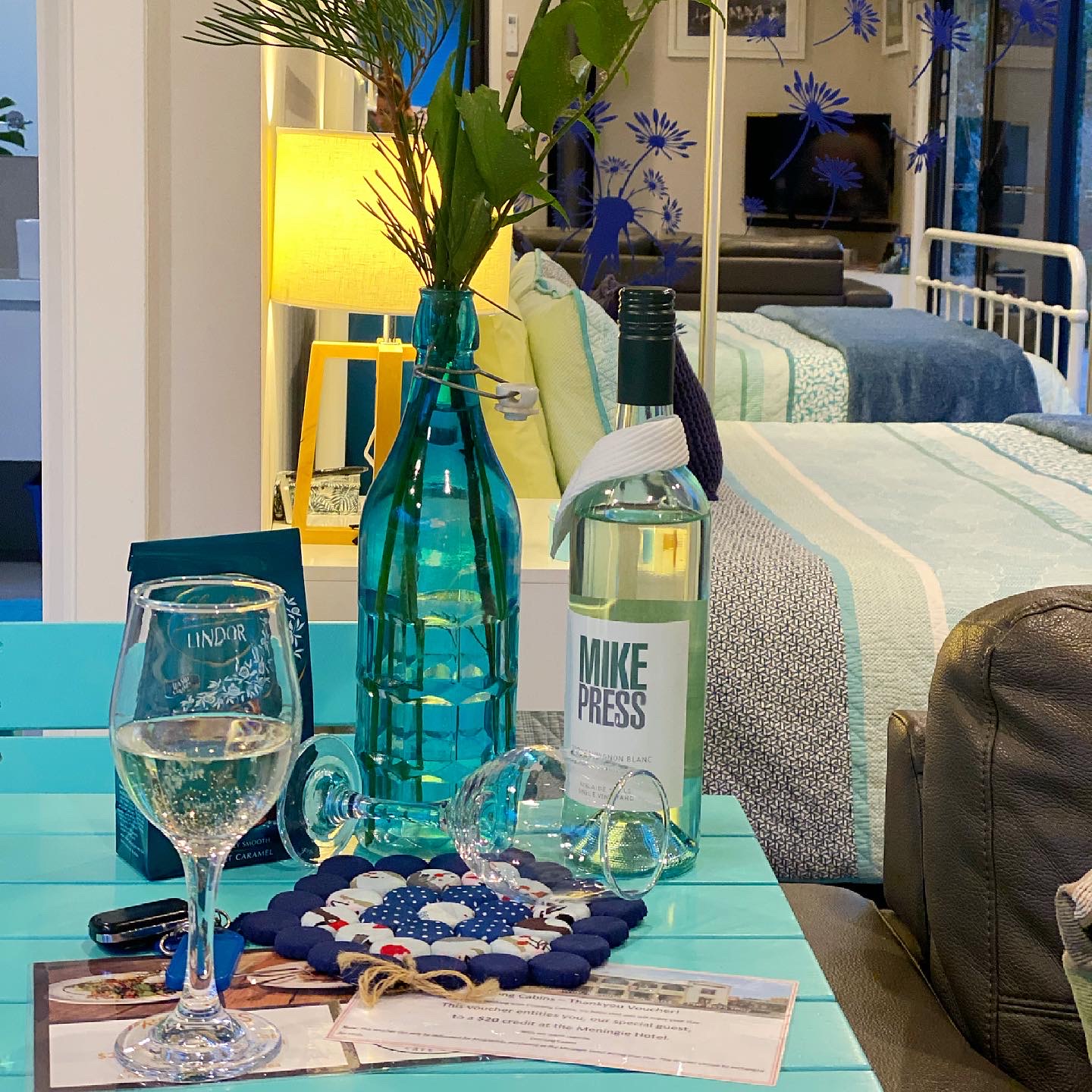 I didn't think Bremerton Wines could get any better, but this sister-run winery in the heart of Langhorne Creek just got even more magnificent with a massive architecturally designed expansion, both inside and outside. The cellar door has doubled in size and they have merged the old with the new, seamlessly. The outside area now has manicured lawns that even the best gardeners would be jealous of and plenty of area to sit and chill, covering you in winter or summer sunshine.
If you're not sure what to try, try a wine flight! And if you prefer something harder, they also offer gin flights with their amazing Willson Gin, which the sisters, Bec and Lucy, originally created for their dad's 70th birthday. Once you've quenched your thirst, it's food time and, ohhh my goodness, their food is outstanding! The pizzas, platters, even their baked brie is enough to send you into food heaven. 
Kelly from Juggle House Experiences is the ultimate tour guide for our great state! She offers tours all over South Australia and her point of difference (apart from her joyful personality) is her Entertainer Limo. You get picked up in this beast, which is decked out with TVs, bubbles, leather seats, a red carpet and you can even do karaoke while on board.
I tried her Langhorne Creek Wine Tour which kicked off at one of my faves, Lake Breeze Wines. A gorgeous lunch overlooking sensational views and, of course, a wine flight — it couldn't have got off to a better start. We then jumped back in the Entertainer and travelled to our next destination, Vineyard Road, for a choccy and wine pairing. Ooh-lah-lah! Kelly can also tailor a tour to your liking, so jump on her website and get cracking! 
California dreaming! This hot new hotel has taken Murray Bridge to a whole new level and the 45million dollar stylish transformation didn't miss a beat. Set in the heart of Murray Bridge, right on the riverbank, the new Bridgeport Hotel features 100 hotel rooms, six bars, great restaurants, daily High Tea experiences, gaming rooms and plenty of conference and event spaces. The jewel in its crown though, is the infinity pool overlooking The Murray. I mean, check this baby out…
The Murray River is the only river in the world to have its own flag and the Murray Princess wears it proudly. What better way to see the Murray than on a 3, 4 or 7 day majestic river cruise on-board the southern hemisphere's largest inland paddlewheeler, the PS Murray Princess. Your unforgettable escape begins with a red carpet roll-out as you board the vessel, and not long after you'll be sipping on cocktails in the Queen's Lounge soaking up the stunning Murray views, indulging in amazing breakfasts, lunches and dinners in the grand dining room and hopping off the ship to explore the various townships along the way. 
To find out more about this magnificent region and to start planning your next Murray River, Lakes and Coorong holiday jump on southaustralia.com and murrayriver.com.