Everyone deserves a stylish life… without the price tag!
Serafina Boutique is a women's fashion label designed by South Australians, for South Australians. With eight stores across SA and a fast growing fan base, Serafina is an Adelaide success story. "It all began with my mum Nola, who used to buy her friend's jewellery from the international jewellery fairs. This became so popular that we decided to turn it into a wholesale business. We must have caught Norwood Place's eye because they saw what we were doing and offered us a space outside their centre, and the rest is history," says co-owner Michael.
Photo :: Wayne Pearson 
Hold up though… talk to Michael's wife Emily and 'history' also includes the pair opening up another shop in Unley Shopping Centre just two days after they got married! "It was soooo romantic, we spent our honeymoon in the shop," laughs Emily.
Ten years and a couple of kids later, the duo (with Nola's support) have absolutely nailed what women want. "Our outfits are made for Adelaide women — we take into account the climate, practicality, and all items are based on the everyday woman who needs to be able to go about her day but still feel fantastic and stylish."
Emily is in charge of the fashion side of things and her priority is making sure she's building a wardrobe that's not only timeless and stylish, but has been designed for the everyday woman. "We always listen to what our customers want and consider their requests every step of the way which is why it's been so successful."
Photos :: Wayne Pearson
From extra small to extra large sizes, you can tell a female is behind the design choices. "The essence of our brand is providing coverage in all the right places," says Emily.
The thing I love about Serafina (and there's a lot to love) is that they make clothes that are stylish and fun for women in their twenties and thirties, but also make golden girls feel young again. With bright colours and bold prints, you always get an extra pep in your step when you're wearing one of their affordable outfits.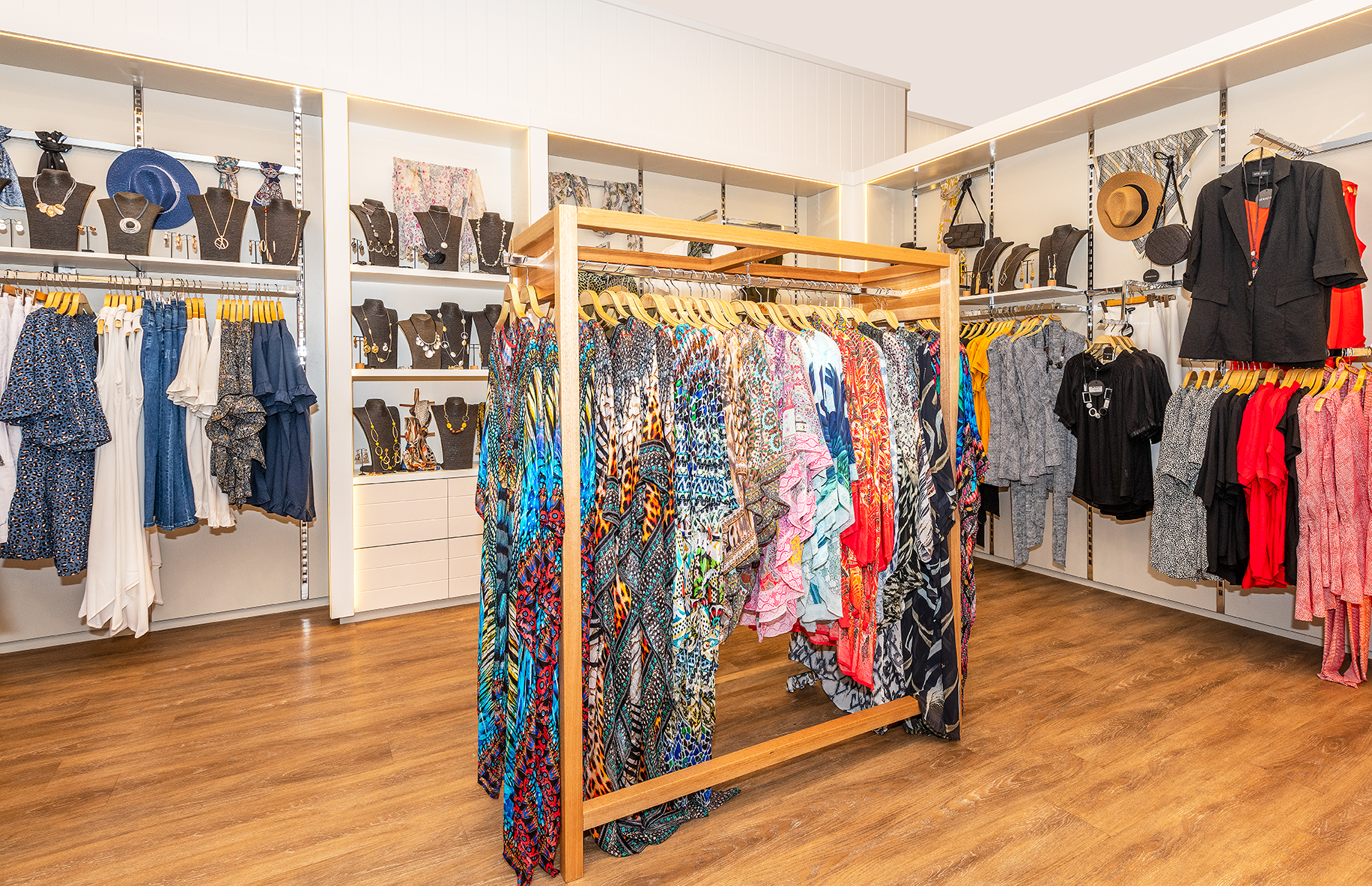 Photo :: Wayne Pearson
Everything has been thought of. "Our fitting rooms in the newest shops are double the size of normal change rooms because we want our customers to come in and feel like they can relax and take their time, with plenty of space so they don't get all hot and flustered. We want mums to bring in their kids and prams, and not feel claustrophobic."
Photo :: Wayne Pearson
While Emily has the fun job of picking designs and fabrics, Michael is the veto guy. "A big part of the success of our business is our staff. We only hire people we trust and who genuinely love Serafina, as we know they have input into our brand. Pretty much all of our staff were customers we knew before they became part of the Serafina team. They'll often come up with design ideas based on what they think customers would like, and we always listen."
Serafina Boutique is spreading style and confidence all over our fine state. From Norwood Place, Unley Shopping Centre and Rundle Place, to Westfield West Lakes, Westfield Marion, Golden Grove, Harbour Town, and now, Castle Plaza.
Hayley xx