Well done South Australia! It's been tough, but you've done the right thing and stayed inside, and now we can all reward ourselves by venturing out to explore! Whether it's your first trip, or the first trip in a while, there has never been a better time to hop in the car and go on an adventure to the Yorke Peninsula!
Fishing, surfing, camping, bushwalking and wildlife galore, Yorkes is the perfect seaside nature escape. But it's also home to some excellent breweries and accommodation options. So, let's dive head first into our #WelcomeBackSA Yorkes Itinerary!
Innes National Park
Innes National Park is a hotspot for a truckload of outdoorsy activities like camping, fishing, surfing, and of course — bush walking. In fact, the best way to explore the park is on your own two feet… with trails ranging from 30 minute strolls to bigger four hour hikes. If you prefer to sit on your toosh instead, the whole park is accessible by 2WD so you can sightsee from the comfort of your car.
Between the lighthouses and what seems to be never-ending wildlife sits the historic Inneston Village. For 20 years, Inneston Village was a fully functioning mining town with a population of around 160 people. And they seemed to have everything a mining village needed — a school, a post office, a bakery, a general store… but oddly enough it missed two things: a church and a cemetery. Go figure?


Ocean Pods
Your biggest decision here is whether to go left or right! Either way, you'll end up at one of the two Ocean Pods — Pod Poolside or Pod Hilltop!
Perched on top of cliffs overlooking the gorgeous Butler's Beach sits one of the most unique accommodations we've ever had the pleasure of staying in — Ocean Pods! This is glamping at its finest. Ocean Pods is completely off the grid, and designed to leave a low environmental footprint with their high energy efficiency rating, using solar power, rain water and plenty of recycling. In saying that, it still has all the mod cons you need. Inside both Pods, you'll find a heater (which is a must-have in winter), a gas stove, a grill, an oven, a BBQ and even all the utensils you'd need to cook on the open fire if you wish. They also have a TV, a kettle, a shower, and two beds (a single and a double).
If you can't live without your fur baby, they are welcome too — for just $20 a night. And if you'd like your friends to join you in a camper-van, caravan, or tent alongside, they can! Just enquire on their website or over the phone. You'll probably chat to the owner Pam, she's lovely.
The Pods offer linen, bedding, bath towels and beach towels, so in summer all you need are your bathers, surf boards, and a bucket and spade for the obligatory sandcastles. In winter, your only prerequisites are marshmallows and puffer jackets — because Yorkes does get chilly! In winter, the sunsets and sunrises are especially beautiful and you can also  warm up by doing Walk the Yorke. Which brings me to my next point…



Walk the Yorke
Okay, so here's how you explore Yorkes and work on your love handles at the same time! Walk the Yorke is made up of more than 500km of continuous walking and cycling trails from Port Wakefield all the way to Moonta Bay! Along the way, you can see the Yorke Peninsula's spectacular coastline and diverse coastal communities first-hand!  You can choose between short walks or a day walk, or for the more adventurous, why not try a multi-day walk?  Download the Walk the Yorke leisure trail map, and start planning your next adventure!


The Bond Store
We found the trifecta here in Wallaroo… a micro brewery, distillery, and restaurant all in one funky new bar. Derek and Nicole are the husband and wife duo behind this new Wallaroo hottie. "Nicole loves gin, I love beer, and we don't like arguing — so we have both," lols Derek.
The bar is stylish and super chic with an inner city feel, but without being one little bit pretentious. The microbrewery's stainless-steel tanks are a stunning backdrop to the bar and restaurant on the top floor… while the gigantic copper still, "Ginger", is the Queen of the gin bar downstairs.
Nicole is the head distiller (of course) and she whips up a colourful array of her signature, refreshing gins using local botanicals where possible, and also picking fruit from her veggie patch behind the bar. Here you'll see the likes of True Blue Gin, Pink Gin, Classic Gin, Cold Brew Coffee Liqueur and my personal fave, the Quandong and Blood Orange Gin! You can purchase them online HERE or we highly recommend popping in and trying a few of these drops in a couple of their tasty cocktails!
If you prefer beer (like Derek), then go and indulge in some of the twelve taps on offer in the brewery bar upstairs. "Our brewery caters for everyone, people who are happy for an easy commercial lager style all the way up to the beer geek who loves a hoppy, strong flavoured drop," says Derek.
What goes well with beer? FOOD! And the menu at The Bond Store is magnificent! Our hot tip… get the platter! It's  full of homemade pickled veg, dips, relishes as well as local meats and seafood. They love showcasing local artisans and producers in all of their dishes, which are designed just the way we like it… to be shared.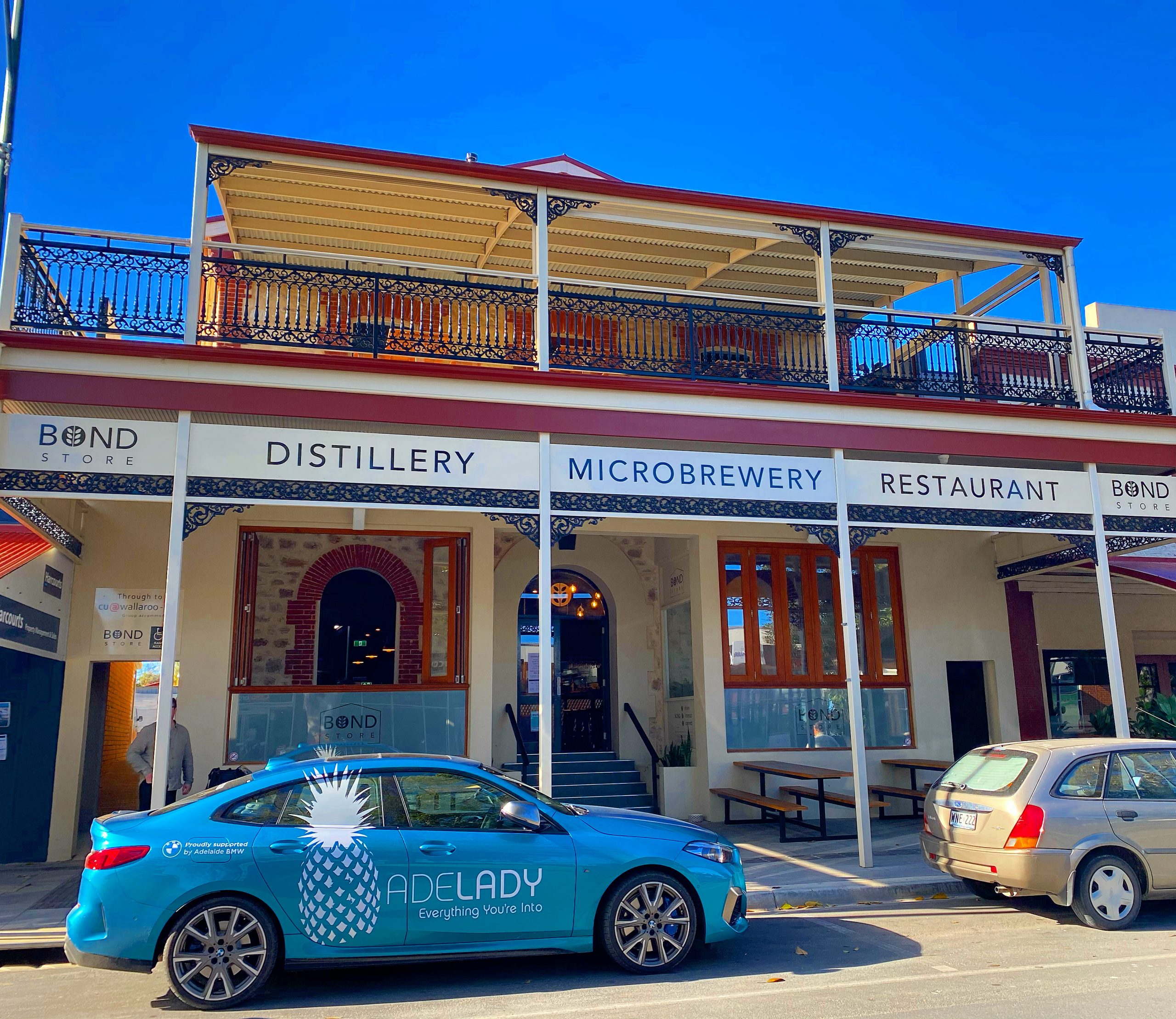 Watsacowie Brewing Co.
First impressions are everything and when you step inside Watsacowie, you're greeted with smiles and immediately feel right at home. Located in the heart of the Southern Yorke Peninsula you'll find this family owned and run craft brewery that the locals seem to froth over. And why? Here are 5 reasons…
The cold brew
You'll find 12 beers and ciders on tap, served icy cold all year round! They brew their own craft beer on site but if you're more of a wino, you'll also find a small selection of South Australian wines on offer.
The dogs
Jazzie is everything! She might be getting old but she's definitely still a crowd pleaser and loves children! She turns into a puppy, wagging her tail when kids walk into the brewery with their parents. And your dogs are welcome too! Make sure you snap a pic of them and use the hashtag #DogsofWatsacowie!
The Live music
Yep, they love live music and supporting local bands so most weekends you'll find the brewery getting "lit" with great live tunes and the best part? It's free!
The Food
Even though they don't have an onsite chef, they are friends with lots of local foodies and caterers so you'll find that most weekends there is something cooking at Watsacowie! Check out their social pages to keep updated with what's coming up and when.
Cornish Bakery
Mind blown… do you know why that the Cornish pasty has the "crimp" on top? Well, back in the day the Cornish miners would be underground eating pasties and their hands were so filthy that they held the crimp like a handle and would throw it away afterwards! I bet you never knew that! The pasties at The Cornish Kitchen are beauties. The pastry is light and has the perfect amount of crunch. And the vegetarian pasties are to die for — they swap the meat with cheese and it is ACE!
Moonta Mines railway fun!
In its heyday, Moonta was the biggest town in SA (second to Adelaide) and famous for Copper Mining — now we are lucky to learn all about it! Departing from the platform adjacent to the Moonta Mines Museum, the Moonta Mines Tourist Railway is a guided tour of the historic Moonta Mines State Heritage Area.
Local drivers like Archie are so lovely and knowledgeable as they show you loads of historic landmarks of the former mining operations.
So, what are you waiting for? We live in the best state, so start planning your next SA adventure and head to southaustralia.com/WelcomeBack to decide which region you'd like to visit first.