Itinerary: Adelady does the Indian Pacific to Rottnest Island
If you want to go on a wonderful adventure from Adelaide to Perth on board the Indian Pacific, feel free to steal our itinerary. Here's everything we did! You can book your next Great Southern Rail adventure HERE.
:: Thursday 
6pm — Arrive at the National Wine Centre to check in for the train and you'll be treated to SA on a platter… gorgeous local wines, delicious SA produce and great company!
8.30pm — You'll then be escorted to the Adelaide Parklands Terminal where, like Harry Potter, you'll board this magical train to Perth!
9.40pm — Indian Pacific departs Adelaide. All meals and drinks are included with their amazing fine dining Queen Adelaide Restaurant. You can hang at the bar, or head straight to your bedroom where you'll be rocked to sleep like a baby.
:: Friday 
Wake up on the edge of the awe-inspiring Nullarbor Plain. A mouth-watering breakfast is served between 6.30am-8.30am in the Queen Adelaide Restaurant.
Today, you'll travel the longest straight stretch of railway in the world!  You'll also have the opportunity to visit a real-life Australian ghost town, Cook, where the population is FOUR! These are the old jail cells…
6pm – 7.45pm — Tonight, you'll disembark at the remote outpost of Rawlinna. In Summer, you'll dine at a long table under the stars. In winter, you'll be served delicious wines, canapes, and dance the night away to a live musician belting out songs from the 60s, 70s, 80s and 90s.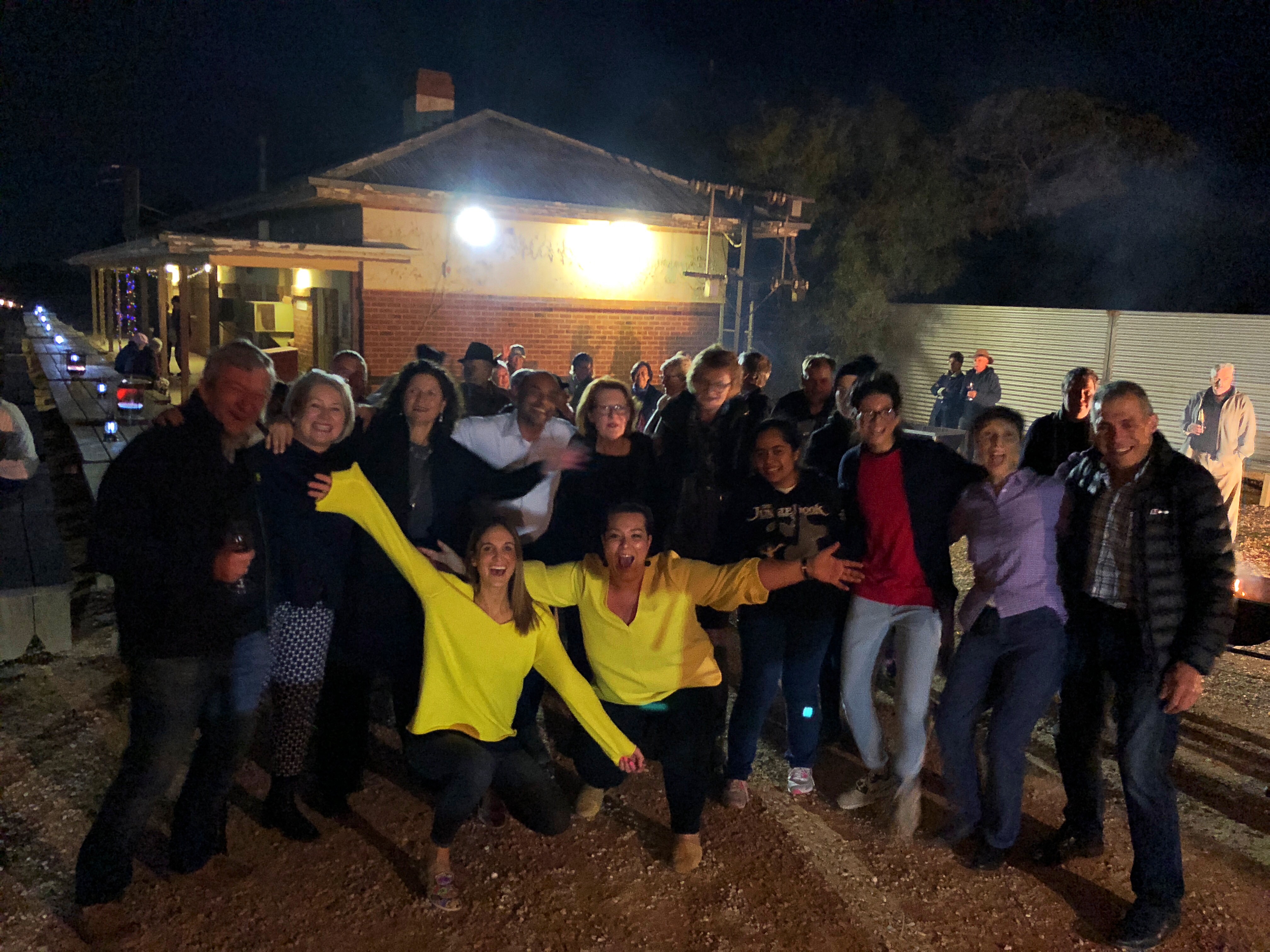 7.45pm — Jump back onboard for some dinner, and spend the night on the train.
:: Saturday 
Wake up and peer out of your window where you'll see the quaint country towns and golden wheat fields of Western Australia's Avon Valley. Your three-course breakfast is a little bit later today (it is the weekend after all), so you can snooze a touch longer.
Today, you're free to do whatever you please: you can sit and watch the world go by, relax in the lounge with a cheeky wine in hand, dive head first into that book you've always wanted to read –- whatever you do, it will be one of the most peaceful days of your life.
3pm — Arrive in Perth. Uber to your hotel and have a night to stretch your legs and explore the wonderful city of Perth!
:: Sunday
6.30am — Get an Uber from your hotel to the Ferry Terminal in Fremantle.
7am — Arrive at B Shed Ferry Terminal Fremantle to check in, and grab a sneaky coffee at the onsite cafe.
7.30am — Depart Fremantle on the Rottnest Express to the amazing Rottnest Island! It's a 25 minute ferry ride.
8am — Arrive at Rottnest Island. Collect your bike and helmet as you disembark from the ferry at Rottnest Island.
Check into Hotel Rottnest! You can get your bags delivered directly to the hotel — or if you're game like us, try to ride with your bags on your back. (We would recommend the first option.)
Today, enjoy the day exploring Rottnest Island at your own leisure. Here are some suggestions:
:: Cycle one of the recommended cycling trails on the Rottnest Express Map
:: Eat fresh seafood at Thomson's
:: Take a Rottnest Island Volunteer Guided Tour, check daily schedule outside the Salt Store or enquire at the Rottnest Island Visitor's Centre
:: Enjoy a cocktail at Hotel Rottnest
:: Cycle to the Lighthouse
:: Take a walk to the Salt Lakes
:: Take a selfie with a Quokka (don't touch or feed the quokkas)
:: Sample a famous delicious jam doughnut at the Rottnest Bakery located in the Thomson Bay Settlement
:: Lunch recommendations: Hotel Rottnest or Thomson's Rottnest
:: Monday 
9am — Brekky at any of the delicious cafes along the foreshore.
11.20am — Arrive at the main bus stop for your 90min Discover Rottnest bus tour. They will take you on a hop-on hop-off lap of the island where you'll learn about all the history of Rottnest as well as some fun facts!
1pm — Have a delicious lunch at Hotel Rottnest.
2pm — Check in for your ferry ride back to Perth on the Rottnest Express. Check in is 30 minutes before departure.
3pm — Arrive at B Shed Ferry Terminal Fremantle where you can Uber it to the airport or to a hotel… what you do from here is up to you!
To book an adventure on the Indian Pacific to Perth and Rottnest Island, head over HERE.
Happy holidays!
:: Sponsored ::