By Simone Mundy
Casablabla is a favourite of mine if you're catching up with gal-pals after sitting at a desk staring at the computer all day. Work worries disappear as you enter the Moroccan/Turkish inspired bar areas located on Leigh Street in the city.
The Courtyard with Cambodian influences is where I love to spend balmy afternoons and evenings with my girlfriends tucked into a spot – often unknowingly seat dancing due to the music's infectious vibes. This is my pick for those that love to bust some dancefloor moves. They have bands, belly dancers, Brazilian drummers, ukulele strummers, flamenco dancers, soul singers and DJ's who make the dancefloor heave until well into the night. There's something different each night to tickle your tail feather.
Casablabla's bar staff make a mean cocktail and the kitchen has all the right ingredients to fuel your moves. Tapas plates with inspiration from around the globe are always available and will have your mouth watering. For midweek eats you can indulge in authentic paella on a Tuesday, a share platter dinner deal on Wednesdays and on Thursday nights you can gorge on gourmet pizzas.
The Howling Owl is my perfect intimate location for sharing secrets with your ladies. Licensed café for daytime rendezvous or get your cocktails shaking at night. Although they stock some of South Australia's best boutique bubbles and wine, The Howling Owl is the stop for Gin Gals. With over 30 small batch gins, you'll hit the spot drinking G&Ts, Martinis or sippin' on Gin & Juice. I highly recommend letting the bartenders work their magic with spices, fruits and herbs – I'll never forget my first taste of gin with strawberries and cracked pepper!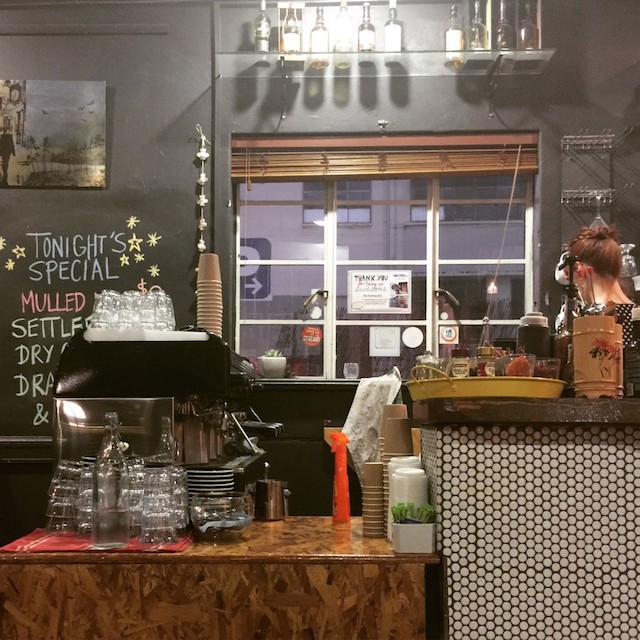 Lunch doesn't have to be all liquid either – I'm a huge fan of Howling Owls grazing boards-try not to get caught licking a dip bowl. For your cheesy friends (I'm looking at you Hayley) the selection from the Limestone Coast paired with Barossa cured meats and marinated veg are divine. The menu is 100% locally sourced because SA food is heaps good #supportyourlocal
Located on Frome Rd right next door to Urban Cow Studio so you can multi-task and pick up some unique or handcrafted goodies from SA's finest artists and designers and tick some items off your Christmas shopping list! Or book into one of the limited spaces at The Howling Owl's gin masterclasses and gift someone your own handcrafted Signature Gin.
For my fellow ladies who like their drinks in pint glasses, I have the ideal spot for you. All you froth loving ladies are welcome at Big Brewing Shed Concern. It's not just a brewery; it's a fully functioning venue where you can enjoy some of Adelaide finest craft brew straight from the source! Frankenbrown, F-Yeah, Californicator, Golden Stout time and Cherry Popper – the drinks are as fun as the guys who brew them.
The kitchen is open Friday and Saturday afternoons and evenings with food that I call Beer's Best Friends – Finger Food. Burgers, Nachos, Wings, Dogs and fries – the menu is as down to earth as the people serving you. Wear your loosest pants and enjoy the best in back street banter.
Tucked away in Royal Park – Big Brewing Shed is a great spot, especially for Westsiders who want something local for your girls gathering. This place perfect for a great end of year or end of season get together, or just because it's the weekend!
Image credit: Nook Nosh
Located at 111 Unley Rd, this little nook is perfectly un-pretentious. Nook Nosh is one of my new favourite wine bars, stocked with a gorgeous selection of SA's finest Sparkles, Ciders and Craft Beers, all your drinks needs are catered for. The 'Sips Menu' is constantly changing and always getting updated as the Nook Nosh team discover the latest offerings from local producers.
Image credit: Nook Nosh
The newly renovated courtyard is an ideal spot for leisurely ladies who enjoy a bit of acoustic music with their Sunday-Funday. Its' great to hang outside enjoying Adelaide's summer weather, or you could pull up a perch inside and enjoy the DJ's spinning their eclectic vinyl collections on a Saturday night.
They really know and love sourcing the best local produce for the grazing plates and owner Lisa's infectious smile and warmth is just another reason to pay Nook Nosh a visit.
Image credit: Publishers Hotel
If an Aperol Spitzer or glass of wine while you dine is what you crave for your girls catch up, then the Publishers Hotel on Franklin St is the spot. The venue is comfortable yet more glam than your usual pub. It's light, airy and gorgeously woody. The table service is friendly making you feel welcome and well looked after.
Image credit: Publishers Hotel
Perfect for a long ladies lunch or dinner, the menu at the Publishers Hotel is classic with a modern twist. If you crave elegant pub food then you should definitely sample their oysters, olives, spatchcock and seafood. Only have time for a quick lunch with the gals? – then their express lunches and shared tasting boards will fill your needs and your bellies.
Image credit: Publishers Hotel
Image credit: Republic Norwood
5 minutes out of the city at 120 Magill Road is Republic. I love the openness at Republic with its airy transitions from indoor to outdoor and large spacious booths to gather with my group of girls. Republic is a contemporary space but the wooden fittings and greenery make it feel as comfortable as gathering in a girlfriend's garden.
Image credit: Republic Norwood
For an end of year girly workmates gathering head in to 'Miss Friday' for after work drink specials and classic pub fare from the bar menu. For a Sunday Funday session with your besties I'd order some jugs of sangria and the share spread with all the favourites.
Image credit: Republic Norwood
Like these recommendations for venues in Adelaide? Check out Simone's favourite places on GO Road to Treat Yo'Self.
 :: Sponsored ::