By Guest Blogger Lauren Hunt – Teacher Types
Who doesn't love a good burger? Trendy and tasty new burger restaurants are popping up all over Adelaide and becoming increasingly popular. But if you have young children, you may be wondering if these establishments are kid-friendly or not before you make a plan to check them out!  So we've done the work for you! In no particular order…
ADELAIDE'S BEST KID-FRIENDLY BURGER RESTAURANTS: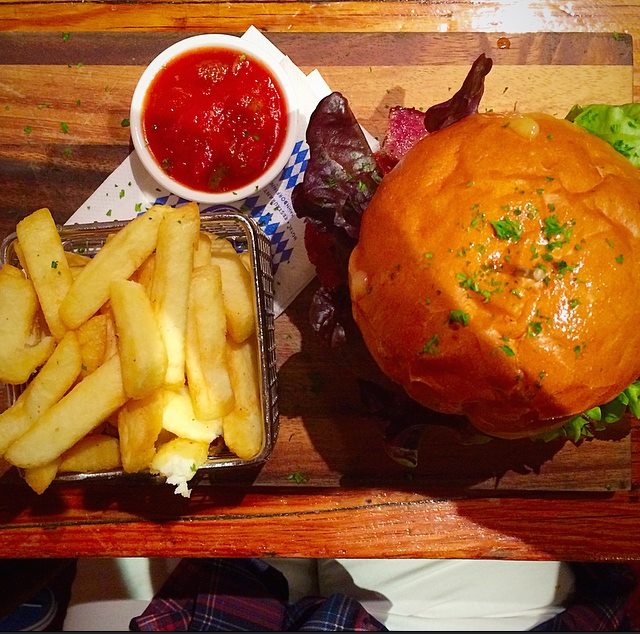 Parade Central :: Corner of Parade & George Street, Norwood
Opening Hours :: Sun – Thurs 11am – 9:30pm, Fri + Sat 11am – 10:30pm
Image credit:  Grill'd Burgers 
One of the reasons I love Grill'd Norwood is because they understand that parents like to treat their kids, but don't want to fill them with junk. High quality ingredients (delivered from the markets) are used to prepare their delicious burgers daily, and then made fresh to order on the flame grill.
Kids have the choice of a Beef or Chicken 'mini me pack' which includes a mini burger, mini chips and water/juice. Most kids don't eat as much as adults so Grill'd won't charge you the cost of an adult meal. Kids will be kept entertained with puzzles, colouring-in and even a basket of toys. Of course high-chairs are a given!
Image credit:  Grill'd Burgers 
Fun fact: we popped into Grill'd after the Play School Concert across the road and it was packed with families – but the friendly staff catered for everyone at this busy time! It was awesome!
My burger recommendation is the 'Simon Says' – grilled chicken, avocado, bacon, salad, relish & herb mayo. Plus the chips shared plate is also a winner (regular, sweet potato & zucchini chips with tasty dipping sauces). YUM!
Image credit:  Grilld Burgers 
School Holiday extra at Grill'd Norwood – Kids Master Classes with 1.5 hours of fun activities and burger making while parents can take some time out on the Parade. $22 per child including burger, chips & drink.
1 Main St Shop 9B, Mawson Lakes
Open every day 11:30am – 9pm
Image credit: Burger Club
We are regulars at Burger Club Mawson Lakes and little people are always welcome. The unique menu is organised into different countries and you have the choice of beef, lamb, chicken or veggie burgers (my recommendation: 'Thai Club' – chicken, salad, aioli, carrots & satay sauce). Chips are delish with a special sprinkling of herbs and everything is made from scratch on site.
Image credit: Burger Club
Kids have a choice of Beef or Chicken sliders with mini chips and a fruit box. High chairs are available and there's plenty of space if you're bringing prams in. Right in the heart of Mawson Lakes you're a stone throw from feeding the ducks on the lake or simply going for a stroll.
Image credit: Burger Club
Other Burger Club Locations :: 400 Churchill Rd, Shop 50 Kilburn. + Shop 21 330 Seaview Rd Henley Beach.
730 Anzac Highway, Glenelg
Open daily for lunch & dinner from 11am
Image credit: Relish'd Burger Bar
It's a fantastic time of year to visit Glenelg and Relish'd Burger Bar is a little hidden gem off the main stretch so you may not even know it's there! They, "Live locally, work locally and play locally" and promise to deliver comfort food with polish! Their signature tomato relish is hand crafted, all natural, preservative free and created on site. And it's not just me who loves them, they were also recently rated as the #3 burger in Australia, as voted by Yelpers!
Image credit: Relish'd Burger Bar
We often visit Relish'd when we're meeting friends who also have kids — either before or after a visit to the playground at Wigley Reserve. My burger recommendation is the 'Fancy Chook' – chicken, brie, bacon, lettuce, tomato, cranberry sauce & aioli. For under 12s, the Relish'd 'Grom Pack' includes a mini beef/chicken burger with grom size chips & juice or water. High chairs are available.
Image credit: Relish'd Burger Bar
What's your favourite burger place? Do your kids love burgers?
Eat up and enjoy!
Lauren Hunt xx
Follow the fabulous Lauren on social! She's an is an Early Childhood Teacher who currently works part-time teaching children in their first year of school, while also running a great website, teachertypes.com.
:: Sponsored ::