The winner of the best region in AUSTRALIA goes too…(insert drum roll) THE ADELAIDE HILLS!
Boom, cheers for that, Produce Awards! The Adelaide Hills are truly beautiful. And, a big reason why? Hahndorf!
I bet you've visited Hahndorf a thousand times but never stayed the night. Am I right?
Good news for you, Hahndorf Accommodation Group & Haus Restaurant  offer a variety of different accommodation to choose from, each with their own charm, personality and price range! Hahndorf Accommodation Group also offer various day and night tours that Adeladies will LOVE!
You can give the Meet the Winemaker tour a go, become a Leathersmith, learn to make cheese, go on a Jurlique Farm Tour, rug up and experience a history walking night tour of Hahndorf, a Cleland Indulgence Night Walk, or head to Monarto Zoo for their Lions at Bedtime show or Giraffe Safari. And of course, just up the road is the beautiful Beerenberg Strawberry Farm. You can also do a tour of The Cedars, home of the artist Hans Heysen and then come to Haus Restaurant to view the rare and recently found lost Hans Heysen Painting "Camp on the Wonoka Creek". Just ask the lovely staff to put an itinerary together for you!
Here are three accommodations to choose from as part of the Hahndorf Accommodation Group.
Hello Heaven! These fully self-contained and luxurious apartments are nestled off Main Street, amongst a beautiful landscaped garden — but still close enough for coffee and cake emergencies.  You can stay in a studio apartment with a king-size bed and kitchen facilities. Or, if you want more room, hire both upstairs and downstairs — we did that with the kids. They are perfect for longer-term stays too.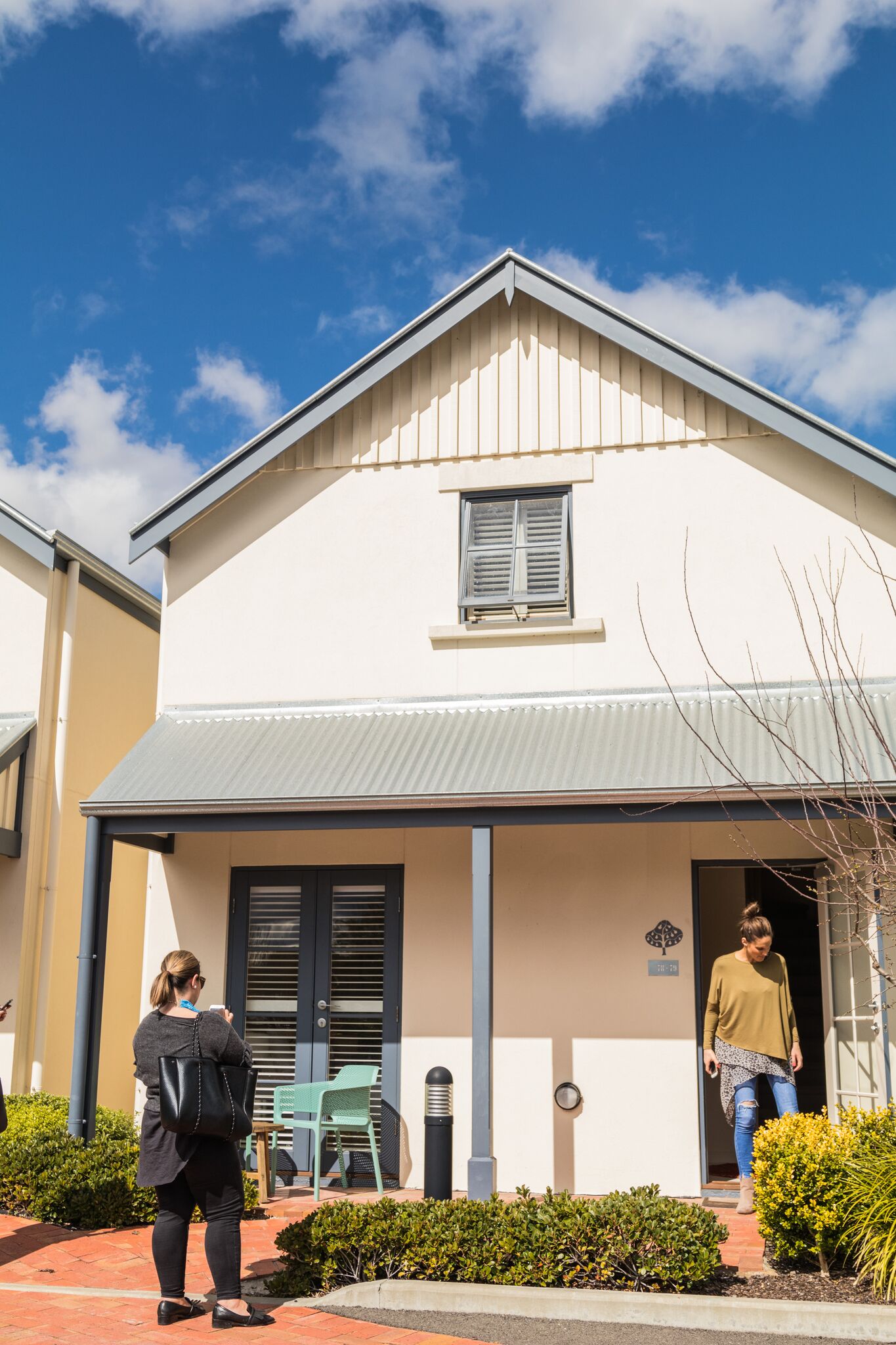 This  4-Star AAA Tourism rated motel boasts more than 50 stylish (and very comfy) rooms. And, they have just had a stunning $500,000 Scandi-inspired makeover! Some rooms even open out to the beautiful courtyard area, where you can relax with a cuppa (or Vino) and soak up the fresh Adelaide Hills vibes. The rooms are light and bright and have such a lovely feeling inside with the beautiful (and very carefully chosen) artwork above the beds.
Tell all your friends, The Manna of Hahndorf is perfect for romantic nights away, work conferences, group family getaways and team bonding nights.
:: C3 Church, great for small or large work conferences and seminars ::
:: C3 Church, great for small or large work conferences and seminars ::
:: The Haus Restaurant meeting room, also great for work meetings and conferences ::
3 ½ star accommodation – tick
19 Motel Rooms including Standard, Family and Poolside rooms – tick
A laid back charm and modern finish set in a peaceful garden – tick
Solar heated undercover pool and a BBQ – tick
Really affordable – tick
The Hahndorf Motor Lodge is more basic than the above two accommodations, but all you need for a family holiday. Plus, it's directly across the road from the heart of Hahndorf, The Haus Restaurant where you can feed like Kings and Queens for brekky, lunch and dinner!
There you go — Hahndorf is magical. But you'll never really experience all its magic unless you wake up there in the morning. And don't wait for the weekend, chuck a sickie and escape for a mid-week session with your lover, friends or work mates!
Also, with The Haus Restaurant a stone's throw away from these three accommodations,  it's the perfect location for a big or small event launch, a special occasion celebration or the perfect wedding reception!
For all booking enquires, head over HERE.
Follow The Hahndorf Accommodation Group online and head here for more info:
:: WEBSITE     :: FACEBOOK     :: INSTAGRAM
:: Sponsored ::