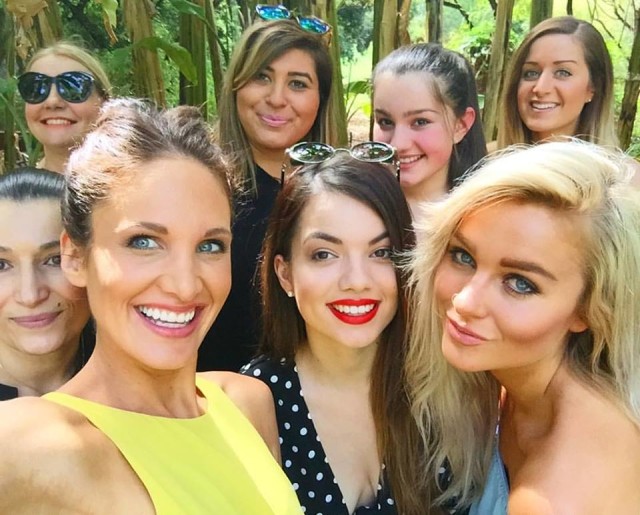 I heard a great quote this week, I can't remember it word for word (because my brain is mush)  but the gist of it is this: "You can't make waterfalls with one drop — you need lots of little drops to make a BIG splash." And that's what Adelady is about: sharing and working together to make one hell of a waterfall!
As a female who's spent twelve years working in the media, I never understood the aggressive and competitive nature that some women possess. Sure, I'm ridiculously passionate about being the best I can be, but I also support other women doing the same thing as me – because why wouldn't I? There's enough love and work for everyone, you just need to make sure you have a point of difference. You need to make a splash!
Lauren and I made a pact before starting Adelady; if we come across someone who makes us feel anxious, or is nasty and super-negative, we want nothing to do with them. Adelady is positive, it's fun, it's empowering. Ain't nobody got time fo' two-faced molls.
A couple of weeks ago I had the pleasure of meeting and collaborating with some delightful (one-faced) women who are doing great things on social media. As an added bonus, I also got to play dress-up in clothes from one of my fave fashion boutiques in Adelaide – Karibu Boutique. You see, I support women; I support all things South Australian and I ALWAYS support dress-ups.
These women are Adelaide fashion bloggers and social stylists and damn girl — they know how to take a mean photo! Our mission for the day :: to promote great SA women and fashion (and also eating copious amounts of picnic food).
If you want to collaborate with Adelady, let us know. We can make something beautiful. And by "beautiful", I mean, a BIG F*** OFF WATERFALL!
Hayley xx
The Iconic Adelaide Bloggers Photo shoot ::
Off Shoulder Chambray Dress :: SHOP HERE +  Lioness Clarity Playsuit, Black Polka :: SHOP HERE.
70's Denim Flares (in store-only) & Stapleton White Shirt (now sold
out online, a few still available in-store)
Forever & Always Longline Top :: SHOP HERE
All accessories are available in store at Karibu Boutique
So, it's almost summer, let's make a SPLASH!
Hayley xx
T E A M :: Social Stylist     Karibu Boutique     Charnie Reeves     Nicola Cross     Style Buddy