Sometimes to experience the unique, you need to venture off the beaten path.
Nestled in the industrial area just minutes away from the main street of popular surf town Port Elliot, is Factory 9. And it's the kind of place that draws you in from the get-go.
At first glance the line of 11 unassuming sheds, set around a dirt carpark with hints of colour and quirky ornaments, seem intriguing. Peek beyond the doorways and you'll find a creative hub, bustling with treats for the eyes, ears and tastebuds.
Image Credit :: @thegoodday_co
Founded by Archibald Prize finalist, David Bromley and used as his art studio, original creativity still rings true thanks to current owners, Danny and MaryAnn McMahon. Splitting their time between Adelaide and Port Elliot over the past 30 years, the McMahons could be considered 'semi-locals' who have a passion for seeing this town flourish. For them, Factory 9 means being part of an eclectic community and tourism, each developing the other.
Factory 9 is a kid friendly, fluid venue with a mixture of permanent shops and pop ups. The one thing they have in common? Creative, quality products and services, all served up in a close-knit community environment.
Image Credit :: @thegoodday_co
Beans to please you
While coffee shops are a dime a dozen these days, top quality coffee served by the roasters is something that De Groot Coffee Co. do with exception. The first of the permanent shops and now in their fifth year, their premium coffee will give you goose bumps.
Run by husband and wife, Trevor De Groot and Bernadette Stack, De Groot roast on site, offering only high-quality beans "packed with personality and ready to do a tap-dance over your tastebuds". De Groot Coffee is stocked in boutique locations SA wide, but this is the only place you can grab their incredible coffee, sample freshly made pastries and see the owners roasting in action.
Surf's up
The uber laid-back nature going on in Shed 9, The Sliding door Surf Shop, can be summed up by the sign at the front — "Open most days 10am–2pm". A permanent fixture at Factory 9 for the past two and a half years, it's home to clothing brand, "Yeo Haus" from local lad, Ben, and "Cheer" wetsuits, designed by his mate, Troy. Pop past this creative hub for a hit of table tennis and a chat with the lads. While you're there, check out the shrine dedicated to the Hoff — protector of the ocean and see just why these two youngsters are taking the surfing community by storm!
Image Credit :: @theslidingdoorsurfshop
Arty farty
There's no shortage of visual delights at Factory 9. Check out Art Glass Design for vibrant coloured glass pieces, including windows, doors, wall panels and splash backs, all done by local artistic duo, Lindy Sando and Vaughn Taylor.
For Vaughn, the beauty of Factory 9 is that "it's a lot of tin sheds with not what you expect in them." This couldn't be truer for 'Bar None' in Shed 9a, where local artist, Richard John, displays wall-to-wall spectacular canvases.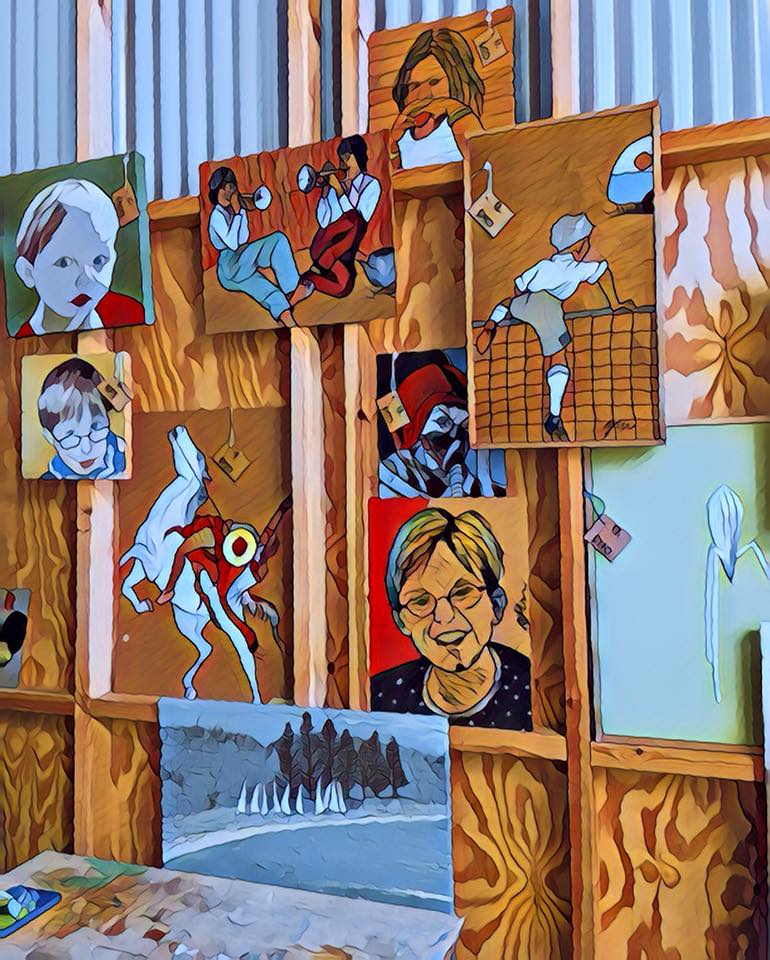 Image credit: Richard John Art
Good for the soul
There's good vibes a plenty at Factory 9! Between the Port Elliot Wellness Centre, which includes yoga, private yoga, massage and workshops, and Fleurieu Pilates up in Shed 1, your health and wellness needs are covered.
But wait, there's more
The permanent shops are a treat at any time of year. But the icing on the cake is the incredible array of pop up shops that occupy remaining sheds during peak times. Recent pop ups that really got the groove going at Factory 9 included Mexican street kitchen, La Cantina Co, upmarket clothes and homeware from Jessica of Eccola, epic shoes from MV The Label, and spectacular homewares from Little Road Home.
Image Credit :: @littleroadhome
Image Credit :: @littleroadhome
Image Credit :: @la_cantina_co
Want a piece of the action
Got high end quality goods or services and want to know more about pop ups in this exclusive location? Drop a line to [email protected]. Spots for Easter fill up fast, so don't miss out.
And for those who simply want to indulge in what's on offer, take the 2 min detour off the main street and enjoy the extraordinary delights of Factory 9!
Em xx
Factory 9
Address :: 89-91 Hill St, Port Elliot
Opening Hours :: Open daily – hours vary (check individual socials). Best time to visit is from mid-morning until mid-afternoon.