Guest blog by Leah Grant
The Fringe Visual Art Survival Guide
WOOOO! It's almost Fringe time baby! I've got three tips for you to get the most out of the visual arts this year at Fringe Festival. If you want to venture further then The Garden, but not sure where to start, now more than ever there is more visual art events to see.
Local artists are displaying their work all over the city, ready to amaze you. 2016 was a huge year, I can't wait to get out and see what 2017 has install.
Seriously, we have some pretty talented painters, sculptors and photographers at our fingertips. So my dear art-loving creative friends, it's time to get ready for Mad March!
1. GO!!!
Yep, just go!!
When you see something that sparks even a little interest, don't question it, get there! Don't let the overwhelming number of shows stop you from going.
Just start with one or two new exhibitions to explore. Check the opening and closing dates, find a friend to go with you and lock it in.
If your friend pikes, go on your own! Seriously, you might actually get more out of the show if you go on your own anyway. Then you can walk at your own pace and read as little or as much as you like.
Plus you might actually find you're more likely to interact with artist and other creatives there.
2. Stuff them!
Is the awkwardness of pretentious arty farty people stopping you from going to an exhibition opening?
Stuff them!
Don't let that stop you experiencing the celebration of a new series of work. No matter how down to earth the artist is, or how casual the venue, there's always someone who is taking life too seriously and makes you want to slap them in the face and pour wine on their fancy shoes.
If someone makes you feel uncomfortable and out of place, remember art is for EVERYONE! Go with an open mind, you're not there to judge the people or even the art. If you try and judge the art you will be shutting off the opportunity to be inspired or challenged. If you judge the people you will probably roll your eyes and walk away unsatisfied. Let the pieces on the wall speak to you.
3. Give the awkward chitchat a try.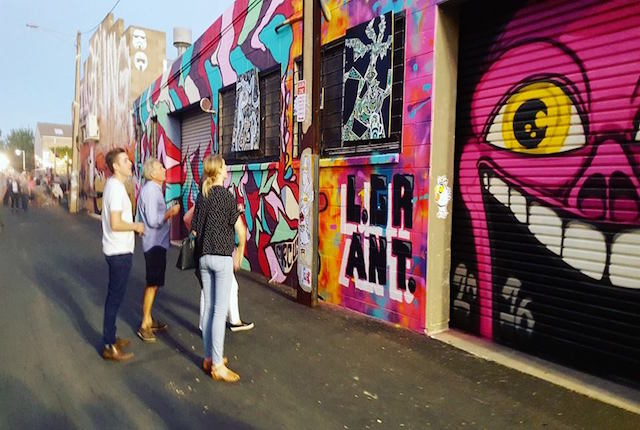 Talking to an artist at their exhibition can be a pretty interesting interaction.
Some artists are super comfortable talking about their work, others are shy and unsure what to say and would rather only their work be visible.
No matter how chatty they are, I do highly recommend giving it a try.
At my own exhibitions I've had some pretty strange questions, which can actually be kind of offensive. Steer clear of "How long did this take you?" and "What's your favourite?"
Consider why you want to talk to them. If you want to congratulate them on their work because you feel connected and impressed by their creation, then tell them!
A great place to start is by thanking them for the experience. Ask them about their creative process and what their next project is.
The artist has taken a huge leap by displaying a piece of their soul to you, don't crush that – let them share it with you. I know I would appreciate that.
Now you're ready to flick through the guide, be sure to look at the 'Visual Arts and Design' tab. Start planning and support these talented beings.
Leah Xx