:: This article was written in February 2020, before COVID-19. Please note that some experiences may have changed since this article was written ::
Today, I was sitting at our local coffee shop with my husband Jimmy, telling him all about our Japan vacation, and I got all teary and full of emotion explaining just how much I LOVED every single second. My heart was exploding at the sight of real snow falling at Mount Tomamu and then again when we walked through the most famous Shibuya Crossing — something I'd only ever seen in the movies.
Our beautiful friends at Flight Centre South Australia have always helped our holiday dreams come true. Once again they listened to what we wanted to do and put together one hell of an itinerary containing everything on our hit-list — from the exciting, like go-karting through the streets of Tokyo, to the essential, like making sure we were covered with Cover-More travel insurance. Because let's be honest, we would have forgotten that part!
You know what they say — once you try Club Med, you never go back.
Sprawled across 145 hectares of Tomamu Mountain, Club Med Tomamu is a spectacular resort that has everything a winter wonderland should: the ultimate powdery slopes to play in, state-of-the-art equipment and expert General Officers (GO®s) to guide you all the way.
We had all the gear and no idea, but in classic Adelady fashion, we gave everything a good crack! Skiing, tobogganing, snow trekking, snowboarding and even made perfect snow angels. I mean, we looked like Dumb and Dumber in our fancy ASOS suits but you can always gear up in style with their rental equipment and even if you don't ski, there's plenty to do for first-time snow travellers.
As always, the food is sensational at Club Med, with the freshest seafood, premium wagyu beef and award-winning locally brewed spirits that will warm you up in no time. We left our wallets in the safe, because everything is all included — three gourmet meals a day, all-day snacking and of course, the premium open bar where you can chill out, warm up and get drunk on the most magical views you've ever seen.
I didn't take my kiddlets this time but in hindsight it would have been a wonderful thing. Club Med Tomamu Hokkaido is super family friendly and their kid clubs are insane.
Must-do in Tokyo
Tokyo Sky Tree
At 634m high, this skyscraper boasts the Guinness Book of Records' title of world's tallest building! Lifts whiz you all the way to top in only 90 seconds, where you're greeted with 360 degree views of Tokyo, and the illustrious Mount Fuji on the horizon during clearer days.
Street Kart
Adrenaline junkies unite — this is hands down the most thrilling way to see Tokyo: on a go-kart, dressed up as your fave characters. An experienced guide will lead you on a wild tour around the major tourist destinations in Tokyo… Skytree, Tokyo Tower, Rainbow Bridge, Ginza, Emperor's Palace, Akihabara and Ueno Park. Just make sure you get your International Driver's License AND bring a spare pair of undies before you arrive, lols!
Shibuya Crossing
It's easy to feel a little overwhelmed at the busiest crossing in the world, with 1,500 people making the dash across the lights every time. Do some quick maths, and that's a whopping 45,000 per hour! Feel the adrenaline by joining the crowds at ground level, or scoot your way up high to Mag's Park Rooftop for the ultimate bird's eye view. Our hearts are still racing at the memory of being in the thick of it!

teamLab Borderless
We can't stress this enough — when in Tokyo, you simply have to go to teamLab Borderless. This fully immersive experience will trick your mind into believing in magic, and blur the lines of reality with a combo of colour. The Forest of Lamps will light up your life, wander through the Crystal World and select your own element of nature, and visit the vibrant Forest of Flowers. This extraordinary experience must be seen to be believed.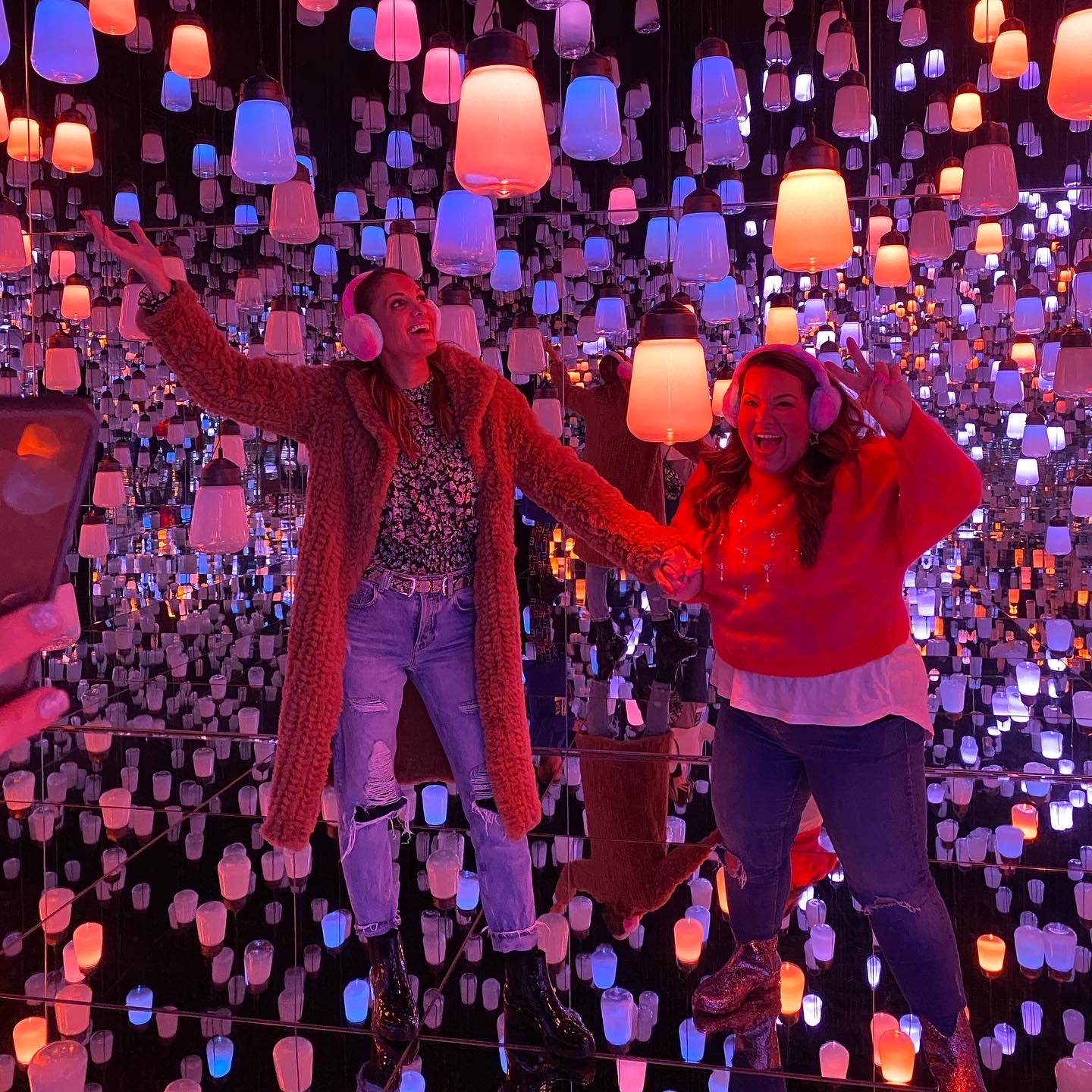 Asakusa, Old Tokyo
Traditional dress, temples and tea — what more could a gal want? You can get fully decked out in a Japanese kimono, your hair will be wrangled into a traditional style and you'll feel like the prettiest lady in Tokyo! This is part of an Intrepid tour which takes you through old Tokyo temples followed by a traditional tea ceremony.
Kawaii Monster Cafe in Harajuku
You can't miss a stop off in Harajuku to explore the ultra-cute Kawaii culture. A great place to grab some quirky souvenirs or eat fairy floss that's bigger than your head, this area is also home to the Monster Cafe which is bursting with colour, a giant cupcake stage, pop music blasting and 'monster girls' dancing the night away. Give the rainbow pasta or bright blue spider burger a whirl for the full Kawaii experience.
If you're keen to experience Japan and/ or a Club Med holiday, visit your local Flight Centre store or call 131600!