Sometimes beauty only runs skin deep… and other times it's magnificent at every layer, just like a Koonowla wine.
Filled with rich history, the grapes that are grown in the soil at their vineyards are second-to-none — and with a new highly-experienced crew at the helm, Koonowla – Clare Valley is prepped to soar.
These reasonably priced bottles look the part and taste incredible, too! Not just for the wine connoisseurs, Koonowla has open arms and welcomes everyone for a top-quality wine drinking experience.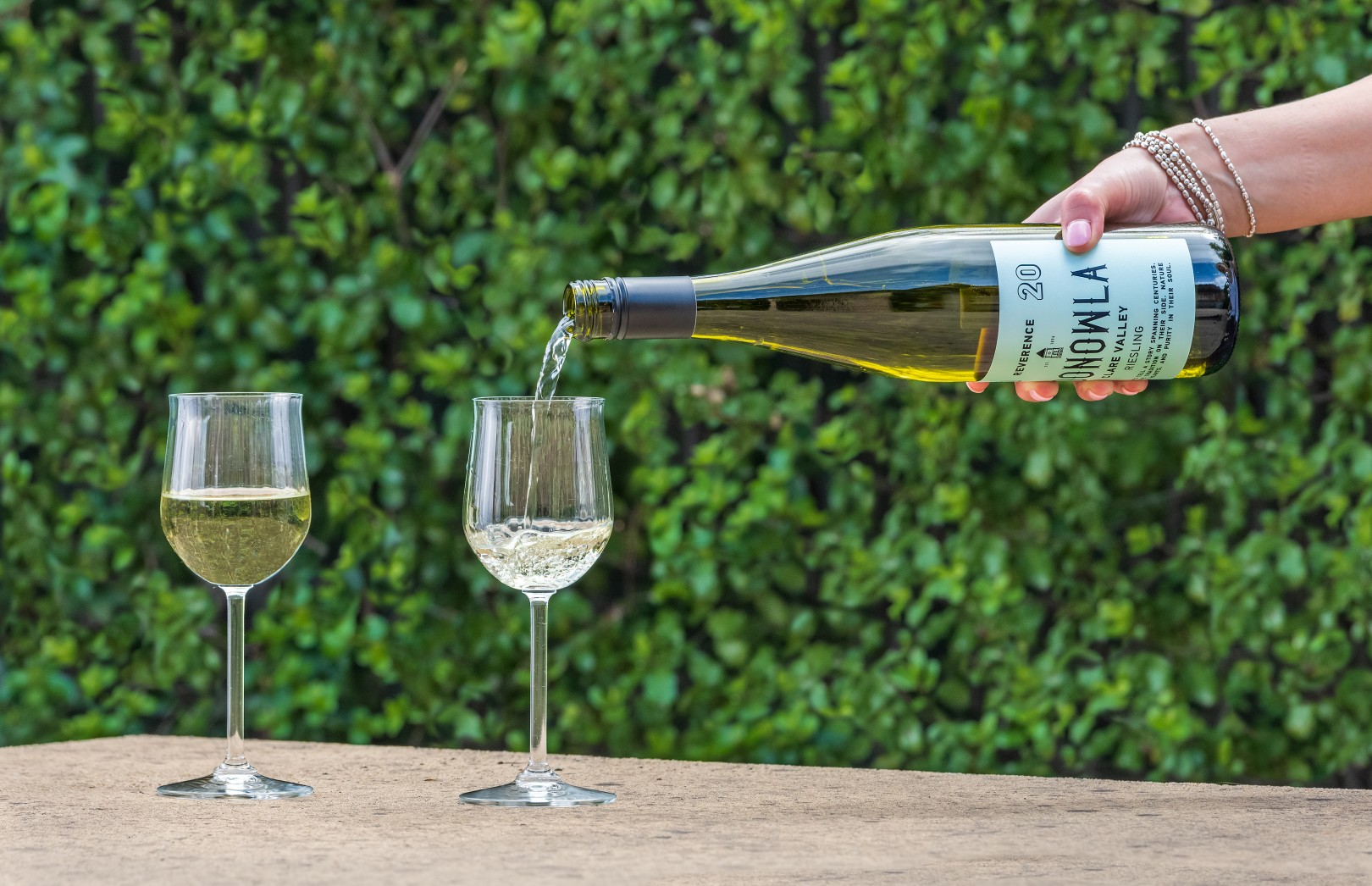 Photo :: Wayne Pearson
Behind the curtain
It's the same name, but with new owners, a cracking winemaker and a new-look design, Koonowla – Clare Valley is set to knock socks off at your next long-lunch, barbecue or date night. When it comes to exceptional wines, Georges Family Winegrowers knows their stuff. In 2019, Nick and Alexander George acquired the magnificent homestead, vineyards and historic buildings on the pretty-as-a-picture Koonowla property, just east of Auburn.
They've added more vineyards and are restoring the heritage gravity-fed winery (which is a gentler process for winemaking and avoids the wine becoming overly tannic, over-extracted or oxidised), but that's not all. This new chapter includes a total rebrand, so their bottles all have fancy new jackets that catch your eye.
Photo :: Vanessa Size Photography
Salt of the earth
Not only does the Clare Valley breed good people, it's internationally renowned for pumping out some of the best wines produced in an ideal climate with abundant minerals in the soil.
Pair that with the expertise of the George family, who has welcomed highly-respected winemaker Con Moshos on board, and you're onto a winner. Making all wines at Tapanappa Winery in the Adelaide Hills, Con is not only trusted, but an integral ingredient for the new look, great-tasting Koonowla range.
Photo :: Wayne Pearson
Perfect match
Apart from rocking up with some seriously sexy bottles of vino at your next catch-up, Koonowla's range goes gorgeously with all types of food. Have fun exploring, or give these match-ups a whirl…
• 2020 Koonowla Pinot Gris – This refreshing drop from a single-vineyard has been hand-picked. With plenty of zing that does a dance on your tongue, it's perfectly paired with green chicken curry, kingfish ceviche or crackling pork belly.
• 2020 Koonowla Riesling – This beautiful balance of citrus fruit and zest will knock your socks off with a big bowl of Tom Yum, roast pork or fresh seafood.
• 2018 Koonowla Cabernet Sauvignon – Powerful yet elegant, this red boasts plenty of berry flavours and interesting background flavours. Pop a bottle with a Filet Mignon, or when you're just kicking back with some Cheese Doritos.
• 2018 Koonowla Shiraz – This devilishly dark vino boasts a big spectrum of flavours. Whip up an eggplant lasagne or a plate of barbecued ribs, sit back and get ready for heaven.
• 2020 Koonowla Rosé – Grab me a pepperoni pizza or a big bowl of spaghetti marinara and a bottle of this vivacious vino with my favourite girls and call me a happy mama.

A tasty history lesson
There's a whole lotta old-school beauty on the historic property and Nick's keen to preserve it for everyone to enjoy. The original cellar door is currently under restoration and will reopen soon, adding a vintage edge to your next wine tasting extravaganza.
"We're committed to ensuring it becomes a key part of the wine and tourism experience when people visit the Clare Valley. As we uncovered the layers of history in the gravity-fed winery and researched the stories of each owner and their impact on the property, we were absolutely spellbound by what had been passed on to us," says Nick.
Em xx