Kangaroo Island Ocean Safari
:: WEBSITE
:: INSTAGRAM
:: 0419 772 175
Anyone that's been around our team for more than 5 minutes knows that we have 3 very distinctive screams. One for when we're a tad nervous but going to give it a whirl anyway, one for when we are taken surprise by something that amazes us, and one for when we feel complete and utter joy.
Well, today on the KI Ocean Safari – we used them all!
It all started when we turned up at Christmas Cove in Penneshaw, KI, where we met the knowledgable Tony and the very helpful (and reassuring!!) Harley. After getting decked out with wetsuits, flippers and a snorkel we hopped on board and headed out to sea.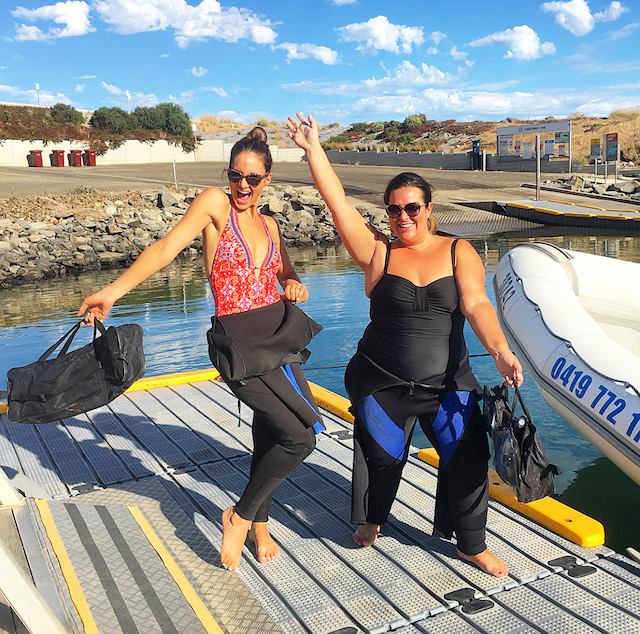 Scream #1 – slightly nervous but ready to give it a whirl
We were so lucky to have a lovely calm day, but for anyone with a weak tummy we promise that Tony stays close enough to the protection of the cliffs that even with a bit of wind it would still be an easy trip. Once we spotted our first seal (!!!) we geared up and got ready to slide into the water. Heaven, but we were a little bit nervous so Harley jumped in with us too and put us right at ease.
Scream #2 – surprised but amazed
We were swimming around near the rocks trying to attract the attention of a lazy seal, and honestly we weren't paying any attention to our surroundings. And then WHAM out of the blue, a beautiful seal went straight past our legs as he headed out for a feed! After the initial shock, we could not BELIEVE it had come so close!
Scream #3 – utter delight
After messing around for a little while, it was time to get down to business and actually do some filming. So we set ourselves up about 20m from another seal that was just lounging around in the water and got ready to roll. Before we knew it, the seal was swimming along besides us, rolling around and waving his fins while splashing his tail in the water. It was incredible and completely took our breath away.
The experience wouldn't have been the same if it wasn't for Tony and Harley who kept us safe and even managed to cue 6 dolphins and a very rare eagle for us to check out.
If you're in KI we absolutely recommend this trip – in only 75 minutes you'll have one of the most incredible experiences of your life!
Millie xx