There's something special about buying a unique piece of art from the very person who created it
For over 130 years, Adelaide Arcade has sat proudly in the heart of our city. This SA icon is home to unique businesses that create one-of-a-kind pieces and bespoke treasures from jewellers, quiltmakers, artists and more. Here is just a taste…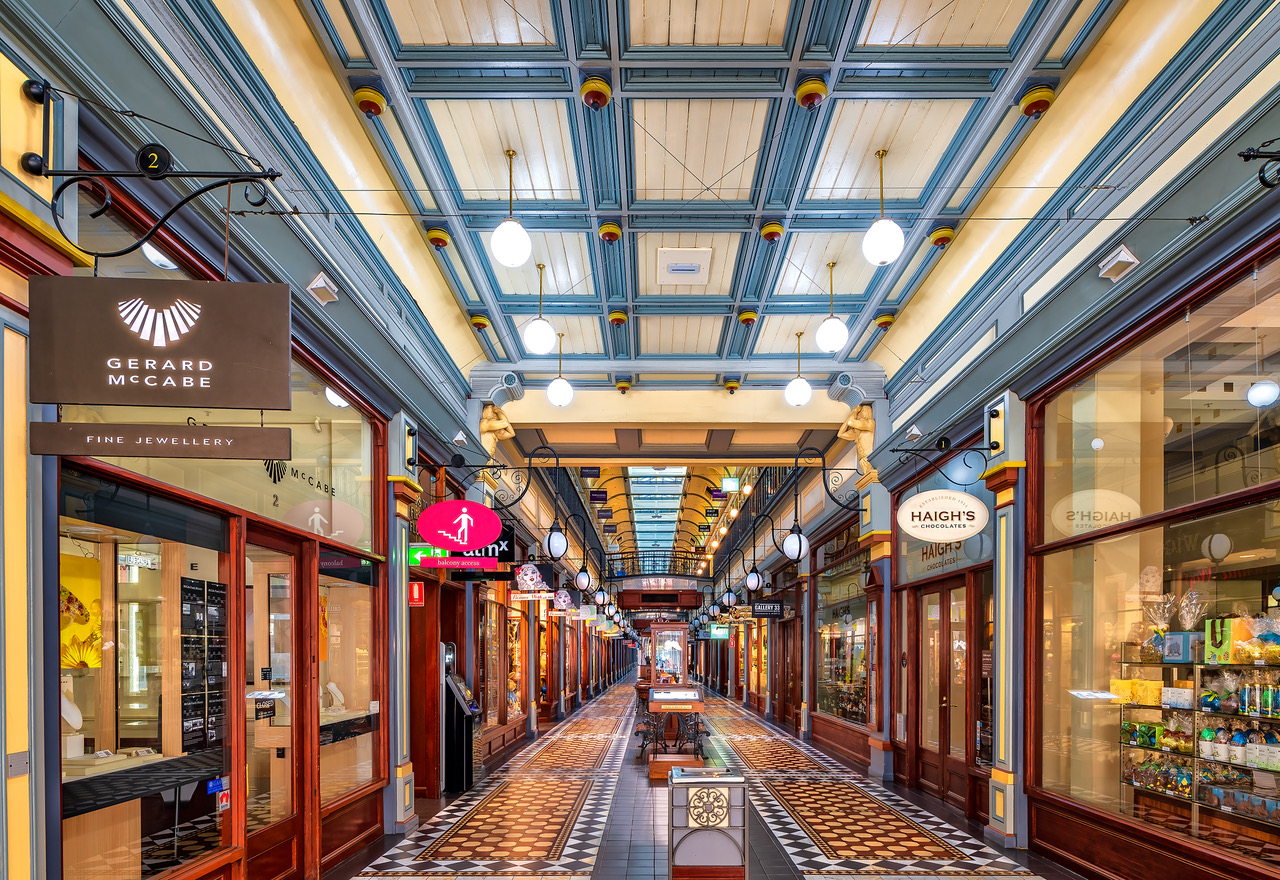 Image Credit :: Wayne Pearson
Alongside divine, high-quality household goods, you'll also find handcrafted quilts made by owner, Designer and Artist Sherrin Koch, who champions a life of sustainability through her products. Inside this cosy shop, choose from their readymade range, discuss a custom piece, or, step outside the box and take a Learn To Sew class to make something truly YOU.
Image Credit :: Heirloom Quality Supplies 
A pop of colour here, a burst of sparkles there! For over 20 years, owner of Zu design and Designer and Maker of bespoke jewellery Jane Bowden has loved connecting with her clients to design dream pieces for them. "My clients connect with my unique style. My designs come from an intuitive approach to the materials I use and the connection I form with the people I make for," says Jane.
Zu design is also a gallery that showcases 130 different contemporary Australian jewellers. Your eyes will light up at the array of silver, resin, leather, stones and more!
Image Credit :: Zu design 
Celebrating 20 years in business this year, T'Arts is home to over 30 Australian artists and designers. This showroom and store is a smorgasbord of colour, texture and design, with prints, sculptures, vases, scarves, glassware, clothing and more from this collective of ever-changing artists, plus, items from the nine original artists who founded T'Arts are always on offer. Happy birthday, T'Arts!
Image Credit :: Zu design 
Every man deserves a good pair of quality shoes, and Kennedy Parker uses traditional techniques to construct shoes that last. Owner and founder of Kennedy Parker, Jayne-Anne has decades of experience in men's fashion, and leather work from her time at Rossi Boots, making her the perfect designer at Kennedy Parker. "Designed in Adelaide to a modern Australian aesthetic, the Kennedy Parker range is handcrafted by shoemakers in India, who specialise in well-constructed shoes made with quality European hides," she says.
Image Credit :: Christopher Morrison 
We'll never get sick of beautiful diamonds, and Gerard McCabe has plenty of them! Adelaide is central to everything created in this fourth-generation family business. Between their own divine collections, an in-house jeweller and a lot of passion, you'll always find something special.
Since welcoming Design Director Nazanin Mohammedkhani, Gerard McCabe offers more bespoke pieces of high quality jewellery that they're known and loved for.
Image Credit :: Gerard McCabe
There's something so special about receiving a handwritten note, written with the perfect pen. From everyday essentials to collector's items, Pencraft and their knowledgeable staff know writing pieces inside out. They sell prestigious pen brands from around the world (including Montblanc, S.T. Dupont, Graf von Faber– Castell, Visconti, Sheaffer and Cross). Plus, they also stock cartridges, refills and signature bottles of ink (like famed Robert Oster signature inks, made in Mt Gambier and sold all over the world), so your favourite writing accessory will never sit unused. With journaling becoming such a celebrated form of self love, why not buy yourself a keepsake pen to record your precious thoughts?
Image Credit :: Pencraft the Boutique 
These clever cats can fix your special pair of shoes, handbags, resize your watch and custom-make leather belts, plus they have a great range of giftware.
Their qualified shoemaker, repairer and owner, Rick, says: "We want your special pieces to last forever. That's why the art of cobblers is so important — we love the look on our customers' faces when we return your special pieces in a beautifully restored condition."
Image Credit :: Adelaide Cobblers and Locksmiths
There's no shopping 'off the rack' here! Terry Gasson first cut his cloth at Henry Poole's in London's esteemed Saville Row before establishing Terry Gasson Bespoke Tailor in the Arcade in the midseventies. When he passed in 2019, Barbara Graham (who worked for Terry from the eighties) took to the helm, and she continues to make bespoke suits and original garments, including jackets, trousers, vests and overcoats. And the beauty of an outfit that's handmade and totally timeless is you can wear your investment over and over again.
Image Credit :: Terry Gasson Bespoke Tailor
More than just an iconic landmark off Rundle Mall, Adelaide Arcade is a place where creatives and art unite to give South Australians a shopping experience that celebrates local artisans and makers, sustainability, quality, and one-of-a-kind beauties
Image Credit :: Wayne Pearson
Sponsored.
Adelaide Arcade