We think it's time that we all stop thinking about where we CAN'T go and start planning where we CAN go… because where we CAN go is magnificent! If 2020 has taught us anything, it's that we really do live in the best state — and maybe for the first time in a long time, we should explore what we have right under our noses!
The Clare Valley is full of five-star wineries, home to gorgeous cottage style accommodations, boutique shops, outstanding food and loads of adventure! And it's only a 2 hour drive from Adelaide! So, let's go and explore the Clare Valley!

1871 Cafe + Grace & Maple
Locals come for the coffee and stay for the mouth-watering cakes and delicious brekky specials. 1871 Cafe may have only been open for a short time but this Main Street hotspot is already becoming famous in the region for their outstanding toasties! Using all SA produce, these babies ooze with so much flavour and have the perfect amount of buttery crunch with every bite! If you're on the move, grab a takeaway and enjoy their dirty chai, it's actually one of the best SDC (skinny dirty chai) we've ever tasted!
Every Sunday, 1871 Cafe offer their front window to a local artisan to sell their products! So, you never know what you might find there… coffee and a new scarf maybe? You can tell from the second you step inside, that 1871 is all about community and the locals flock here at the crack of dawn every day!
Their sister store sits right next door — Grace & Maple is just as delightful… and pretty as a picture! As you step over the rainbow and into their corner shop on the Main Street, you'll find homewares and fashion paradise! From boutique crockery, funky vases and colourful doormats to hand painted original artwork, cushions, lamp shades and clothes, oh the clothes! And we know why they have such great taste… the owners are a mother and daughter combo who love nothing more than welcoming you into their little store and showcasing great homewares and gifts for stylish and funky Adeladies!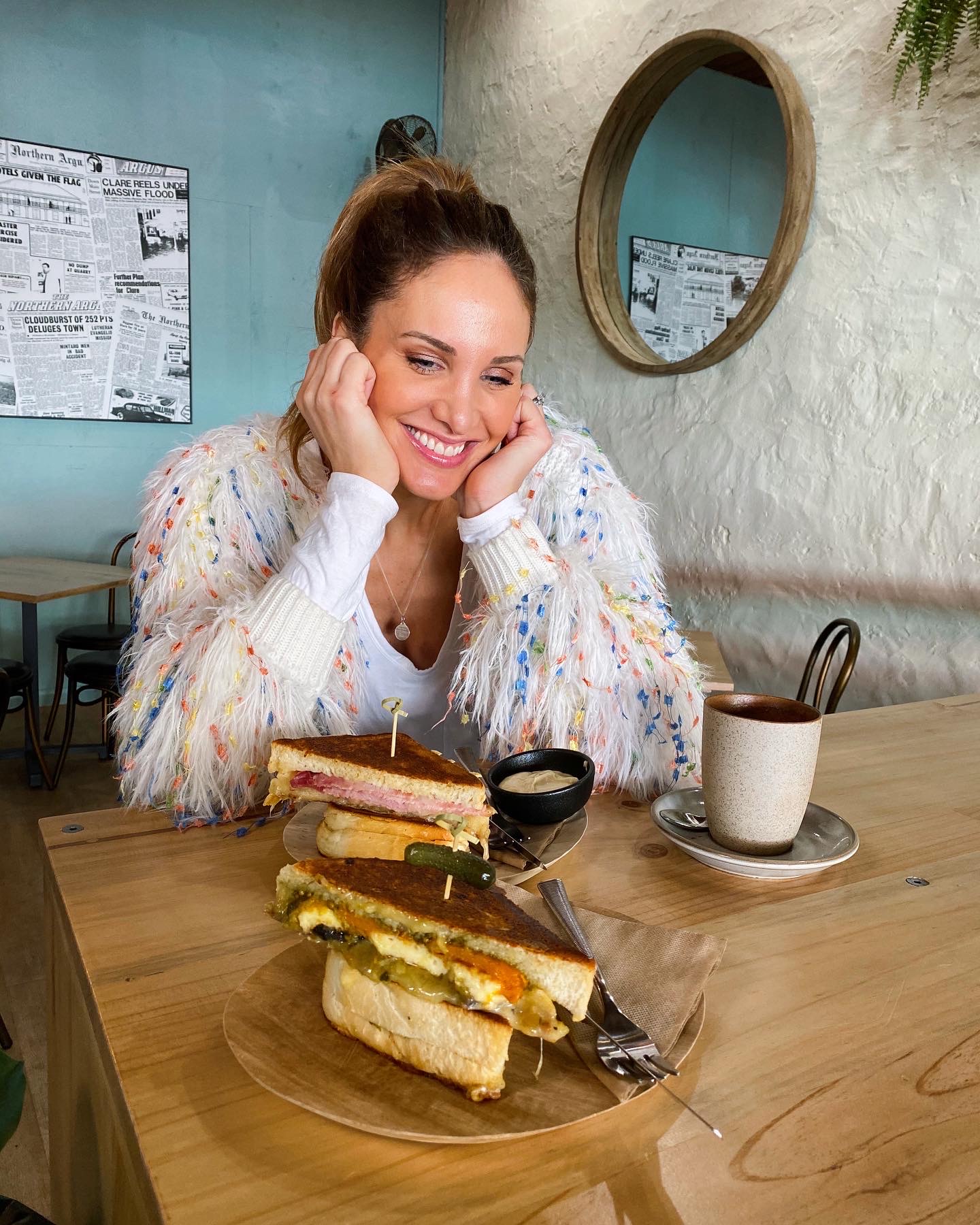 One of the most idyllic cellar doors in SA, Sevenhill Cellars is actually the oldest winery and vineyard in the Clare Valley. It all started way back when, in 1851 by Austrian Jesuits who wanted to produce wine for religious ceremonies. Today, you can walk through the St Aloysius Church and its crypt underneath and get a real feel for the history of this gorgeous winery. Here's a fun fact… look up and you'll notice that the church spire is missing. This is because during the building process, they ran out of money! So they left it and it's been beautifully untouched ever since.
Today, this award-winning cellar door serves up a magnificent range of wines that are highly regarded throughout Australia and overseas. You can pop into their cellar door and try their range with a wine flight where you'll get to try five wines for $10, and the cream on top? They'll wave the fee when you purchase a bottle! May I suggest my personal fave, the Sevenhill Indigo Shiraz. I mean I'm no wine connoisseur, but I'll order this wherever I go in SA because I know it will go down a treat and everyone seems to love it!
Sevenhill is rich in history, offers top notch drops and is also the perfect area for families and couples to enjoy a garden picnic.
When you come to Clare there are some great options for accommodation, from modern to authentic country style cottages! We have found a gorgeous place that really makes you feel like you're in the middle of the countryside and overlooks the Riesling Trail — St Helen's Country Cottages! Set on 4 acres of gorgeous green landscape surrounded by trees and plenty of bird life, you'll find four country cottages as cute as a bug's ear. Two have one bedroom and are appropriately known as romantic cottages, and the other two have two bedrooms, perfect for families or even couples looking for a kid free weekend away!
Every Friday at 5pm, it's knock off time at the fire pit. Carol brings her homemade olive bread, dukkah and dips — and of course, wine. Everyone is welcome, even your dog! Maisy the 5 year old cottage dog is sure to be there and even does a welcome dance when you arrive. Legit, we saw her do it! All the cottages have a homely country style vibe and with all the mod cons… coffee machines, tea, eggs, bacon, fresh bread, milk, jams — everything you need to whip up your perfect holiday brekky.
"You can sit outside on your balcony sipping a glass of our very own wine which is grown here on the property, and feel worlds away", says Carol. But it's only a five minute drive from Clare Main St, or a 30 minute walk. Just over a year ago, they built their fourth cottage — the newest addition is called "Break in the Vines". It's brand new but has been tastefully built to aesthetically fit in with the other three cottages. This one has two king bedrooms and a gigantic bathroom with spa, plus a deck area over looking the vines. Carol and Russell are the perfect hosts and live on the property so if you need anything at all, maybe even just a drinking partner at the fire pit, they're there!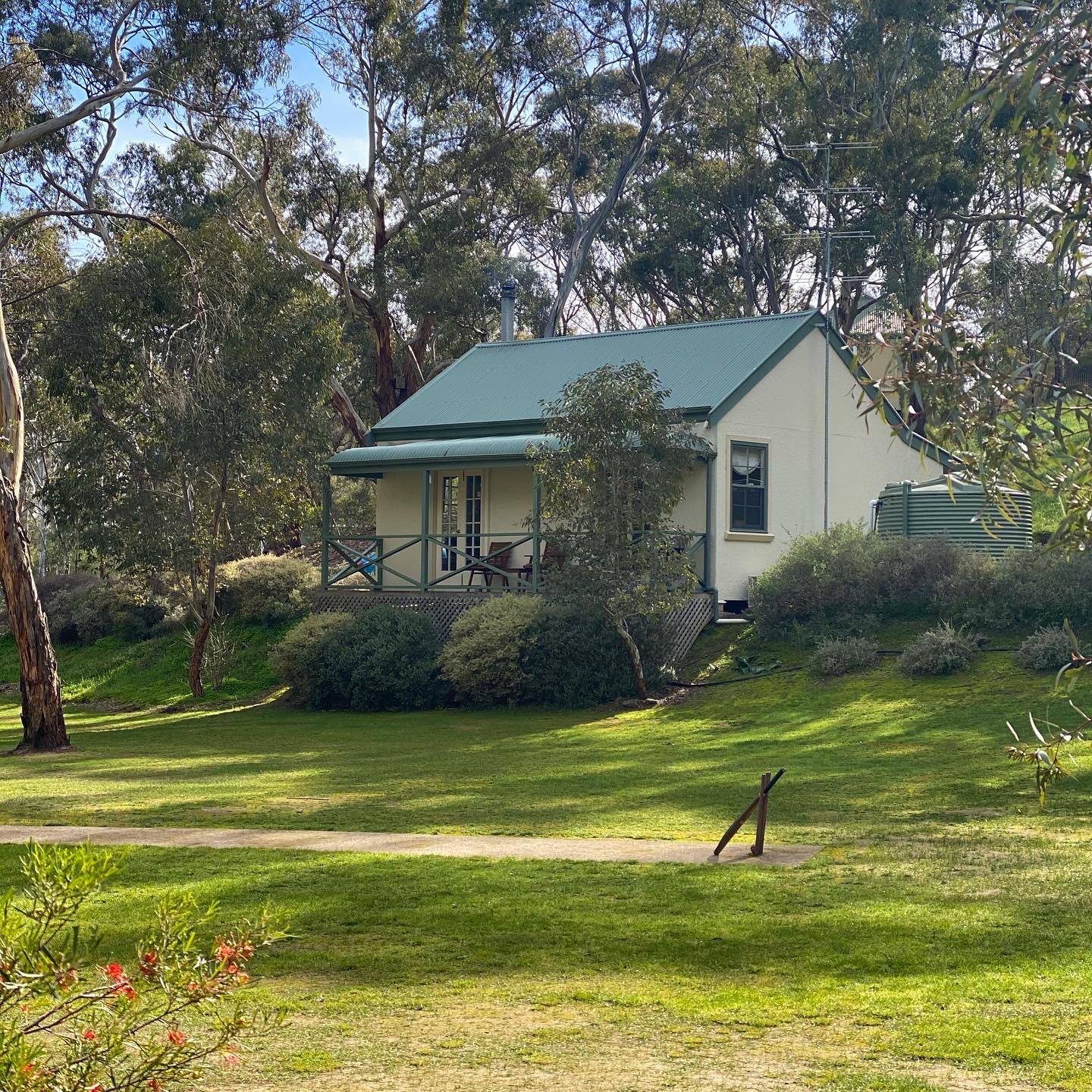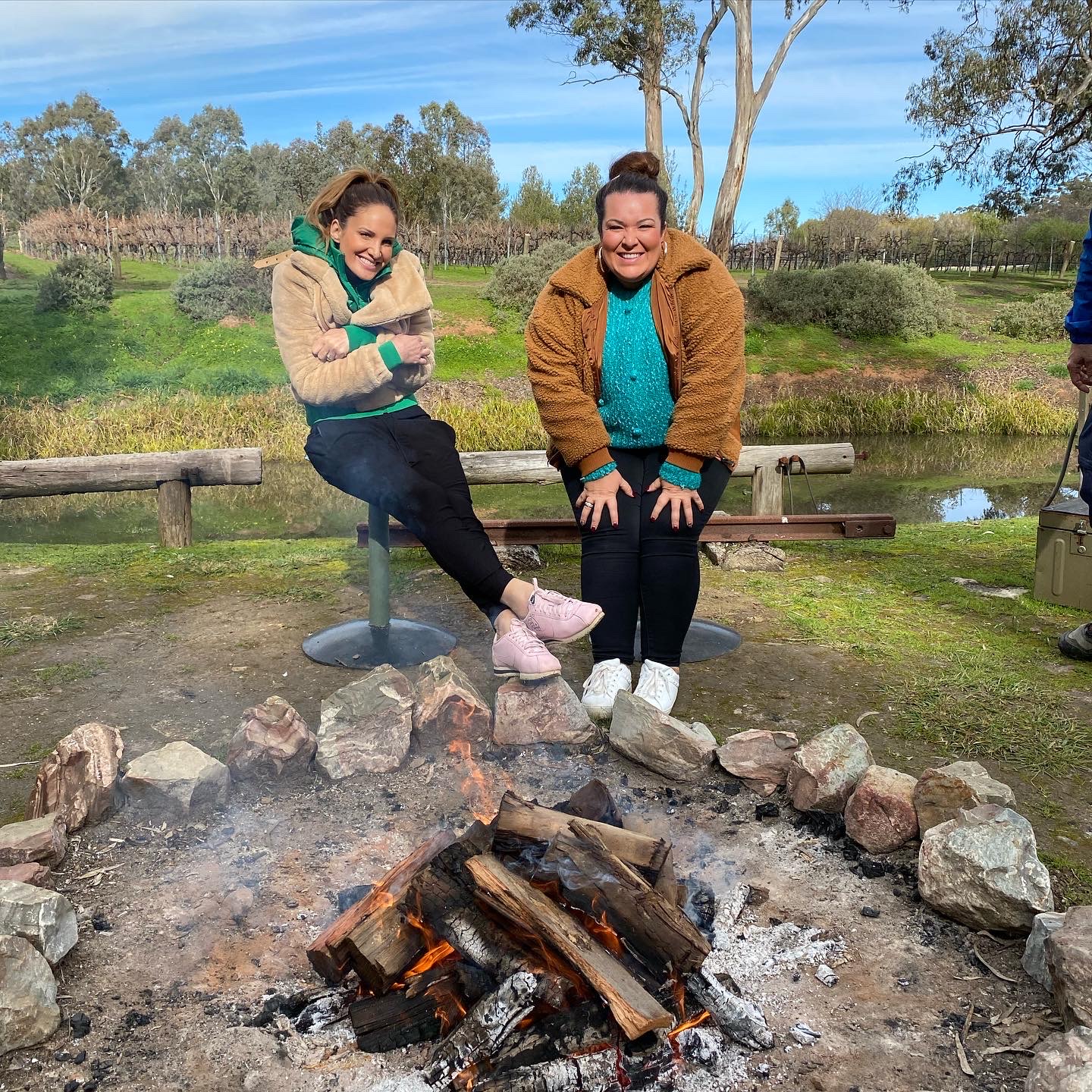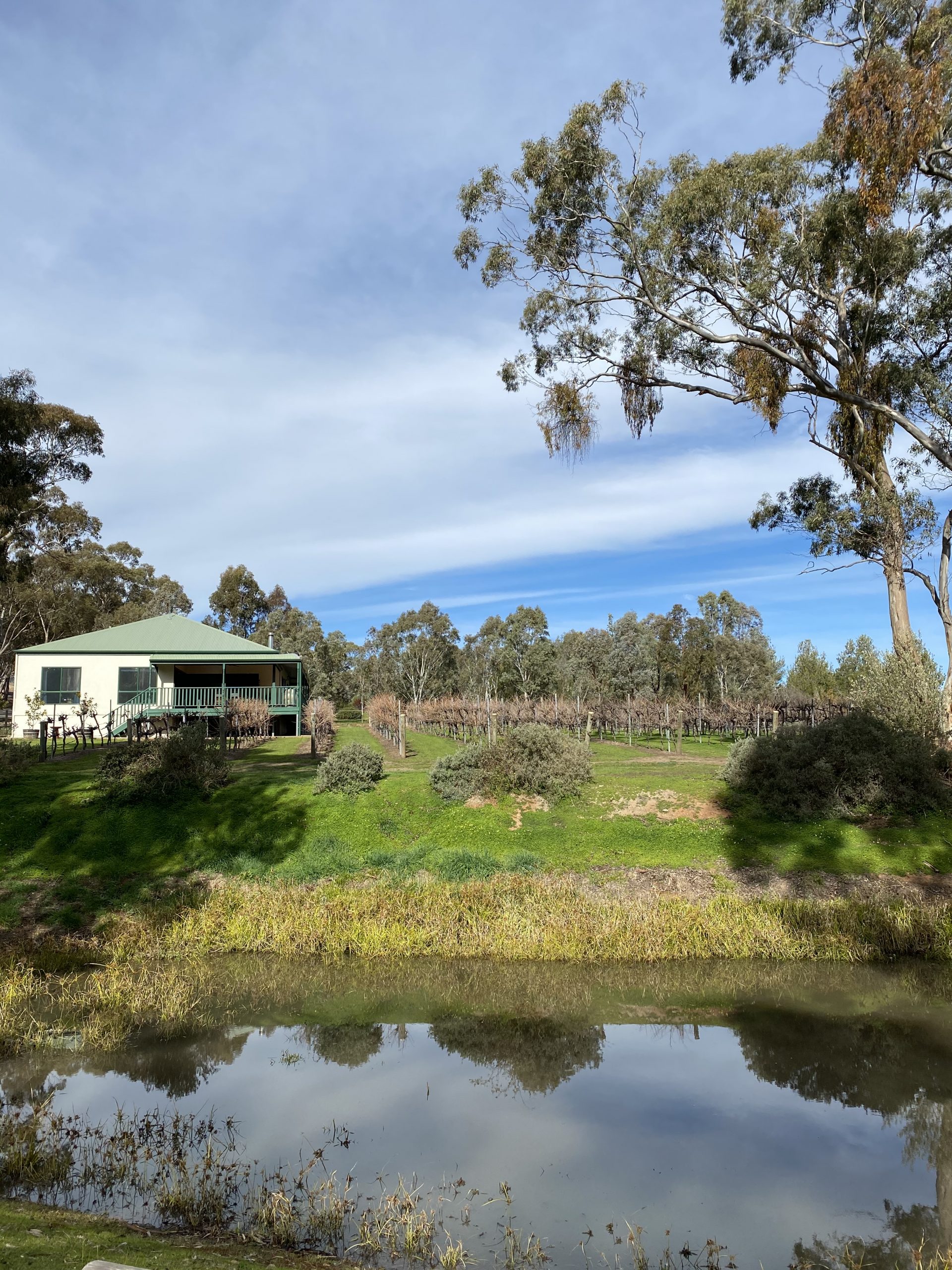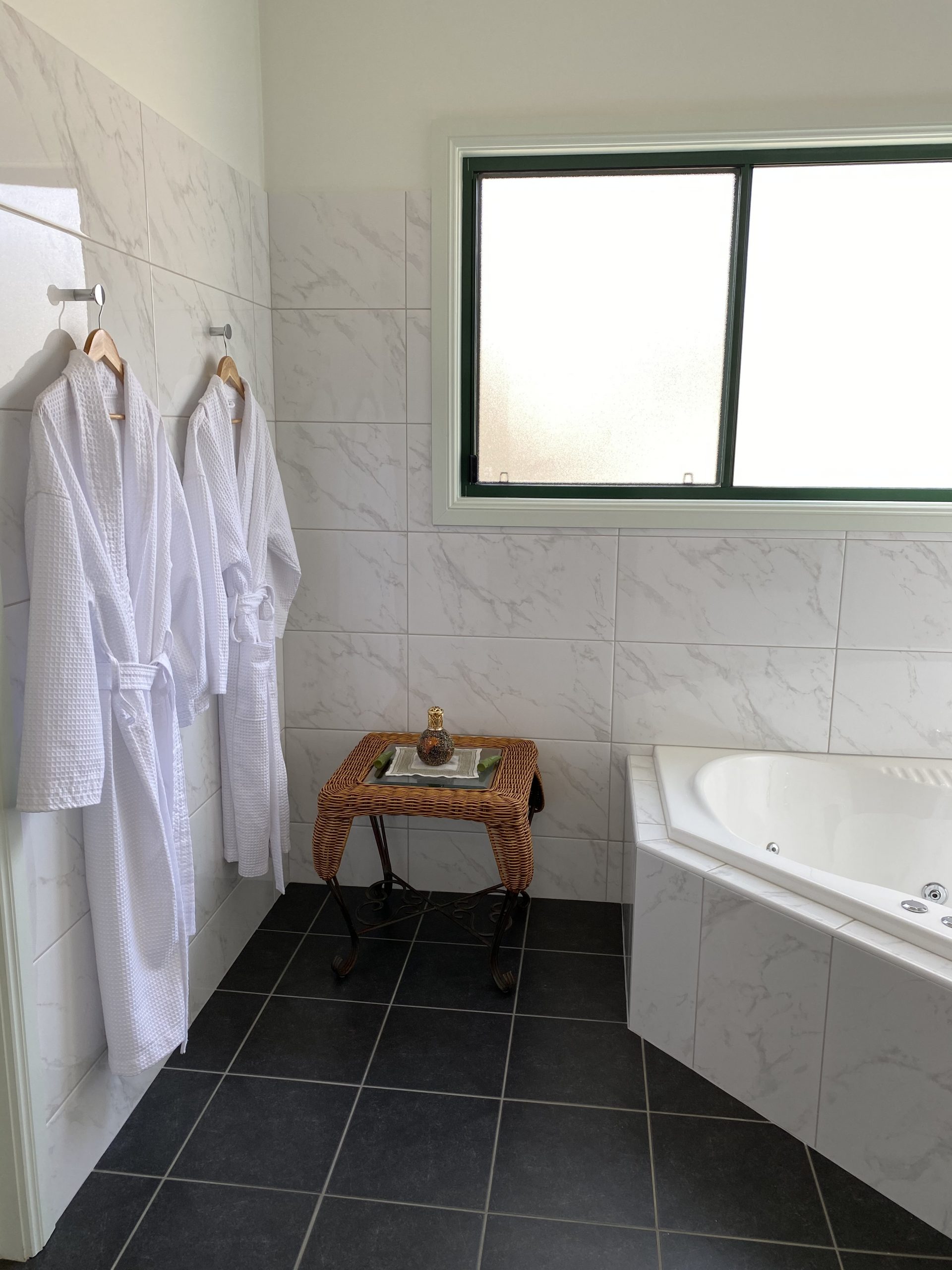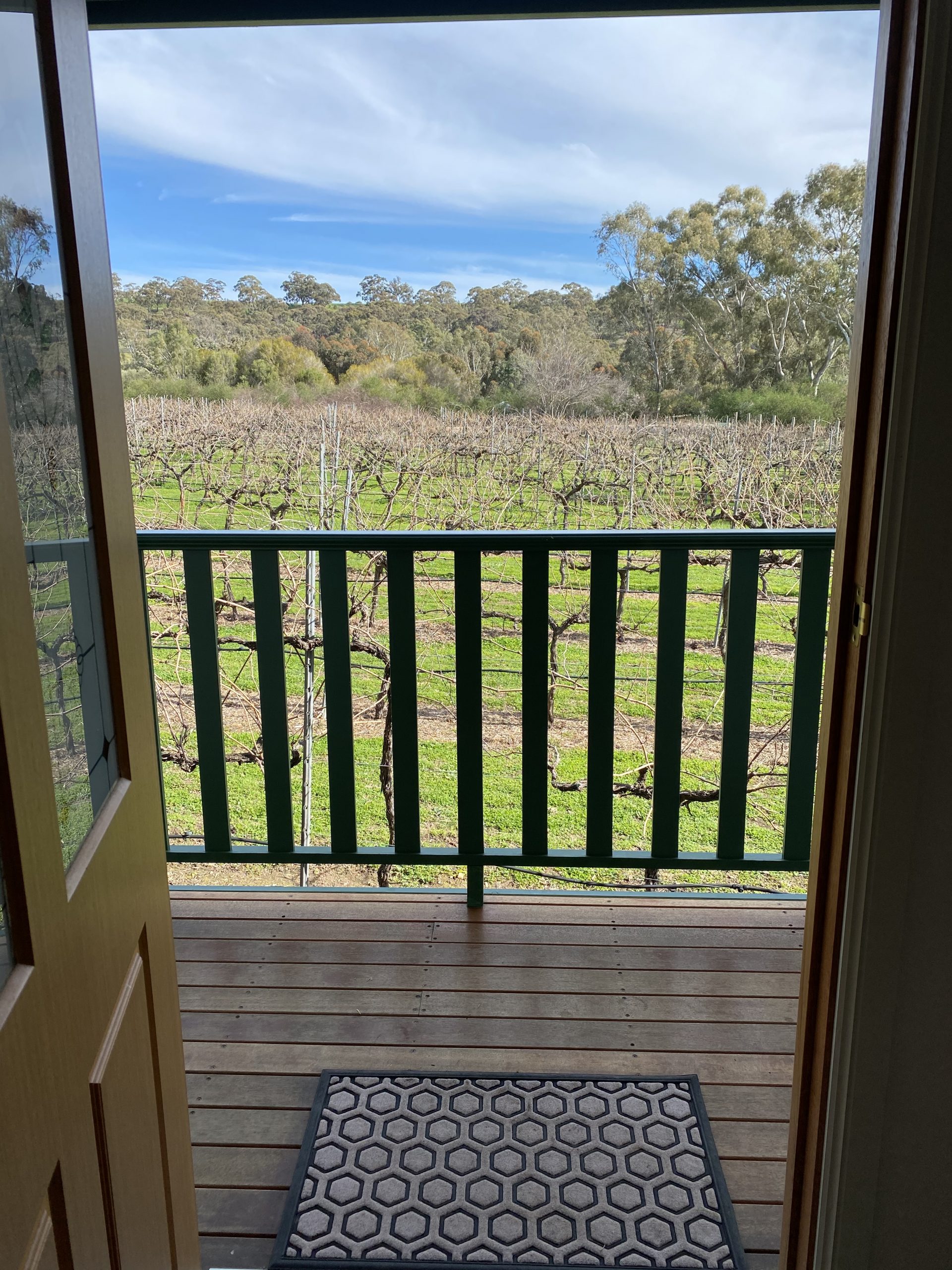 Reliable and always comfortable, Clare Country Club is a family favourite of mine. The resort is perfectly located just a minutes drive from Clare Main Street and in the heart of the Clare Valley wine region. While you can stay here, you can also just visit to dine in their popular restaurant which serves up a fresh wholesome menu and as expected, offers a fantastic wine list.  I've stayed at Clare Country Club with my family and my girlfriends, but it's also ideal for work conferences and for putting up wedding guests.

Riverton Light Gallery
Go to Clare for the wine they say — but what about the art? The Riverton Light Gallery is smack bang in the middle of the main street in Riverton and if you're there on Sunday it's well worth the experience! The gallery houses both a sculpture studio and a gallery space where SA's artists Robert Hannaford and his delightful wife, Alison Mitchell exhibit their paintings, drawings and sculptures.  Robert Hannaford is a renowned realist painter and sculptor and very famous for his Sir Donald Bradman sculpture at Adelaide Oval — and his talented wife Alison Mitchell Artist, is best known for her still-life paintings… and both artists work directly from life. Alison's seasonal produce paintings are so perfectly captured that it looks like you could pick them off the wall and eat them! As you can see, Lauren was fan-girling when she got the opportunity to meet both artists, in person! The gallery is open Sundays 12pm to 3pm, and other times by appointment only. 

Undoubtedly the best way to see Clare is on two wheels! This is the first time I've done the Riesling Trail and it was even more magnificent than I'd ever imagined!
The Riesling Trail is a 35km long walking and cycling track that runs between Auburn and Clare, passing through gorgeous towns and villages and of course some of Clare's most renowned wineries! And if you don't have a bike, well we know someone who does! Mick and Chris are the owners of Clare Valley Cycle Hire and they have bikes for everyone! "Anyone can come and hire our bikes — we see 80 year olds riding, families with kids and babies, we even offer electric bikes for those people who might not be up to peddling," says Mick! The track which used to be a railway line is relatively flat, making it accessible for all levels of fitness.
David O'Leary and Nick Walker have been best mates since they were kids, and after many years of winemaking in various wineries across SA, they decided to create their own wine — O'Leary Walker. With a back pocket full of prestigious wine awards, this duo have put Clare Valley wine on the world stage! Set on a hill overlooking rolling Watervale vines, the views at O'Leary are absolutely fantastic! These views make it ideal as an event location! "We have lots of weddings and big events here on the grounds and people can come in and add their own flare to what is already a world class backdrop," says Event Manager Chelsea.
"Our wines are regionally distinct with fruit sourced from other premium grape growing districts in South Australia including the Adelaide Hills, Barossa Valley, Coonawarra and McLaren Vale. Our theory behind this is to draw on the grape varieties that excel in these quite different viticultural climates while also taking full advantage of Watervales' ideal grape growing climate," says David.
You can pop in for a wine flight, but we highly recommend staying for lunch. The menu is of the highest quality and coincidentally goes perfectly with their wines.
For more information on what to see and do in Clare (and there sure is a lot to get through!), head to southaustralia.com!