Excuse me while I get out my mega-phone and yell from the roof tops, HOW AMAZING IS THE FRAMES!
It's a shame there are so many other great things to do and explore in the Riverland because you won't actually want to leave your retreat – ever! You'll have to make a return trip to fit it all in. 
For those of you who haven't heard of this little slice of heaven tucked away in the beautiful Riverland, let us introduce you to this 6 star beauty, The Frames Luxury Accommodation, just 3 hours from the city or a 45 minute flight away.
10 reasons to visit The Frames Luxury Accommodation
1. It's not just us who love it, they are the proud winners of 3 South Australian Tourism Awards in 2014, 2015 and 2016!
2. It really is HEAVEN. Built high on the cliff-top, overlooking the beautiful River Murray, there are 3 individual retreats, each with their own private river-view balcony, serene outdoor area, heated pool, spa, sauna, BBQ and even 4 shower heads to each shower! 
3. Food, glorious food! You can opt for a gourmet BBQ pack with salad, Supreme BBQ pack with Salad, 3 course meal prepared by a professional chef (Salt and Pepper Catering) ready to heat and serve – or have an in-house chef come and cook for you at your retreat. We chose the private chef and it was OH SO AMAZING! 
4. Get fit…then relax by the pool! The Frames have free electric bikes and there's a great bike track that goes from Paringa along the riverfront into Renmark. We were too relaxed (and  lazy) to do this, but for fitness-loving Adeladies, it's perfect!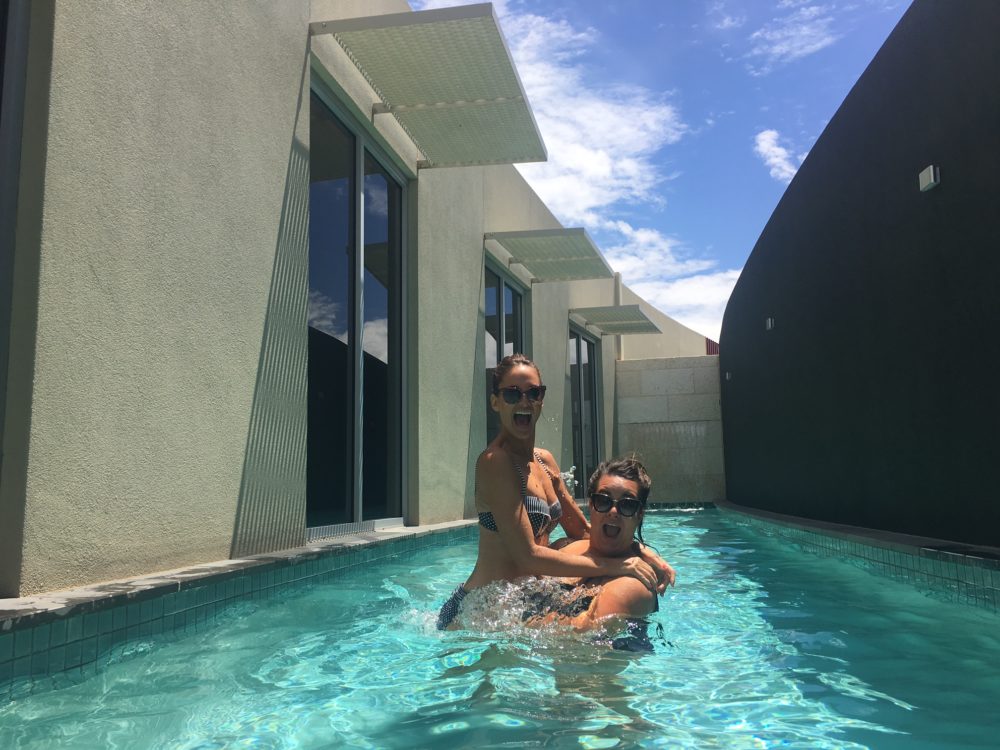 5. They support other local businesses and even have vouchers for guests to use at different Riverland venues.  These include: $25 voucher for Banrock Station to use on food and wine, free tour and tasting for two at 23rd Street Distillery (valued at $50), 10% discount at Renmark Club and a gift from Almondco when you spend $10 or more.
6. They offer pick up and drop off at Adelaide Airport or Mildura airport (additional cost).
7. The owners are delightful. Cathy and Rick are kind, welcoming and just pure joys to meet. Their hospitality is second to none. They poured their love into each of the 3 retreats and you can feel that warmth when you enter each one. 
8. If you stay two nights or more, you receive a Sunset Gondola Cruise for free (valued at $300). This is the most romantic thing I've ever done (not with my husband!).  The cruise includes a 100 year old gondola with Gondolier, delicious cheeseboard, bubbles and a stunning Riverland sunset!
9. Each retreat is secure and private, you even get your own personal code to enter so you can lock the kids out. Ha, just kidding. Or, am I? 
10. They offer an exclusive Backwater Secrets Tour, showing you the most spectacular sights along the Murray, stopping for a delicious BBQ picnic lunch. 
It really is amazing. Go and explore the beautiful Riverland for yourself! With 23rd Street Distillery just around the corner, you are sure to bring a piece of Renmark home with you!
To book, head over and visit them, http://luxuryaccommodationsouthaustralia.com.au/
Hayley xx