As amazing as your childhood holidays were, why not explore an unfamiliar SA region and make it your new holiday destination!
Most Adeladies are divided into two groups — the Coastal Ladies vs the River Ladies. You either spent your childhood summer holidays frolicking between Middleton, Port Elliot and Goolwa, or you were fanging it down the Murray on a rubber tube in the Riverland. And I bet that as an adult you keep going back time and time again to your holiday common-place.
There's nothing wrong with that — but travelling in your own state is even better than you remember it to be. So we dare you to close your eyes, point your finger and pick out a new holiday hot spot, pin-the-tail-on-the-donkey style. If you end up landing on the same place, try looking at it through new eyes and it will be like travelling somewhere completely different.
With so many amazing regions to explore, we've done the leg work for you. So, step out of your comfort zone and create new memories in these incredible SA holiday destinations…
It's all in the journey to get there. The drive to the Limestone Coast is rich in natural wonders, cellar doors, and the best Wagyu beef in Australia. It's also home to the eighth wonder of the world, the Umpherston Sinkhole. Here are some must see places along the way…
Image: Robe, Limestone Coast
Little Blue Lake, Mount Gambier
:: WEBSITE
For outdoor lovers, you can fully immerse yourself in nature and also tell the kids they're amongst actual volcanoes. You'll find Little Blue Lake in the Kanawinka volcanic area between two dormant volcanoes, Mount Schank and Mount Gambier. You can swim in the water-filled sinkhole, or just relax on the floating pontoon. Warning, it is rather deep with 25 metres being the shallowest point — so remember to bring the floaties.
Morrison's Jazz Club, Mount Gambier
:: WEBSITE
After over half a century, Mount Gambier has finally given the people what they want — a dedicated jazz club. Music lovers from all over SA travel to Mount Gambier for the Generations in Jazz event each year and with James Morrison's Academy of Music proving to be so popular, it made total sense. You can enjoy traditional jazz music, regular jam sessions, big bands, duos, trios, and plenty more by students from the academy as well as visiting guests. Be spontaneous and drop in — after all, that's what Jazz is all about right? Spontaneity!
The White House, Robe
:: WEBSITE
I only re-discovered Robe last year and I cannot get enough of the region.
If luxury is high on your list, then The White House will be right up your alley. With amazing views of Robe from an enormous deck area upstairs, a swimming pool, and located right near the marina within walking distance to the main street, it's ideal for couples seeking a romantic weekend escape, and also great for families. Did I mention the large lounge area with plasma TV and Foxtel?
Image credit: The White House 
Kilsby Sinkhole
:: WEBSITE
Scuba diver's HEAVEN! At the right time of year, the Kilsby Sinkhole swells up with diving enthusiasts from all over the world because of its shimmering crystal-clear water. It's one of the most incredible and photogenic sinkholes in Australia, giving divers amazing experiences every time.
Mayura Station
:: WEBSITE
Located in the idyllic countryside just a few minutes outside of Millicent you'll find Mayura Station, an unassuming little building with a globally recognised status for being AMAZING. Their speciality is the full-blood Wagyu beef, a label that is unrivalled in South Australia — or Australia, for that matter. While we were at Mayura, we learnt that 95% of Wagyu sold in the Australian market is cross-bred and not pure-bred Wagyu. If it specifically states Mayura Station, then you know you're definitely getting 100% full-blood Wagyu beef! So, make sure you stop in for lunch.
The Fleurieu region is BURSTING at the seams, full of secret jewels that are just waiting to be discovered by you. But don't just take our word for it — with plenty of new and exciting things on offer on the Fleurieu, it's time for you to head down and check it out. So, what's on offer in the big FP?
Naiko Retreat
:: WEBSITE
Disconnect and recharge at this amazing coastal 2,000 acre operating sheep farm. With panoramic views of the rugged Fleurieu coastline, you can enjoy swims and beach time in your own private cove, just for Naiko guests. With three King size bedrooms, each with their own ensuite and free-standing bath, fully equipped kitchen, and BBQ, you and five of your nearest and dearest can enjoy the property.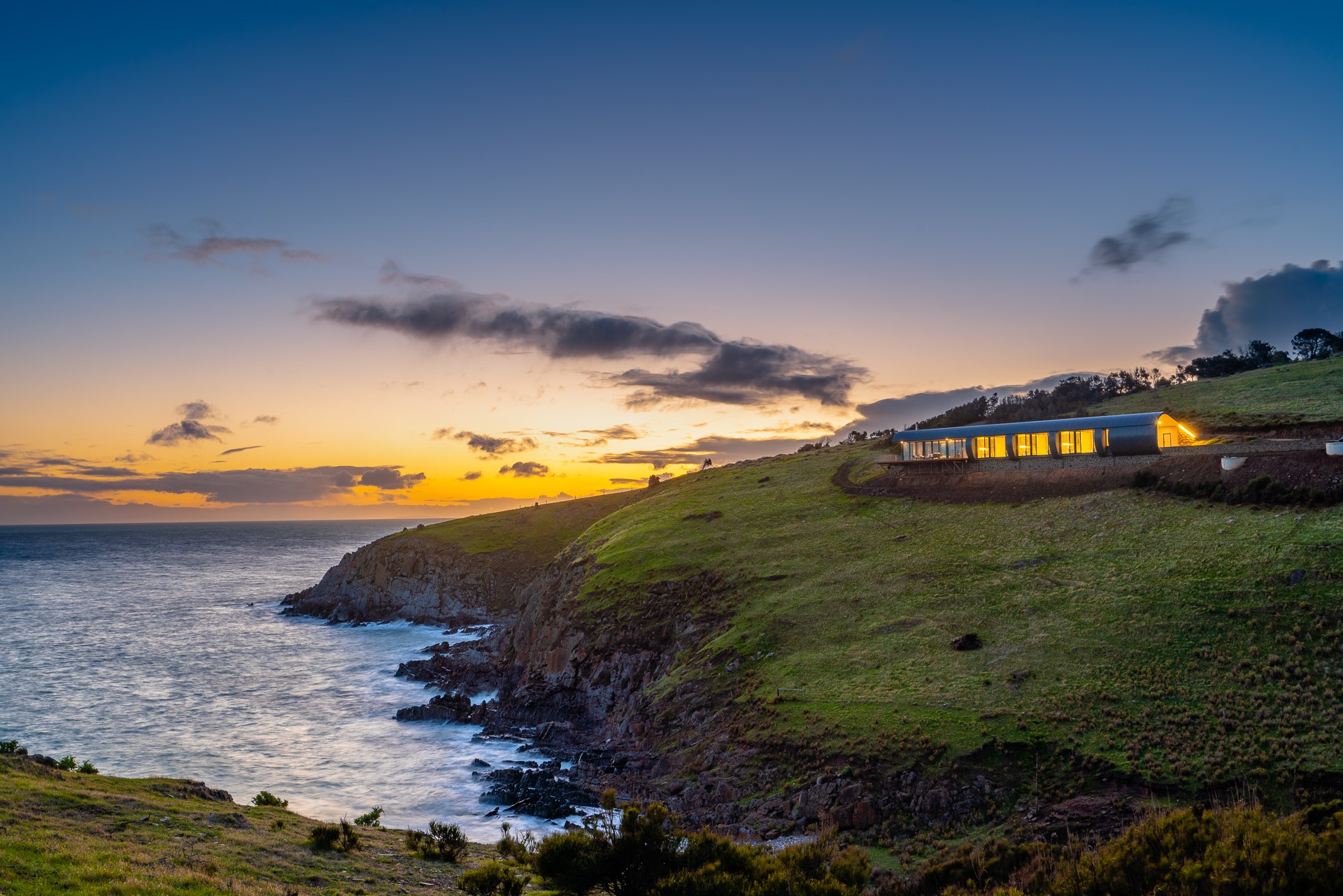 Image credit: Naiko Retreat
Swell Brewery
:: WEBSITE
What a cracker of a venue! Combining surfing and beers — the ultimate combo! With 16 craft beers on tap, local wine and next-level food from their American-inspired menu, Swell really is SWELL. Owner Dan, has been brewing cans and kegs of his refreshing craft beer for over seven years. The best way to work through the range and discover your favourite is by ordering the tasting paddle. You're in complete control of what goes on it, and Swell encourages you to mix and match. The same goes for their takeaway brews — just select your top picks from their core range and take home a mix to enjoy at your leisure.
Second Valley
:: WEBSITE
With 25 kilometres of clean, sandy beaches, there's lots of water fun to be had on the coast.
Second Valley offers a bunch of activities for water lovers — mysterious rock pools, jetty fishing, kayaking, diving, snorkelling… whatever tickles your fancy. The beach is also a popular dive training site where amateur divers can explore small caves, and might even spot the stunning dome shaped Lasseter's Reef which sits 300 metres from the shore.
Image credit: Marcus Wallis
Maxwell Wines
:: WEBSITE
Arguably one of the best regional dining experiences in Australia, Maxwell is a world-class winery and restaurant to boot. On the menu, expect exceptional fresh, seasonal produce from local Fleurieu suppliers. Head Chef Fabian Lehmann says, "Menus are a guided journey into provenance, flavour and execution." The menu is best served with a wine experience. You can indulge in a Canape and Wine Flight, a Loft Tasting Experience, Access All Areas Tour or even a Museum Experience. Either way, make sure you get at least a taste of the full Maxwell way while you're there.
While you're exploring the region, pop into Down the Rabbit Hole for one of their delightful drops in their open-aired double decker bus. If your taste buds are thirsty for more, stop off at Alpha Box and Dice for a glass or two of wine that really enchants and a platter.
The Vineyard Retreat
:: WEBSITE
Right in the heart and soul of McLaren Vale, these super swanky and ultra elegant retreats offer views of one of the world's best wine regions. With vines for days, you can simply relax in one of their four self-contained guest houses, offering a range of sleeping options. The Cadole Avalon is a Studio Suite, The Strand and Ardmore are one bedroom guest houses and The Highland and Manhattan offer two bedrooms, each with their own ensuite. And the cream on top — it's just a short distance from some outstanding cellar doors and McLaren Vale restaurant favourites.
Smiling Samoyed Brewery
:: WEBSITE
Overlooking Myponga Reservoir, this brewery invites you to pop in for one of their award-winning craft beers and a pizza. If weather permits, grab the pizza to go, head to the banks of the reservoir and dine with a view. The real highlight — apart from their amazing brews — are the beautiful Samoyeds who love to hang out with guests.
This region balloons up with tourists every year. And why wouldn't it? With succulent seafood (the best in the world), amazing wine, cellar doors, loads of water activities and endless sandy beaches, it's also a place of extreme natural beauty where you can try your hand at oyster shucking (do it), swim with sea lions and even cage diving with great white sharks! It might be a touch further from Adelaide, but the good news is you can either fly over in only 50 minutes OR take the scenic four hour drive and soak up the landscape. So, what else is on offer?
Fowlers Bay Dunes
If you want to create new memories with your kids, try star-gazing at one of SA's cutest small coastal town, Fowlers Bay — it's like nowhere else in the world.
Coffin Bay National Park
:: WEBSITE
Perfect for water-lovers. You can spend the day fishing, sailing, scuba diving, windsurfing and even hiking through the National Park's gorgeous coastline. My husband also tells me you can surf here. But I like to block my ears, because I'm pretty sure there are some BIG fish out there.
Line and Label
:: WEBSITE
Putting Port Lincoln on the map, The Line and Label Restaurant is next level amazing! With a three million dollar renovation, they've managed to draw in the chefs with a reputation for being the "best of the best" in the country. The food is mind-blowing. It's the kind of food where your knees give way and you may moan in delight! 90% of their dishes are produced from their own crop with hundreds of fruit trees and a veggie patch to die for. It's also the perfect and most picturesque spot to say 'I do'.
Camel Beach House
:: WEBSITE
Experience absolute privacy and the ultimate nature-fuelled getaway at Camel Beach House. With 250 acres of gorgeous oceanfront views,  you can really switch off and soak up all that the region has to offer, I mean, imagine the sunsets with a view like this, let alone waking up to the desert light in the morning. Local owners are proud to offer an eco off-grid experience, utilising the benefits and luxury of pure rain water and solar panels for energy. But fear not, it's also full of creature comforts that you need… a kitchen with modern appliances, commercial fridge, wine cooler and a basic bush pantry. This place has romance written all over its walls.
Image credit: Camel Beach House
Lincoln Estate Wines
:: WEBSITE
Dreams DO come true — two of our favourite things have come together in one hell of a cellar door! Lincoln Estate Wines is a family-owned business just waiting for you to drop in and enjoy their beautiful range of wines while feasting on a platter. Then, head outside and you get to feed and play with hundreds of animals! Cows, kangaroos, rabbits, camels — you name it, they have it!
And who wouldn't LOVE these guys!
Ahh the Riverland — there's a reason why it's one of the most popular holiday destinations in SA, and that's because it's got it all! Adventure, extreme sports, incredible views and a great vibe. And for our wine and gin loving Adeladies, there are plenty of cellar doors, distilleries and wineries to whet your whistle. If the Riverland has always been your holiday hot spot, try looking at it through fresh eyes and flip the whole thing upside down, it will be like going somewhere new.
The Frames
:: WEBSITE
For those of you who haven't heard of this little slice of heaven tucked away in the beautiful Riverland, let us introduce you to this 6 star beauty, The Frames Luxury Accommodation, just three hours from the city or a 45 minute flight away. It really is HEAVEN. Built high on the cliff-top overlooking the beautiful River Murray, are three individual retreats, each with their own private river-view balcony, serene outdoor area, heated pool, spa, sauna, BBQ and even four shower heads to each shower!
23rd Street Distillery
:: WEBSITE
Gin is IN. And when we heard about the Gin Tasting experience at 23rd St Distillery, we were there in a flash. The Sunday Gin Blending Experience is the perfect way to taste all their world renowned gins and also leave with a 200ml bottle of your own handcrafted gin, signed by the 23rd St Master Distiller. You can also explore the century-old copper stills with a guided tour and tasting… of course, we did that too.
Mallee Estate
:: WEBSITE
Have you heard of Mallee Estate — you know, the beautiful cellar door and vineyard just outside of Renmark? Well, they also have a restaurant, Eleni's, and… here it goes… it is the best Greek food I've ever eaten in South Australia. BOOM. Now, I know I haven't had a chance to visit everyones' γιαγιά to taste-test my theory, but we guarantee that if you visit Eleni's you won't leave disappointed (or hungry)!
Woolshed Brewery
:: WEBSITE
Set on the banks of the River Murray, Woolshed Brewing is 100 years young and famous for its award-winning Hard Lemonade and delicious ciders. They also offer local regional platters, so you can grab one of their tasting paddles and sit outside on the deck to chinwag all afternoon.
Pike River Wine Centre
:: WEBSITE
A new offering to the Riverland, the awesome team behind Pike River Wine Centre welcome you with open arms to their new centre, where you can try drops from over 20 local wineries. You can either settle in for a day of wine tasting, or just pop past and soak up the sensational views of the Pike and Murray.
Lake Bonney
:: WEBSITE
Water sport HEAVEN! Sailing, water skiing, rowing, whatever tickles your fancy, you can do at Lake Bonney. This giant freshwater lake is also one of the most photogenic locations in SA, with sunsets to die for — it even made the front cover of our first Adelady Magazine!

Loveday 4×4 Adventure Park
:: WEBSITE
When we go 'camping', we mean 'glamping'. But if you're into actual camping, like with a tent and swag and all that jazz, then we've heard Loveday 4×4 Adventure Park is SO much fun! With affordable 4 wheel drive day trips, you can spend a weekend exploring the property.
So, now all you have to do is pick which region you want to discover or rediscover first! For loads more SA holiday ideas and experiences, jump over to our friends at southaustralia.com. 
Hayley xx