By Kim Lamb
Original post on Eat Play Love Travel
If I knew I only had one more day left on earth, I would in all probability spend it lunching at a winery with friends. Either that or going on a NASA mission to space.
Given I most likely wouldn't pass the medical on the latter, I'll humbly settle on the former. In which case, these are my BFFs of winery lunch spots that I would have to choose between:
 6 of South Australia's best winery lunch spots
1. Maximilian's Restaurant at Sidewood Estate, Adelaide Hills
Image credit: Maxamilian's
If Zhivago and 2KW conceived a baby it would be Sidewood Estate on a Saturday arvo. With a DJ creating an energetic backing track, any given Saturday you'll find the fedora hat-wearing, belly-baring Adelaide fashion set here on the lawns, having a swing at Sidewood Estate's golf challenge (there's wine prizes if you hit a hole in one, across the lake, on the floating green). And let's be honest, I'm utterly envious of anyone who can bare abs and swing a golf club, with a glass of vino in-hand.
Tucked away in the fairy-lit Maximilian's Restaurant is a much more sedate, golfless affair. One that instead involves the likes of Coonawarra sirloin, Gawler River quail, raspberry and blueberry frangipani tarts, and enough cheese platters to make the lactose-intolerant cry. Of course, all paired neatly with Sidewood Estate wines, with the cellar door conveniently located one-metre away.
Maximilian's Restaurant
15 Onkaparinga Valley Road, Verdun, South Australia
Phone: (08) 8388 7777
 2. d'Arry's Verandah at d'Arenberg, McLaren Vale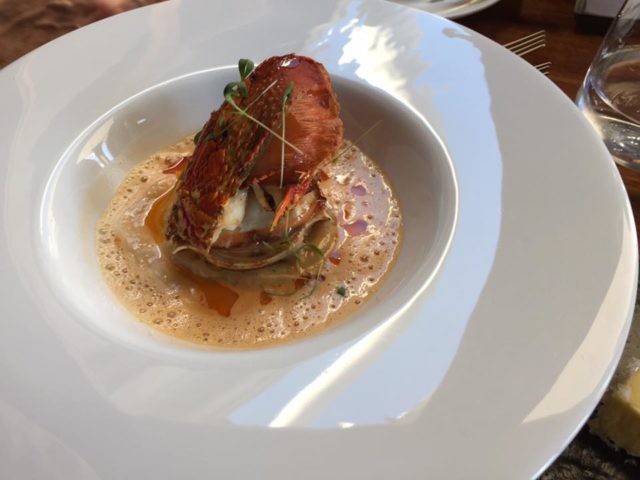 Image credit: @kerin.james + d'Arry's Verandah
This list would be a fraud if I didn't mention the eatery offspring of the shiraz-supplying South Australian superstar d'Arenberg. While looking out across the picture of perfection vineyards, d'Arry's Verandah's 10-course degustation will send you straight to heaven – and death from indulgence will be forever inscribed on your tombstone. For $95pp (add an extra $55pp for wine pairing), you can spend the afternoon in a foodie version of Bora Bora, with a seasonal menu made up of the likes of smoked trout, mulled wine sorbet and d'Arry's signature of signature dishes: the lobster medallion, with blue swimmer crab and prawn tortellini, and lobster bisque.
d'Arry's Verandah
Osborn Road, McLaren Vale, South Australia
Phone: (08) 8329 4848
darenberg.com.au/darrys-verandah-restaurant
 3. Pike & Joyce, Adelaide Hills
Image credit: Pike & Joyce
Perched on top of a hill, the newish Pike & Joyce cellar door and restaurant enables you to dine on some A+ views of the Adelaide Hills, as well as some crispy skin pork belly, handmade potato gnocchi and South Australian king prawns. This sunny spot seamlessly marries together a cosy (weekend-only) restaurant, panoramic balcony and cellar door, where at the latter you can conveniently taste Pike & Joyce's cool climate single vineyard wines.
 The best thing is that to get here (it takes about 35 minutes from Adelaide), you have to conquer a series of twisting and turning, winding roads through the most beautiful of countryside. On my most recent of visits, someone needed to remind me that I wasn't Jeremy Clarkson filming an episode of Top Gear.
 Pike & Joyce
730 Mawson Road, Lenswood, South Australia
Phone: (08) 8389 8102
4. The Lane Vineyard, Adelaide Hills
Image credit: The Lane Vineyard
I do love the Adelaide Hills (if it's not screamingly obvious given this is the third AH entry on this list) – there is something Disney-like about looking out across the Adelaide Hills punctuated by neatly-stacked vineyards. And this is exactly the view you'll feast on from The Lane Vineyard's dining room, with a glass of sauvignon semillon in hand and a heaving plate of pan-fried gnocchi, with semi-matured goat's cheese, hazelnuts and marjoram, staring lovingly up at you.
A hop, skip and a jump (32 minutes) from the mall's balls, The Lane Vineyard is a modern cellar door, with a modern menu that has an all-star line-up of fresh, seasonal produce. The 'feed me' tasting menu is $80 and worth every dollar.
The Lane Vineyard
5 Ravenswood Lane, Balhannah, South Australia
Phone: (08) 8388 1250
5. Fino at Seppeltsfield, Barossa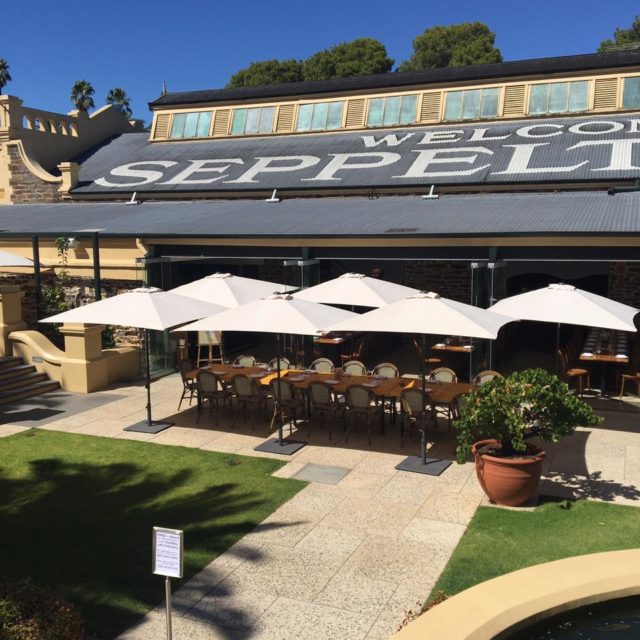 Image credit: Fino Seppeltsfield
Driving down the palm tree-lined Seppeltsfield Drive towards one of Australia's oldest wineries – Seppeltsfield – you could confuse yourself into thinking you and your girl squad were on Rodeo Drive heading for Chanel. But put away the AMEX because here in the Barossa it's all about the wine, and the food that you can drink wine with.
The original Seppeltsfield bottling hall is now home to one of the Barossa's finest winery-meets-food experiences. While the menu only has a handful of options, Fino turns up the flirt-factor by also playing the fresh local produce card.
Now excuse me while I bury myself in the Clare Valley Scotch fillet, with charred broccolini, Kolophon caper and anchovy butter.
Fino
730 Seppeltsfield Road, Seppeltsfield, South Australia
Phone: (08) 8562 8528
 6. Coriole, McLaren Vale
Image credit: Coriole
With its fun atmosphere, Coriole is like a younger sister to its up-the-road neighbour d'Arry's. Here you can lunch on share plates in the courtyard, enclosed verandah or surrounding gardens, with the full 'feed me' tasting experience inflicting a reasonable $65pp on your bank balance, or $95pp with matched Coriole wines. As like every other winery restaurant on this list, Coriole is true to it's philosophy of serving local, seasonal produce, with as much grown on the property as possible. Warning: you will get drunk on the vineyard views, if not that then definitely the fiano.
I also aggressively encourage you to try the house-baked sourdough bread dunked in Coriole olive oil – it's way better than any NASA mission!
Coriole
Chaffeys Road, McLaren Vale, South Australia
Phone: (08) 8323 8305
If you enjoy wine as much as I do, you might want to check out some of my fave wine bars in the City!
Kim xx