BULA!
I had to write this as soon as I landed back in SA while my post-holiday depression is still raw and while my heart is a flutter with 302 Fijian Islands.
Fiji, I want to scream it from the roof tops – YOU HAVE OUR HEARTS!
I cannot recommend holidaying in Fiji more! It's perfect for lovers, for friends, for families and safe enough for solo trips too. We were there for 5 days and I'm already planning my next visit, where I can bring my whole family and show them Fiji in all it's glory! And of course the best part — the people, which I can now call my friends!
Fiji Airways now flies direct from Adelaide to Fiji and in only 4.5 hours, we found ourselves in absolute paradise. If you're heading there, jump onto Tourism Fiji for some great tips from the locals.
Here is our itinerary so you can copy/steal it!
Greeted with BULA'S and big white smiles, the staff on board Fiji Airways are so warm, kind and super welcoming. We were lucky/fancy enough to travel business class. One word -WOWZA!
HEAVEN! This place is exactly like you had imagined Fiji to be in your head, but better. Nestled between thousands of palm trees, pools and perfectly manicured tropical gardens, are hundreds of accommodation options. From hotels rooms and beach huts to honeymoon suites and beach-front villas, there is something to suit every traveller.
And the best part about staying at the Outrigger Fiji Beach Resort, is you don't really have to leave. With so many restaurants/bars and buffet options, you can basically dine somewhere different every day! They also have so many water and land activities and everything you need to ensure you have the most perfect and relaxing holiday ever!
Here are just some of the things we tried and tested…
:: Traditional Fijian Cooking Class on the beach with the Head Chef!
:: Kava Ceremony. If you are lucky enough to participate in a Kava Ceremony, make sure you drink the Kava. It's rude not to. If you're worried about the water, you can ask if they use bottled water before making it.
:: Day Spa. If I was to imagine Heaven, this is what it would look like. Each room is wide open to the elements and over-looking impeccable views of the beach and palms… oh what a life!
:: A school visit – This is a MUST. The Outrigger have a program where guests pay a small amount of money to visit a Fijian school where they can meet and play with the beautiful children and get a great glimpse about the Fijian way of life. But the best part is that your money goes towards building a special (and much needed) project at the school. The Outrigger program has built a kindergarten, a new fence, a library and this year, they are building 2 new classrooms. So — you get to go there, "Block style", get your hands dirty and build! We got to help paint the classrooms… sorry in advance if it's not perfect!
While you're at the Outrigger, you must say BULA to THE BULA MAN! Yep, there's an actual guy whose job is to yell (in the nicest possible way) BULA to every single car that drives into the hotel. What. A. Guy!
It is exactly what the name suggests — Wild and Adventurous! For animal lovers, you can go there and feed the baby endangered turtles so they can eventually be taken back to the wild. Or, if you're feeling EXTREME — try the new Zip Rail. That's what I did and Ohhhhh maaaa Gawd, it was EXTREME!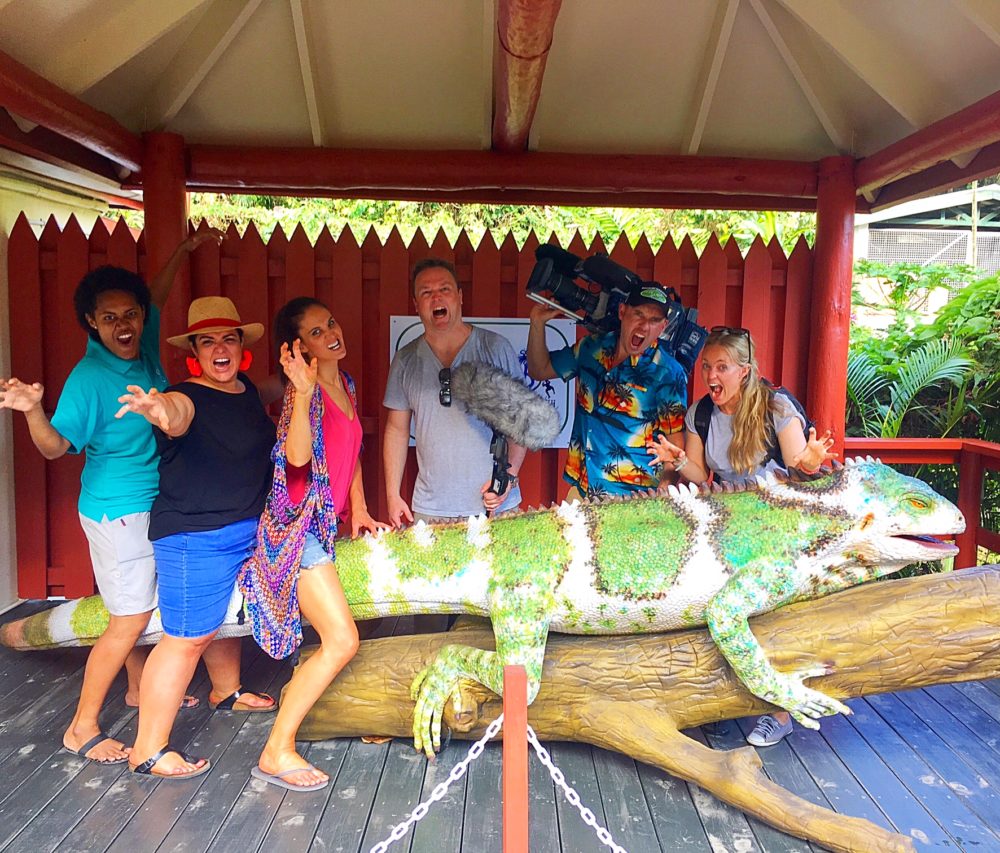 Horse riding at Intercontinental
Because you haven't been to Fiji if you haven't ridden and horse and trotted along a deserted, white, sandy beach! This is worth the money, just remember to take photos because if you don't Instagram it — did it really happen?
Before we went to Fiji we googled, "the best Fijian fashion" and this guy popped up! We emailed him directly and nek minute, we are at his mum's plantation and trying on all his stunning garments! You'll find his colourful clothes in Fijian boutiques but also online, hit him up on Instagram, here.
Nadi Markets
So I know we are pretty spoiled with the Adelaide Central Markets but this place would have to come a close second in terms of fresh, exotic fruit and veggies! I've travelled to Thailand and Vietnam a few times and the big difference I found with Fijians, is they aren't pushy, at all. It may be that they are on "Fijian time", so they're just soooo laid back, or it's just the way they are. But we were never pushed into buying anything, instead they were happy to smile and chat to us about where we were from… I think we may have stood out like dog's balls. ha.
I'm pretty sure if you look up the word "Luxury" in the dictionary, Sofitel comes up. It really is stunning. With marble tiles, Asian-style decor and pools for days…no wonder they have wedding booked here just about every day of the year!
But the main attraction comes for free — the sunsets are BEYOND INCREDIBLE here! If you're a photographer or Instagrammer, you cannot come to Fiji and miss this!
While you're at the Sofitel, you should try early morning Yoga and Pilates. Then, while you're sipping cocktails by the pool, you should know — the kid's club is phenom!
I had to make sure the Kid's Club was on-point, so I joined in in their basket weaving activity… I wasn't very good.
Things we planned to do but missed out on, because we were busy drinking cocktails by the pool…
Cloud 9 Fiji – a pontoon in the middle of the ocean where you can eat pizza, sip cocktails and try your hand at a bunch of awesome water sports and activities. 
Big Bula Waterpark – every kid's dream! Waterslides galore! 
So, serious face on — if you're looking for am overseas holiday, somewhere where you can really unwind, have loads of fun and be surrounded by picture-perfect views, Fiji is your gal! Just don't tell us that you're going, because we'll be green with envy!
Just take a look at the beauty WE experienced…
Hayley xx