There's a rad little vintage shop in Adelaide Arcade named Vintage Pickers. They're all about making vintage and retro affordable. And I'm all about finding bargains — so it's a match made in heaven! You'll find furniture, homewares and everything in between. It's run by one super cool chick, India Armstrong and today she's sharing with us her fave finds in store!
Hayley xx
I love vintage, and I mean LOVE it For me it's all about bringing new life to something that was once so carefully picked out and cherished. On top of that I'm an avid bargain hunter and nothing excites me more than finding a good steal or that piece you would move the world to own. So, this is why I opened my shop – Vintage Pickers. It's so incredible being able to bring my obsession of vintage to the beautiful people of Adelaide.
Now I'm going to keep this short and sweet so we can get to the good stuff; my top 5 picks in store. Yes, this is a big deal! Part of me wants to be incredibly selfish and keep it all… But all of you deserve some vintage goodness in your life. So here you go:
1. Retro Cupboard ( $35)
The fire engine red makes this the perfect statement piece to brighten up any room and it's great for things other than sitting as well, I promise!
2. Dining Chairs ($30 each)
These two dining chairs have been up-cycled. When I got them the were looking very sad and in need of some love. I love the shabby chic mixed with the vibrant yellow.
3. Suitcases (Small $25 and large $30)
I cannot express how much I love vintage suitcases! They can be used for storage or even somewhere to put all your shoes- the possibilities are endless.
4. Memo Board ($45)
I just think this is such a clever idea! I've got one in the kitchen and my bedroom- so handy for keeping all those papers and little notes that often get lost.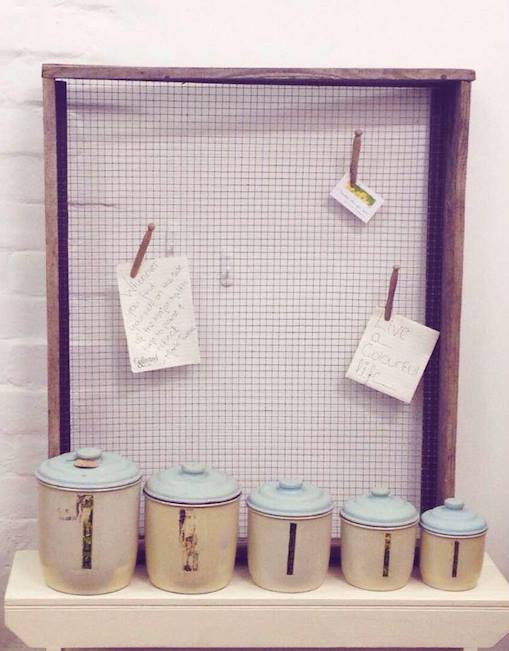 5. Antlers ($75)
I truly believe that every household needs a pair. They're the perfect mix of rustic and chic and make a great feature piece.
What are your fave Vintage finds in Adelaide? 
India xx

India Armstrong is the owner of Vintage Pickers, a shop in the Adelaide Arcade dedicated to all things vintage. Born and raised in Adelaide she discovered her love and talent for finding vintage treasures at a young age. She has turned this passion into a business with a flair for style beyond her 19 years. When she is not at the shop she's out picking for more vintage, often with Coco; her Italian greyhound and trusty sidekick. 
:: INSTAGRAM 
:: FACEBOOK