When the right people recognise the natural beauty that SA has to offer, and choose to set their sights on building a business that compliments it, that's when the magic happens.
Take Coast Motel and Apartments, for example — the striking blue coastline of Port Noarlunga deserves to be shown off, and what better way to do that than by inviting locals and travellers to come and stay right on the beach front? Sounds like bliss to us.
A few years ago, owners Jacqui and Josh were leading very different lives and careers, until enough was enough and they decided to invest in Coast Motel and Apartments, which they had been driving past and dreaming about for years. Now almost 2 years later with lots of love and TLC, it feels like a totally different place with 15 self-contained studio apartments all stylishly decorated that open right out into the sea air.
If you know what it USED to look like, then have no fear — it's been so heavily renovated inside and out by Jacqui & Josh that it's almost unrecognisable. Imagine an exterior with a very successful face lift, a rebrand, brand new decking out the front, an inbuilt guest laundry, and a restaurant space that's been completely remodelled (it's not quite open yet but stay tuned). As for the rooms themselves, they've all been stripped back and refurbished to the highest standard. Especially the brand-spanking-new Luxury Beach Studio Apartment… ohhhh Luxury Beach Studio Apartment, how we love you!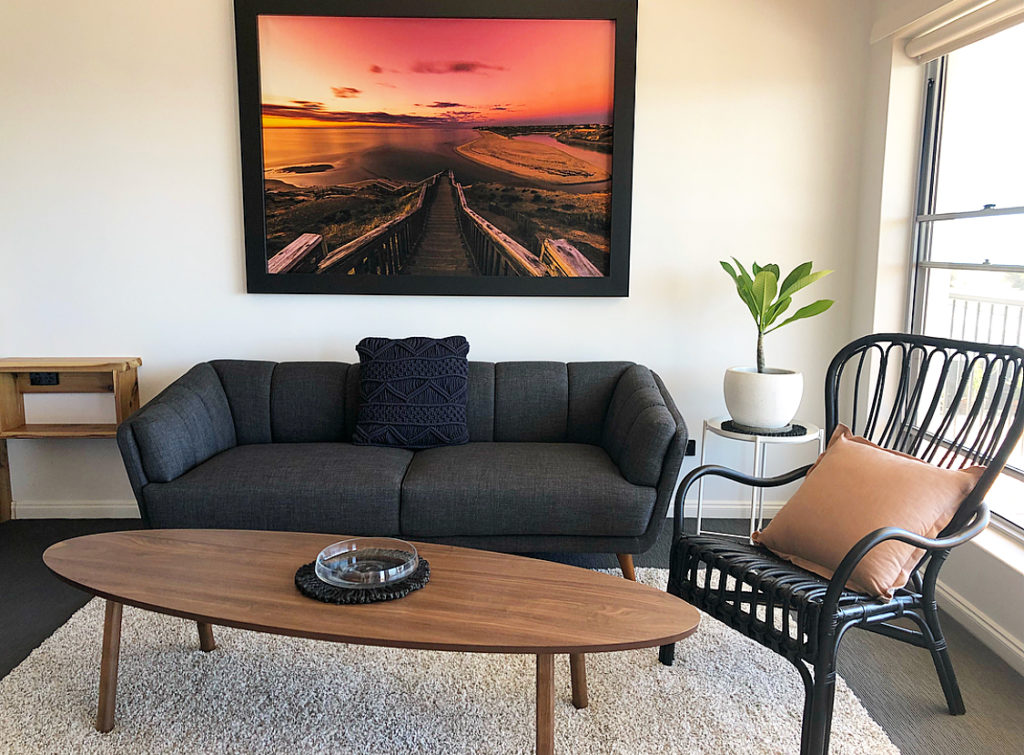 This particular room was finished just minutes before we arrived and wowza, it's amazing. With Jacqui leading the design of the room and Josh adding in his carpentry expertise, the room is total perfection, filled with pieces of furniture that Josh actually made by hand! That's one clever fella.
With a brand new kitchen and bathroom, plus a lush main bed and day bed, it's lucky those amazing views are waiting outside your window or you might never leave the room!
And speaking of the views… they are a photographer's dream come true! These guys are located almost opposite the much loved Southport Beach at Port Noarlunga South. We first discovered Coast Motel and Apartments on Instagram, after spotting some of Josh's incredible photos of the rugged coastline (told you he's a clever fella!) and couldn't wait to get in there with our slightly less fancy iPhones to snap some pics ourselves.
While nothing can quite beat Josh's eye for photography, he is right in saying that the natural beauty of the coast does a lot of the work for you. And if you don't get the perfect snap? Don't stress, because Josh's prints are scattered around the venue for you to buy. It truly is stunning.
Image Credit :: @coastmotelandapartments
Image Credit :: @coastmotelandapartments
Coast Motel and Apartments is located a handy 11 mins from McLaren Vale, so it's perfect for anyone that can't quite decide between a holiday in the vines or next to the sea. It's also only 40 minutes from the Adelaide CBD, making it a brilliant weekend getaway destination. Plus, you don't have to bring a thing – Coast Motel and Apartments offers the space and convenience of enormous studio apartments but includes traditional hotel luxuries such as beautiful linen, daily house-keeping, amenities, free NBN Wi-Fi and onsite parking.
And if you're not already sold, and planning your next visit — Coast Motel and Apartments is also home to the beautiful Curtis, and if this gorgeous face doesn't get you over the line then NOTHING will!
Millie xx
Want to see more of Coast Motel and Apartments? Check them out here: 
:: WEBSITE :: INSTAGRAM :: FACEBOOK ::