Oh fabulous Fleurieu, how we love you so!
We jump at any opportunity we get to make the short drive to the Fleurieu Peninsula. Why? Because it's filled to the brim with incredible dining opportunities, an emerging drinks scene, a naturally beautiful landscape and, of course, some of the best accommodation that South Australia has to offer.
Image Credit :: Lost Retreats 
With some of the best beaches in SA, it makes for a great summer holiday spot. But there's something magical about the rugged Fleurieu coastline in winter, too. Challenge your curiosity with these six spots to cosy up this winter…
The history! The charm! You'll find this beauty in the middle of the organic shiraz vineyards, right where the foothills meet the ocean. This phenomenal building dates right back to the nineteenth century, but after being devastatingly gutted by fire 100 years ago, it's now been reborn as an architecturally designed, luxury accommodation that celebrates its rich past. We feel fancy just looking at it!
Image Credit :: Old Chaff Mill Retreat
This private oasis is the perfect place to sit back, relax and take in the endless coastline views. When the hustle and bustle gets too much, book into one of three totally private retreats. Whether you're hunting for a romantic trip for two or a blissful spot to gather 14 of your loved ones together, there are options available for everyone.
Image Credit :: Kings Beach Retreats
An idyllic lake on one side, sprawling vineyard views on the other — it doesn't get much better than that! Lost Retreats is the ideal getaway for those who want to unplug and relax but still explore the Fleurieu Peninsula — and these retreats are positioned within easy reach of some of the region's most popular restaurants, wineries and markets. Or, if it's privacy you're after, you can build your own picnic with local wines, cheeses, olives and other locally produced delicacies to enjoy in peace.
Image Credit :: Lost Retreats Mount Jagged 
This old stone farmhouse has had a total makeover and now sleeps up to eight guests across five bedrooms. Created by a husband and wife who saw potential in this desolate stone home, the 116- acre property now oozes warmth and comfort. If you're a walking enthusiast, you'll be extra pleased to know that Lapito House shares a border with the Heysen Trail and Myponga National Park — and is the perfect base to return to after a wintery day of walking.
Image Credit :: Lapito House 
Picture this: you're shacked up in your private villa, overlooking Victor Harbor and Granite Island. You've got a glass of Fleurieu red in hand as you warm your feet by the open indoor fireplace. With 200 acres of rural property to call your own, you'll feel miles away from anyone else. Breathe in… breathe out.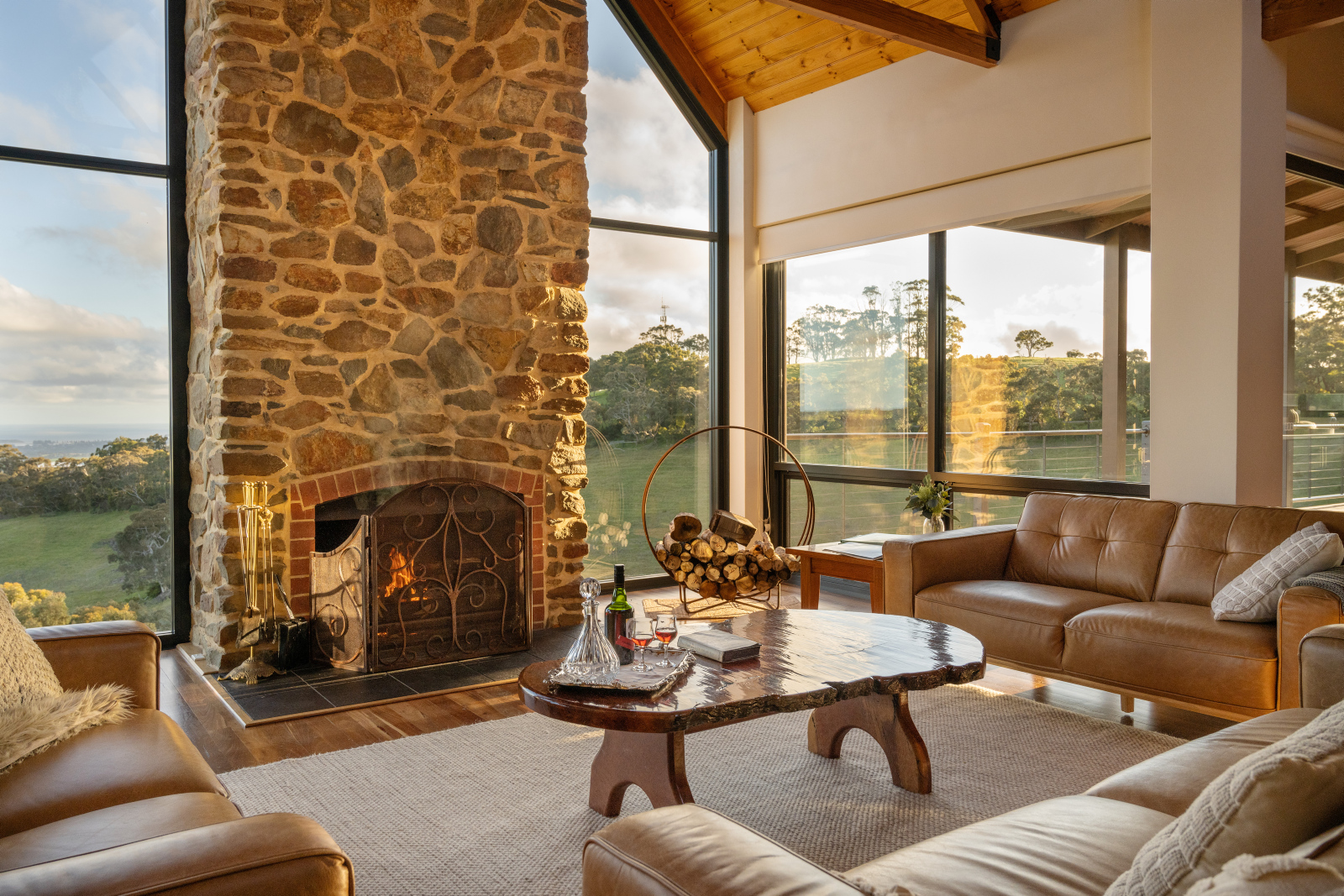 Image Credit :: Old Coach Road Estate
Are you someone who craves the water? Even in the cooler months, this absolute waterfront accommodation will do the trick! Listen out for native birds on your own private deck as the water laps up, or just watch the boats sail past. And when you need to get toasty, you'll be just as happy to be sitting inside soaking in the local artwork and maritime features. Feast on a gourmet brekky basket, sip premium local wines or get out and enjoy everything nature has to offer, with fishing and cycling on the agenda, too.
Image Credit :: Boathouse at Birks Harbour 
For our foodies
There's no doubt about it — the Fleurieu Peninsula is beautiful all year-round. But if you want to time your trip to when the region is really celebrating, head along to the Fleurieu Food Festival in August.
This month-long event has something for everyone, from fine dining in vineyards and olive groves, to farm tours and cooking classes. Whether you're a local or a visitor to the region, the Fleurieu Food Festival promises to be a memorable event for food lovers and adventurers alike. Anything that celebrates food has our tick of approval!