By Simone Mundy
Adelaide is full of comedians so support your locals this Adelaide Fringe and All Year Round! One of my favourite things to do at work this time of year is find the Fringe guide and circle comedy shows I think my friends will enjoy. As an Adelady writer my workplace is now the whole of Adelaide – so you all get my recommendations! I've made it too easy for you to support your home grown & heaps good comedians this year at Adelaide Fringe with an A-Z list!
Amos Gill – Netflix and Gill
Before you heard him on Hit 107, Amos was smashing stand up sets on the Adelaide Comedy scene. After impressing crowds as a finalist in the national RAW Comedy competition, Amos earned a slew of Best Newcomer and Emerging comedy awards at the Adelaide Fringe Festival and Melbourne Comedy Festivals. Not afraid to share the worst, his unashamedly honest stories make Amos Gill a must see act.
Big Al – Blue Flanelette Tour or hosting Fringe of the Fringe.
Big Al doesn't even need to set foot on stage to make me laugh; he can do it from the audience. It's impossible to hear his laugh and not join in – it's truly unforgettable. You can hear Big Al on Fresh FM early Saturday mornings; catch him at the Blue Flanelette Tour or hosting Fringe of the Fringe.
Ben has the rare talent of making you forget you are watching comedy show. His warmth and clever humour makes him a pleasure to watch each year. You get to sit down, relax and laugh with him, at him and feel good after for doing so – check him out at the Store.
Fabian Clark – The Walking Dreads
I love watching Fabien on stage because he's a superb storyteller with delivery to match. I've seen him perform for years but he always brings something new. He always manages to surprise me and make me snort when I least expect it. Catch him in 'The Walking Dreads' at Producers.
Georgie Carroll – Gauze and Affect
Returning home to Adelaide with a best comedy nomination from Fringeworld in Perth, Georgie Carroll is one Adelady not to miss. I like my comedy a little bit (a lot) naughty and I can count on Georgie to take her stories somewhere unexpected. For cuttingly funny stories delivered with Georgie's cheeky bedside manner, book tickets to Gauze and Affect to see why she's been selling out all festivals here and abroad!
Gerry Masi aka Mad Dog Malcolm – Song and Pants Man
Now there are comics that sing – and comics that CAN sing. Mad Dog Malcolm looks surprisingly like the lead singer from Lucifers Lounge, and you may have heard him at Shake Your Booty in a Disco Explosion! – but if you haven't heard him crooning as Mad Dog Malcolm, Kings Cross street-fighter turned cabaret artiste, you haven't lived! 'Song and Pants Man' is a uniquely Australian story in song, dance and punch-ups that'll have you cackling.
Ivan Aristeguieta – Ivan Aristeguieta's Chorizo Sizzle
A successful comedian in his native Venezuela, this comic decided to move to Adelaide, learn English and make us laugh in his second language. He's had to start working his way to the top all over in a new country speaking a new language, but his original and hilarious observations on Australia are "divertido!" I love chorizo and chuckles, so I can't wait to check this legend out.
Jason Pestell – Break the Internet
I can always count on Pestell over the years for some of the best fringe posters you see plastered around Adelaide during Fringe. He has a quick wit and if something is trending, he's one of the first comedians to nail the funny in it. He isn't afraid to bare his soul and share moments in his life that'll either break or melt your heart.
Kel Balnaves – Don't Shirk the Issue
One of the stand out stars of 'Wolf Creek: The Musical', which won Best Emerging Comedy 2013. Demi Lardner rates him as one of the best hours of stand-up she has ever seen. Kel is a clever storyteller with a few writing awards under his belt too. He skilfully balances familiarity with the unexpected to keep you laughing long after the show has ended.
Lori Bell aka Granny Flaps – Granny's Gala
Lori Bell AKA Granny Flaps has been amusing and horrifying audiences across Adelaide with her loose lips. When Granny gets out her ukulele it's a chance to hear her thoughts on life, love and sex that could only be created by a life time of misbehaving. She'll be hosting 'Granny's Gala' – a late night show with guests at Producers most Fridays and Saturdays during Fringe. Go see her work the crowd and find out why she's a won the Hyland People's Choice Award for Adelaide Comedy over and over.
Matt Gilbertson – Hans & Willsy: Twins
Two of Adelaide's most fabulous Sex Symbols team up with "More lycra than Batman and Robin, more drive than Thelma and Louise and more hairspray than Bert and Patti". If that stellar quote doesn't get you there, then nothing I say will. 
Marc Ryan – Return of The Beautiful Bogan
If you like your comedians like I like my men – bearded, lovable and funny, then you'll enjoy Marc Ryan. Better yet, if you can't come to the comedians, Marc Ryan is one of the acts who'll take his show all over SA, from Salisbury to Victor. He may look rough around the edges but his comedy is warm and polished, so go check that Beautiful Bogan out.
Michael Bowley – Incomplet and host of Open Mic Comedy
Charming and friendly, Bowley will disarm you and have you laughing in no time. Perfect first date comedy – as he moves through his observations on life you can gauge your date's reactions to his topics and decide whether to see them again. I'll let you in on a secret; if they don't laugh they are rubbish in bed and most probably dead inside. You can catch Bowley this year at his show 'Incomplet' or hosting One Mic Stand.
Mickey D – Cheeky Clean and host of PhatCave
No secret Mickey D is one of my favourite comedians, but I'm not alone. Travelling and living abroad for over ten years he has always returned home to Adelaide with swag of awards under his belt. A belt that is getting looser- he's not the same chubby hard drinker he was when he started. These days he is a hard, ultra-marathon running man with a family – hence the title of his 'Cheeky Clean' show this year. I've been laughing at Mick for half my life and he never fails to deliver with new material. Be sure to add him to your 'must see' list.
Various – Next Gen
There's some great up and coming comics to check out this Fringe including Emily Grace Krog, Danielle Shafik, Ben Harvey, Duncan Turner, Josh Warrior, Liam Stapleton, Vaughan Henderson, Lewis Garnham and National Raw Comedy Finalist Nicholas Huntley (who gives me a raging "heart-on"). To preview the SA stars of tomorrow before they crack the big time, book tickets to Adelaide Comedy's Next Generation show.
Nick O'Connell – Nick O'Connell is Sorry
Nick O'Connell is the "apple juice drinking Justin Bieber of Adelaide" according to Chris Franklin. Likeable and easy going, Nick entertains with a surplus of stories from his life. After touring in showcases and joint shows, he's finally presenting his debut solo Fringe show, 'Nick O'Connell is Sorry'. Go and see him, you won't be sorry.
Patrick Carl – My Parents are Murderers
Fear and self-loathing in Adelaide: Patrick isn't scared of the dark… material that other comics avoid, including why the Elephant Man never got laid – even though he had a GREAT personality! His storytelling is smooth and sincere with a likable delivery, so take your cheeky and cynical mates to give them a laugh.
Sophie Miller and Alicia Norton – Sophie and Alicia are Hard to Get Rid Of
I'm really looking forward to catching my fellow Adelady writers show 'Sophie and Alicia are hard to get rid of'. If you're like me and have a gaping hole in your life that can only be filled with other people's dating horror stories, then thank goodness for Sophie Miller and Alicia Norton. I've been married since before Tinder, so I can't wait to catch these two Adelaidies baring their souls, bad habits and their encounters with so many Mr Wrongs.
Some of the funniest people in Melbourne are from Adelaide
Angus Hodge – Guy Alone      
If you have a dark sense of humour then Angus Hodge will appeal to you with his slightly deadpan delivery and stories about scrotums, or 'Scrotal Recall' to be precise. He's young but started his comedy career from an early age – and although he's now based in Melbourne, Angus returns regularly to the Adelaide Comedy scene with a sack-full of jokes.
Demi Lardner – Life Mechanic
Demi hasn't been in the game that long but has already amassed an enviable stack of awards and has the international itinerary of a seasoned comedian. Part of the prize for winning the National Raw Comedy Competition is a trip to Edinburgh Fringe to compete in the international So You Think You're Funny competition. In 2013 Demi became the third Australian to take out both titles – when I said "enviable stack of awards", I wasn't exaggerating. I love her sick, surreal mind. She's Adelaide's gifted "gateway girl" of comedy.
Hannah Gadsby – Dogmatic
Ok, so I know some super-fans will say "but she's from Tasmania… and she doesn't live here", but Hannah is an adopted Adelaidean in the 'Crowded House are Australian not New Zealanders' sense. Hannah spent plenty of years in Adelaide on the local comedy scene honing her craft before the rest of the world got to love her. Since winning the national Raw Comedy competition in 2006, her comedy career has had her touring extensively, as well as TV spots on ABC favourites 'Adam Hills Tonight' and 'Please Like Me'. Her Instagram feed with Ruby Rose had me cackling all last year and it was a treat to see her 3 part art series 'Hannah Gadbsy's Oz'. Do yourself a favour and see her show 'Dogmatic'.
Jon Bennet – Aussie Rules Footy
Jon Bennet is unlike any other storyteller, which is why he's one of my absolute favourite comics in the world. His very personal and occasionally dark stories will have you switch between crying from heartache to laughter. It's a gift, and he's the most wonderfully unassuming comic. I'm not even sure he knows how amazing he is. Full Disclosure * He is in your guide but he isn't actually here this year, a last minute tour to South America stole him away. Remember the name though – when he returns you should make sure you get to an Adelaide Comedy night to see him.
Justin Hamilton – Hoot
Justin 'Hammo' Hamilton has been a Fringe regular since the 90's and there's a reason he keeps selling out shows and winning awards. His writing is clever and unique and he isn't afraid to bare his soul and tell you what he really thinks. Perhaps attending high school in the western suburbs of Adelaide helped developed that boldness? If you like intelligent comedy that makes you think while you laugh, then I highly recommend getting to Hammo's new show 'Hoot'.
Mark Trenwith – Mr Snotbottom's DVD Launch Show
Mark Trenwith is a stand out character actor/comic from Adelaide. If you have kids you'll know his flatulent alias – Mr Snot Bottom. A festival favourite for years, he's had kids and parents all over the country chuckling so hard that farts slip out. Energetic, lovable and hilariously disgusting!
Sam Simmons – Not a People Person
One of the things I love most about Sam Simmons is that no matter how much comedy you see, or how impressed you are from the masses of good comics at Adelaide Fringe, Sam Simmons will always surprise you. I'd seen him for years before I realised he was from Adelaide and I'm glad he comes back to us. He's unlike any other comic I know and I've never left any of his shows with anything other than my mind boggled and my cheeks sore from laughing.
Adelaide Airport Frequent Flyers – Adopted Adelaideans
Honorable mentions: the people listed below might not be from Adelaide, or South Australia or even Australia for that matter, but these comedians don't wait until Fringe time to visit us. This list contains the frequent visitors who love Adelaide and support the Adelaide comedy scene when Frantic February and Mad March are over.
Eddie Ifft – Excess Baggage
Adelaide – it's his favourite city… in Adelaide. It's no secret to my comedy mates that the more wrong a joke is, the harder I'll laugh. In fact if someone walks out in disgust there is an equal chance that I just heard my joke of the night. Eddie has never disappointed me in over 10 years and I love that he's been coming Adelaide for most of those years.
Gordon Southern- Adelaide Hills Cop II
Gordon has been coming to Adelaide for over a decade, so often he's listed in the Adelaide Comedy Hall of Fame. He is a master of word play; he rocks a mini sampler like no other comedian and can banter with his audience for hours. Gordon is just as likely to make jokes with a fan at the bar as he is to make a crowded theatre shake with laughter. He's incredibly intelligent and he's also one of the loveliest, most approachable gentleman/international comics I know. That's a fun fact!
Greg Fleet – These Things Happen
It's a complex task to write a recommendation or summary of Greg Fleet in a few sentences. A comedy icon whose influence is felt amongst many Australian comics, Greg has had his own influences and demons hounding him for most of his career. Fleety is a regular visitor to Adelaide, he recently even spent a couple of months living here with the Adelaide Comedy crew while he wrote his memoirs. This years show is based on those memoirs, which I'm sure will include some dark tales, yet somehow Fleety never forgets to make us laugh before we get too swept up in his tragedy.
Damien Callinan – The Wine Bluffs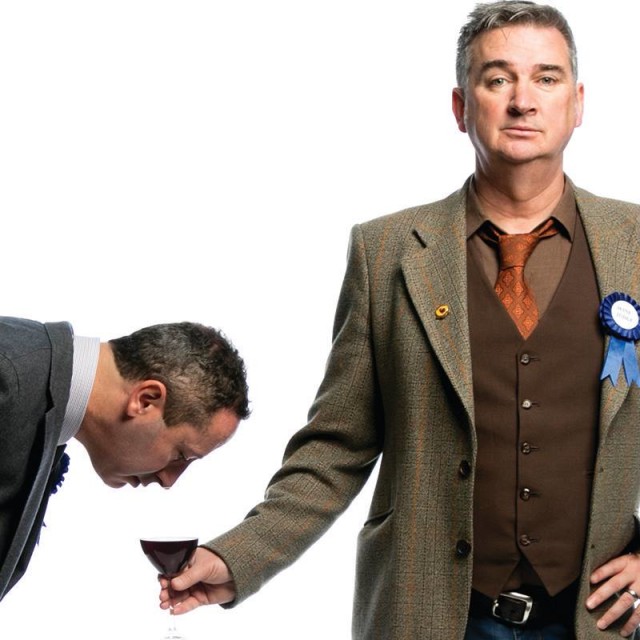 Up until a couple of years ago I actually thought Damien was originally from Adelaide. He comes through so often I thought he must be visiting family, but he's not, his local knowledge is due to a commitment to touring all over our state (and Australia). Damien is a man of many faces – sometimes twisted but always hilarious. He is comedian, writer and actor who is a pleasure to see every time.
Truth is, not only is he not from Adelaide; he's been based overseas for most of his comedy career. The distance has given him a unique perspective on Australia, politics, people and society in general. Steve doesn't hold back, his fearless delivery and incredibly intelligent material is unforgettable. He gives an hour of stand up that leaves you questioning, and laughing and then questioning yourself for laughing – which bit did you laugh at? I'd call him a comedy genius but he'd probably call me a wanker. Every person I've sent to one of his shows has thanked me for doing so – now you too can be one of those people. You're welcome.
Dave Callan – I promised Craig I'd do something
He comes for the Fruchocs but stays for the dancefloor at Rhino Room. Born in Ireland, Dave has lived in Perth and Melbourne but spends so much time on the Adelaide Comedy stage he's an Adelaide Comedy Hall of Famer. His comedy/dance routines have to be experienced live to be truly appreciated.
THAT WAS EPIC! I can't wait to catch our heaps-good & home-grown comedians this Fringe. Who are your favourites? Did I miss any of them? Tell me your picks so I can catch their shows too!
Make sure you have joined the Adelaide Comedy Mailing List for your "2 for the price of 1 Password" every week of the 2015 Adelaide Fringe. Click Here to join you'll get 2 Free tickets to an Adelaide Comedy Event when you do!
Simone x
:: Sponsored by Adelaide Comedy ::