If there's one thing about South Australia that no one, (and I mean NO ONE!) can deny, it's that we are utterly spoilt with the sensational wine regions we have on offer. Our wines are recognised around the world and our wineries visited by tourists from far and wide. How lucky are we to have this right on our doorstep?!
Taking a leisurely drive out of the city to do some wine tasting is something we probably take for granted as SA locals. Enjoying a cheese platter over a couple of vinos whilst taking in those panoramic vineyard views and fresh country air would have to be one of life's simple pleasures. Why don't we do it more often? 
I'll tell you one reason — KIDS! 
Image Credit :: Wirra Wirra Wines
If you have kids, (bless their cotton socks), that perfect scene I've just painted may seem a bit impractical in reality. Those scallywags of ours seem to have a way of pulling the handbrake on so called 'relaxing' activities with their busy little rapscallion ways! There's nothing worse than taking the kids somewhere that doesn't cater for youngsters, and slowly watching your expectations gurgle down the drain. Despite being in the vicinity of gallons of fermenting grapes, I can confirm that unfortunately there is NO amount of wine consumption capable of drowning out their 'wine-ing,' (pun intended).
Image Credit :: Fork in the Road Wines 
Well guess what, my devoted little cellar door-knockers? I'm here to assure you that visiting a winery CAN be a family friendly day out, IF you know where to go! There are so many wineries around South Australia that cater for children, whether it be with kid friendly menu options or with their outdoor spaces and activities. You'll find grassed areas for running off steam, outdoor lawn games, playgrounds, animals and activity packs, just to name a few. Some places even offer 'tasting paddles' for the kids that swap out merlot and cheese for choccy milk and marshmallows! Stop it!
I've gone all out and created an extensive list of family friendly wineries in every region across SA. Keep it up your sleeve so no matter where you are in our great state, you'll know which wineries will welcome you and your tribe with open arms AND open bottles! 
Fleurieu Peninsula
Down The Rabbit Hole Wines – McLaren Vale
Down The Rabbit Hole exudes such a wholesome family vibe, whilst still feeling like you're getting the full 'adult' winery experience. There's an outdoor play area for the kids and on certain nights they provide live music, which the youngsters love as much as the grown-ups! It's the ideal setting to lay out a picnic rug and sip the afternoon away in a literal aesthetic wonderland, all while the kids frolic happily around the grounds.
Image Credit :: Down The Rabbit Hole
Lazy Ballerina – Dingabledinga
Lazy Ballerina serves delicious wood oven pizzas to satisfy rumbling tummies and offers enchanting gardens to keep busy bodies entertained. Not only that, there's a cubby, a swinging rope and a range of games and toys that will amuse the kids for hours. The undercover area and clear marquees make this winery wet weather friendly as well — perfect for an arvo sipping on those warming winter reds!
Main & Cherry Wines – Chandlers Hill
The kids will love the lush lawns and outdoor games provided at Main & Cherry. There's also a kids menu and high chairs available to help make the experience enjoyable for all members of the family. 
Gemtree Wines – McLaren Flat
A playground and a couple of resident alpacas make this venue a hit for young and old. Also, the grassed hill is a roly-poly lovers dream! I double dare you to give it a go after a few pinots!
Woodstock Winery – Blewitt Springs
Not only does this winery offer a kids menu, it also boasts its own little animal farm AND a playground. Say no more!
Wirra Wirra – McLaren Vale
At Wirra Wirra, there's a large lawned area, a playground and some toys and games provided for the kids. They also provide child friendly food options on the menu.
Coriole Vineyards – McLaren Vale
Sprawling lawns and spectacular views make this winery the perfect setting to lay out a picnic rug and soak up some Vitamin W. (W stands for 'wine' of course).
Image Credit :: Coriole Vineyards 
Fork In The Road Wines – McLaren Vale
Kid friendly touches will have you instantly feeling welcome here. Designated play areas, toys and an abundance of space to explore will set you and your minis up for a win-win afternoon.
Fox Creek – McLaren Vale
These guys really turn it on for the young ones by hosting a variety of kid friendly activities and events throughout the year such as school holiday workshops, scavenger hunts, lawn games and an outdoor cinema. There's often live music and an atmosphere to boot!
Beach Road Wines – McLaren Vale
The kids' menu here has a deal which includes a pizza, a drink, a gelati and an activity pack for $20. The grounds and views are stunning and there's also plenty of space undercover if the weather isn't playing nice.
Kimbolton Wines – Langhorne Creek
The kids will feel a part of the experience here with their very own tasting flights on offer! There's either a savoury or sweet flight to choose from and both come with an activity pack and bubbles (don't worry — the ones you blow, not the alcoholic kind)!
Image Credit :: Kimbolton Wines 
Barossa Valley
Kies Family Wines – Lyndoch
These guys put their fun and friendly atmosphere at high importance and it shows. The kids will feel super welcome and the cafe also caters for their taste buds.
Whistler Wines – Stone Well
With a cubby house, outdoor play equipment and picturesque surroundings to explore, Whistler Wines ticks all the boxes for a family friendly day out. They also offer a $10 kids pack which includes cheese and crackers, dip, sultanas, a fruit bar, a lollipop and a juice.
Turkey Flat – Tanunda
This charming winery welcomes children and provides outdoor games to amuse them while their parents sip their way through the cellar door's offerings.
Charles Melton Wines – Krondorf
A beautiful lawned area and outdoor games for the kids will make for your visit here a pleasure. If you're lucky, the resident dogs and cats will also come and welcome you!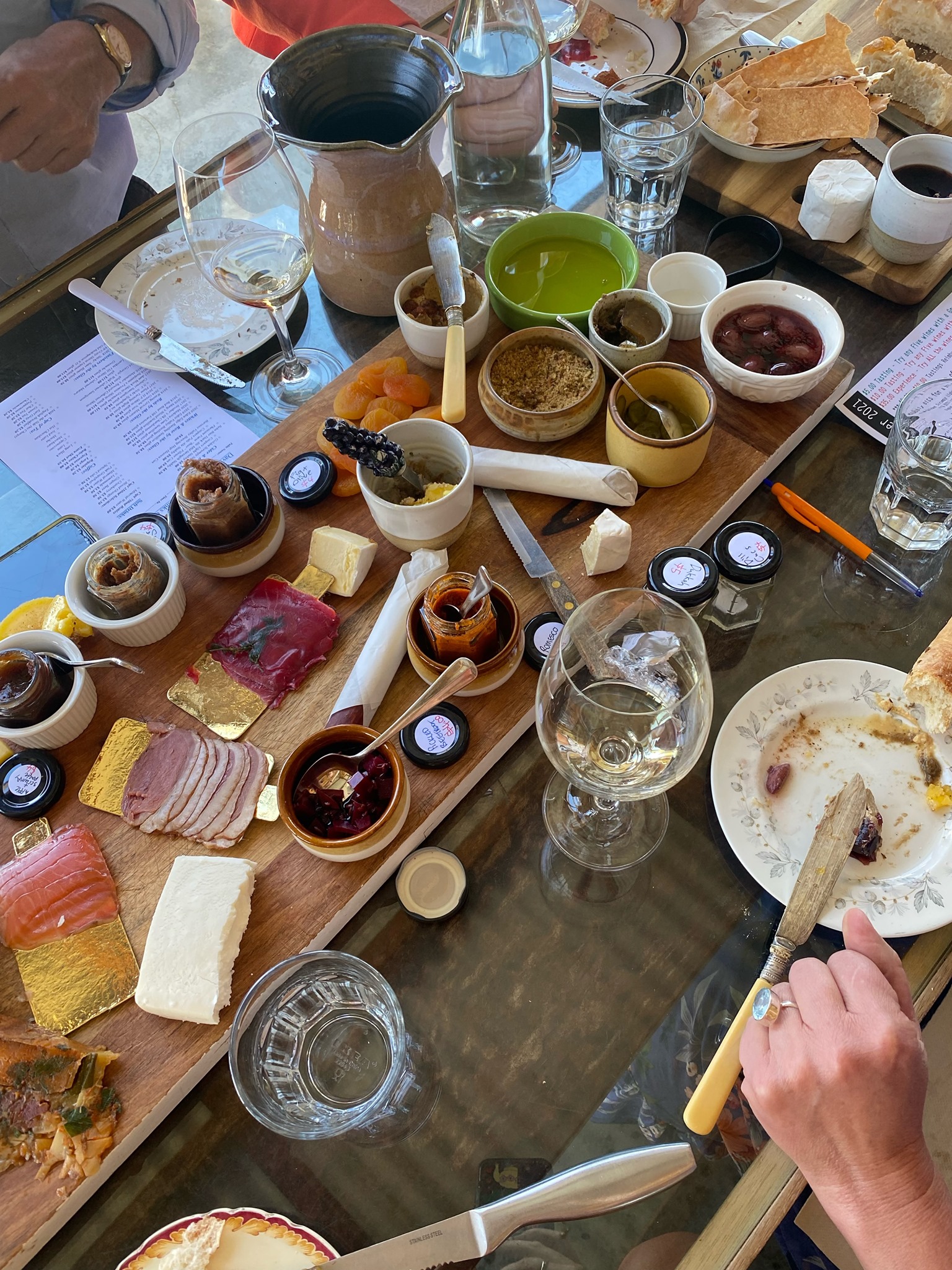 Image Credit :: Charles Melton Wines 
Pindarie – Gomersal
Lunch packs for the kids are offered on the menu here and there's also some lawn to run around on, a cubby, a sandpit and a giant haystack.
Z Wine – Tanunda
The tots won't be left out here with their kid friendly tasting plates. Including both food and drink, they're an absolute hit with the young ones. They also have a kids corner with some cool retro toys to tinker with.
Kellermeister – Lyndoch
There's plenty of lawn for the kids to run free here and even some outdoor games. There's no dedicated kids menu but you are welcome to bring your own food for the hungry little grommets.
Calabria Family Wines – Vine Vale
This family friendly venue provides garden games and the kids can even have a hit of cricket while the adults indulge in a tasting paddle of wines.
Image Credit :: Calabria Family Wines 
Barossa Valley Estate Winery & Cellar Door – Marananga
If for no other reason (other than a cheeky vino), take the kids here for a stroll through the gardens. They are truly spectacular and change with the seasons, giving you the excuse to go back at least every 3 months!
Kalleske Wines – Greenock 
This winery has a family friendly grassed area with complimentary picnic rugs and outdoor games.
Adelaide Hills
Barristers Block – Woodside
This is one of SA's most popular family friendly wineries for good reason. An abundance of outdoor space is surrounded by lush gardens and a designated play area for the kids including swings, a sandpit and a slide.
Image Credit :: Barristers Block 
ArtWine – Woodside
Lush lawns and plenty of outdoor games for the kids always screams 'kid friendly.' You'll find both at ArtWine!
Howard Vineyard – Nairne
Plenty of lawn and picturesque gardens will allow the kids to run free and explore. The kids' menu will satisfy their appetites when they finally reappear!
Lot 100 – Nairne
Another winery with space to explore, lawn games provided and a menu that the kids will be excited about.
Image Credit :: Lot 100
Golding Wines – Lobethal
Golding offers a spacious outdoor area for restless little legs and kid friendly menu options. You'll also regularly be treated to live music to add to the good vibes. Get those kids up and bopping!
Sidewood Estate – Hahndorf
Just a short drive up the freeway and you're in for a lovely day for the whole family. The kids will run off to play on the nature inspired playground and only return to choose something from the kids menu, which offers all the much loved favourites.
Nepenthe – Balhannah
Another winery offering a large lawned area and outdoor games to amuse the kids. They also have kids' packs for $12 which include some crayons and activities, local dried apples and a juice box. And for the little ones still in nappies — a change table is soon to be installed.
Longview Vineyard – Macclesfield
A stunning setting for a day out. There's plenty of lawn for the kids to frolic on but they'll often gravitate to the giant peppercorn tree and play under it for hours. The cellar door has drawing packs for the kids and although there's no set kids menu, the kitchen can often accommodate by making a kid friendly pasta.
Image Credit :: Now and Then Photography 
Clare Valley
O'Leary Walker Winery – Leasingham
The kids' menu at O'Leary Walker includes a house made 'hidden vegetable pasta' so you can smugly sip on your wine knowing you're getting your 'grapes' while the kids are getting their greens! Speaking of green — the kids will love the expanse of lawn here.
Skillogalee Wines – Sevenhill
The historic stone settlers cottage sets the perfect backdrop for an afternoon at Skillogalee. With beautiful gardens to explore and a designated kids menu, this one's a must if you're in the Clare area. 
Mr Mick Cellar Door and Kitchen – Clare 
These guys have quite the kids menu on offer and drawing utensils for them to use. The outdoor space is absolutely stunning and lawn games are provided to keep the little humans happy while you sit back and relax. From November, they'll host 'On The Green at Mr. Mick' which features chilled outdoor sessions of live music and great wines hosted on their luscious green lawns. Kids are welcome and these happy summer arvo vibes have everyone smiling!
Image Credit :: Mr Mick Cellar Door and Kitchen 
Riverland
Mallee Estate Wines – Renmark
The kids will love doing their own 'juice tasting' here while you make your way through the 'real' stuff. They also have a kids menu and a giant game of Jenga outside.
Banrock Station Wine and Wetland Centre – Kingston on Murray
These guys know how to keep the kids happy with their very own tasting experience of flavoured milk, juice, marshmallows, freckles and pretzels (which can be swapped out for fruit if you prefer)! There's also a wetlands walk where the kids are given an activity sheet and the challenge of spotting strategically placed metal animals as they go. What fun!
Image Credit :: Banrock Station 
Yorke Peninsula
Barley Stacks Wines – Yorke Valley
Very much welcoming of the whole family (including dogs), Barley Stacks Wines provides a kids' corner with toys and also a cricket set for their lawned area. They serve pizzas and cheese platters daily and when the weather warms up, the kids can cool off with the ice blocks on offer. Sounds like a dream day for all!
Kangaroo Island
Dudley Wines – Penneshaw
At Dudley Wines there's a nature play area to entertain the kids and plenty of lawn to run their little legs around while you enjoy the most spectacular views you'll ever see. The perfect setting for a few vinos!
False Cape Wines – Dudley East 
This place is so family friendly I wrote a whole article about it! There's a designated basketball area where the kids (and adults) can shoot hoops, a fenced off area with some resident farm animals, a cubby house, a sandpit and a general vibe of 'everyone's welcome!' It's a must for anyone visiting KI.