:: 4 Wilton Ave, Somerton Park
:: 8.00am – 2.30pm, Monday to Saturday
::  WEBSITE  ::  FACEBOOK  ::  INSTAGRAM  ::
Gorgeous plants. Delicious coffee. Sweet kicks. It's the perfect recipe for a good day and you can find it all in one sweet spot — Good Day in Somerton Park.
For owners, Ben and Amy Stephan, a quality coffee can be the turning point in a day. With their surf clothing wholesale agency on site, the Stephans grew tired of trekking to Glenelg or Brighton for good coffee and decided to fill the gap in this busy industrial hub. Serving up locally roasted beans, the husband and wife duo have combined their individual passions to add the twist of selling gorgeous greenery and top-notch kicks.
The vibe 
A quick turn off Brighton Road onto Wilton Ave and it's hard to miss the lush greenery and casual hang-out at No. 4. Step inside and you're instantly welcomed by friendly staff, chilled beats and plenty of treats for the eyes, ears and tastebuds. The fit-out is a combo of polished concrete and plenty of timber, all crafted by Ben and perfectly decorated by Amy.
There's free Wi-Fi if you need a relaxed office vibe and you'll be well looked after by the down to earth staff who are just as passionate about Good Day as the owners.
With four beautiful kids themselves, the Stephans effortlessly cater for little peeps, school mums, local businesses and even four-legged friends. Parking is easy, there are tables and chalk for the kids and even free babychinos on offer.
What's on the menu
Exceptional coffee from locally roasted Kommon Grounds beans makes Good Day worth a stop for your caffeine fix. Or sip on an array of soul-soothing T Bar teas to ease into your morning. Simple and fresh is the name of the nosh game — toasted flatbreads, toasties and muesli, all made daily, as well raw treats if you're feeling peckish. And sample their all-natural ice blocks from Pure Pops that are sure to be a big hit without a sugar rush for the littlies.
Flora galora
Amy loves how indoor plants can transform a home, making rooms light up and lifting your mood. It's a small luxury that she thinks everyone should be able to have, so she keeps the prices genuinely affordable.
With plants lining the walls, benchtops and hanging from the ceiling, it's easy to find your perfect green addition. Stocked with miniature lemon trees, Zanzibars, Elephant Ears, Cacti, Fiddle Leaf, White Bird of Paradise, Chain of Hearts and Devil's Ivy, there's a plant for everyone that's sure to be easy-care, low maintenance and on trend.
There are stacks of stylish pots and the gang will help you match them with ease. Amy and Ben are also passionate about supporting other local businesses, stocking beautiful ES Ceramics cups, handmade by a couple in McLaren Vale.
Sneaky retail therapy
Amy's love for plants is firmly matched by Ben's sneaker fetish. A real point of difference —you can peruse the latest from brands including Vans, Converse and New Balance, as well as pick up Saltwater Sandals for yourself or the kiddos while you sip your hot cup of joe.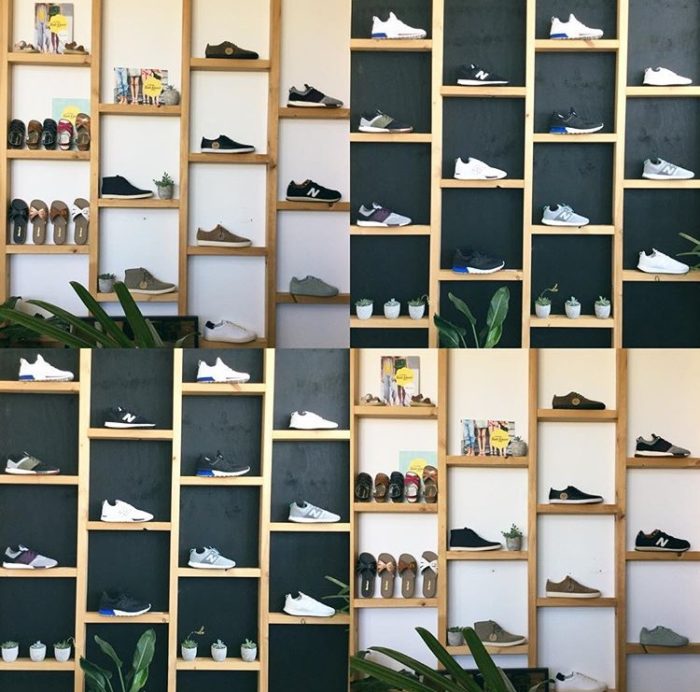 Big picture 
In less than a year, Good Day has spread its wings, decking out local businesses with indoor plants and even recently held a catered night for local council.
There are all kinds of wonderful in this neat little establishment. If you need a great coffee with a splash of nature and kicks that make you walk on cloud nine, pop past and say hi. The crew have truly nailed the perfect recipe for simple things that can really make your day.
Em xx