Let us take you "down South". Not in a rude kind of way — in a "let's show you the best of the South Coast", kind of way.
Here's our South Coast Itinerary. Everything we did on the show is right here and waiting for you to discover for yourselves.
Enjoy!
Luxury Boomer Beach Accommodation
Welcome to my dream beach house. You'll find it at 15 Boomer Drive, in Port Elliot.
Three levels broken up by ultra-modern wooden ramps — yeah stairs are out guys! Ramps are in. An enormous kitchen with a table big enough to seat all your favourite people and a view to die for – this place puts the lux in luxury!
Not 1 or 2 or 3 or 4 but 5 bedrooms, all with ensuites – plus an extra bathroom upstairs! You can stay here with 4 other couples and basically not have to see them the entire stay — it's that enormous!
And for those thinking "I'd never afford that" it's actually far more reasonable that you'd think! It's $950* a night and obviously you'd stay with up to 4 other couples who all pitch in equally. So, it works out to be far cheaper than you'd expect.
To book head over HERE.
Waverley Estate Estate + Cellar Door
Tucked away behind a vineyard, around an olive grove and up a long white, stone driveway, you'll find a hidden gem like nothing else in SA. Welcome to Waverley Estate.
No, this 19th century castle-style retreat isn't in the middle of Tuscany as it may look. It's a 2-minute drive out of Port Elliot and it's a WONDERLAND. It's famous for weddings and big events. The giant grass tennis court is often converted into a stunning marquee with lavish long tables and flowers galore. The court looks over the pool with a beautiful entertaining area. And it's all fenced off — thank GOD!
Even though you might feel like you're in your own little world while you're there, it is important to know that at the end of the driveway there's a Cellar Door that's cute as a button! So if you want a wine, or a bite to eat, meander about 150 metres to their divine Cellar Door.
Thunderbird
Say hello to the coolest kid on the (Port Elliot) block — Thunderbird!
A tapas-style wine bar and restaurant is exactly what The Strand needed and this new addition has just made Port Elliot a little bit cooler!
If you have a love affair with fresh seafood and delicious vegetarian food, Thunderbird will have you drooling for more. Next time you're in Port Elliot, stop in for a wine and stay for the beetroot salad!
Authenticity Health and Wellness Retreat
So it turns out we don't need to travel to Byron Bay for an Eat, Pray, Love-style retreat. There's one right around the corner in Port Elliot, and it's absolutely FABULOUS!
Built over 150 years ago, this mansion – although has had a lot of restorations – has been left to it's original state. With old-timey furniture, stunning pockets of garden, a beautiful Tuscan-style pool and incense for days, Authenticity is a world away from home.
You can do what we did (visit for the day) and try your hand at Yoga, get a full body relaxation massage, enjoy a heavenly facial and then sit in the garden and enjoy an almond milk latte and cake! Or, you can do what others have done before us — and stay for 3 months! It's completely up to you!
Other things you can do while you're in Port Elliot and Victor…
Living By Design
We blame our obsession with homewares on one of Adelaide's most beautiful boutiques — Living By Design. You'd know them from their Kensington Road store or even Balhanna, but what you might not know is that they're biggest shop is in the heart of Victor Harbour, in the Victor Shopping Centre.
"Living By Design offers a modern take on classic ranges for your home, creating a timeless feel, with styles stretching from rural life to city dwelling."
Their homewares and fashion are everything we want in life, lols!
Check out the Living By Design and their flagship store, Coast By Design HERE.
Oceanic Victor
Victor's fun new baby has arrived — Oceanic Victor! Perfect for adventure seekers and those wanting to experience life beneath the waves.
You take a quick trip on a luxurious catamaran to the Oceanic Victor in-sea aquarium, just off Granite Island! You'll be decked out in a warm wetsuit with mask, booties and gloves, and then into the water to swim with the Southern Bluefin Tuna!
But getting wet isn't for everyone, "If you don't want to get wet, you may still feed our Tuna or venture below the surface in our glass-sided underwater viewing area."
To enquire and to book, head to their website, HERE.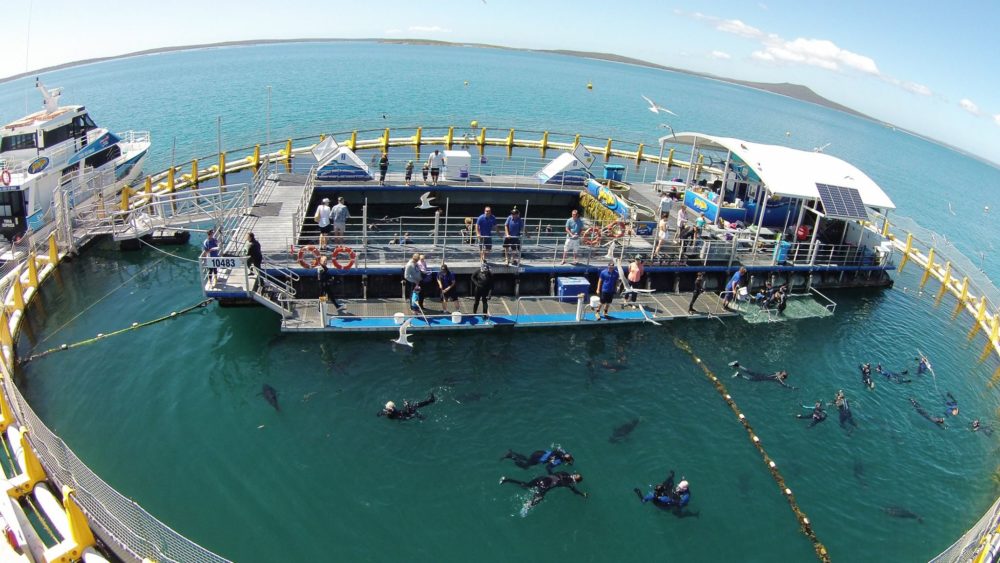 Hayley xx