There are holiday homes, and then there is Atlantis in Port Elliot. It's the holiday home of all holiday homes, located only a 2 minute walk from the famous family-friendly Horseshoe Bay! 200 metres away, to be exact. To put it in perspective, Usain Bolt could run from the house to the beach in 19.9 seconds! It's also just around the corner from The Strand, the main drag in Port Elliot — which if you haven't been in a while, is now full of coffee shops, cafes, a wine-bar and funky boutiques.
There's a reason my family keeps going back time and time again to Atlantis… and it's not just about the location. Here's a list of all my fave features…
+ It's so luxurious! Split over two levels with two separate TV rooms (any parent will understand what a luxury this is), it even has a home theatre set-up in the garage, complete with a ping pong table and a toy box on request.
+ You'll enjoy the light, spacious and large open plan living and dining area with polished concrete floors and a kitchen fit for a Queen. Everything has been thought of so you'll be equipped with high quality appliances, stone bench tops and every utensil and appliance you'll ever need. Not that you'll be doing much cooking when you're surrounded by great cafes and restaurants! (Side-note: check out our list of 7 of the best Coastal Eats).
+ The inside dining table seats 8 people and there's extra bar stools at the brekky bar, if needed.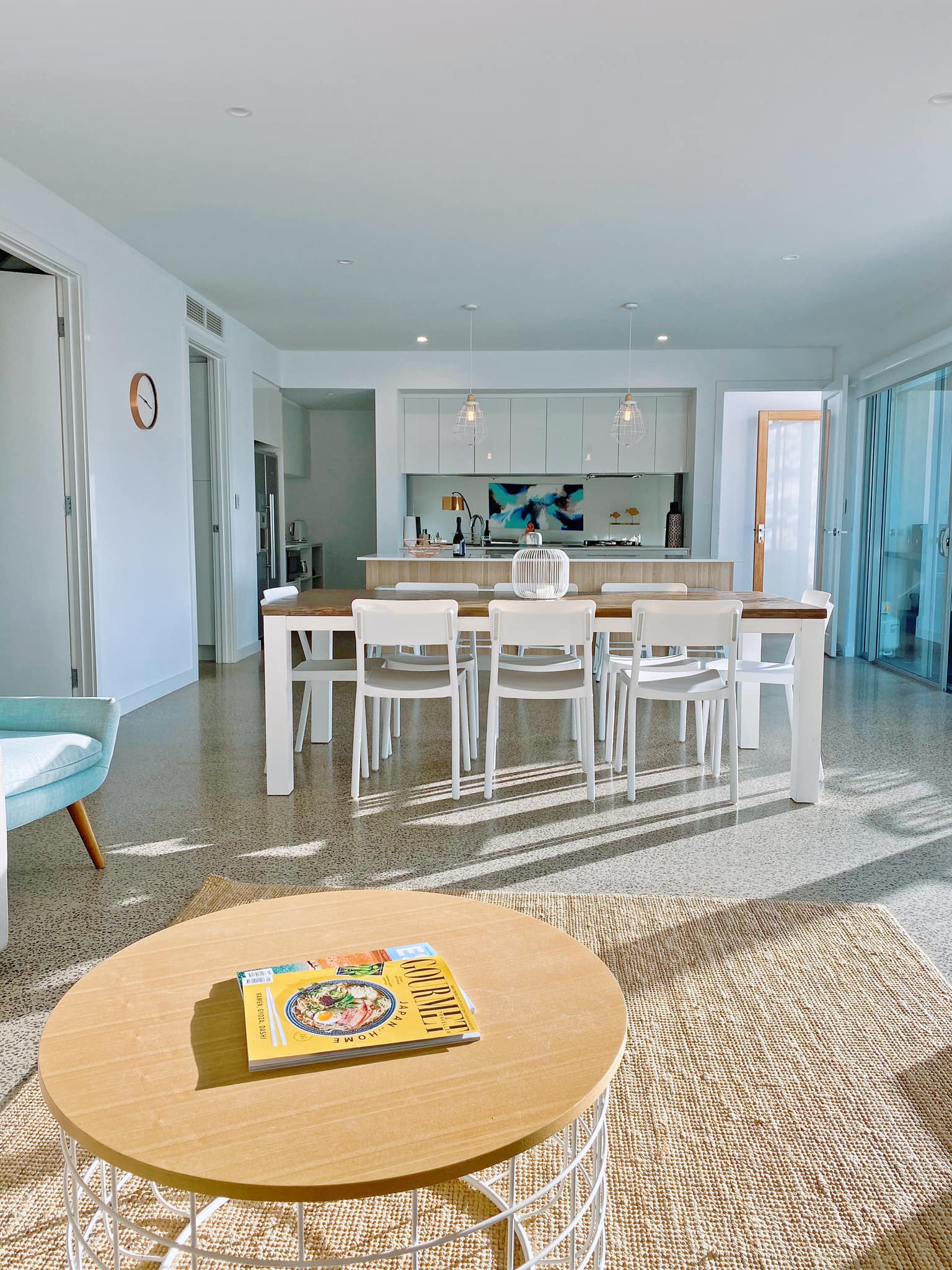 + You can curl up on their upstairs and downstairs comfy lounges and chairs and kick back with the LCD TV and DVD player. Or, do what I do, and sun yourself on the  balcony upstairs and watch the world go by, while enjoying a coffee. Yes they have a coffee machine.
+ Bring the outside in with their lovely courtyard and semi-covered decking area. The outside table seats ten people and they even have a BBQ — so all you need to bring is the meat!
+ There are four bedrooms to pick from, three with comfy Queen beds and a kids' room with 2 bunk beds. I mean, if you're a family of four, and you need a break from each other, you could each have your own room! In fact, I might try this next time!
+ The property is perfect for all seasons, with fully ducted reverse cycle heating and cooling! The heating is top notch by the way, believe me, I've tested it! This is what I love about Port Elliot, it's beautiful at any time of year — including winter.
It would be cruel of me to keep this place a secret, so I hope you enjoy Atlantis as much as my family and I do.
You can book here!