By Hayley Pearson + Lauren DeCesare
Adelaide, you saucy minx. We love living in you and we're so proud to share you with our interstate friends when they come to visit. With your rolling vineyards, super trendy new bars, stupidly-delicious food and beyond beautiful beaches, there are so many things we want to do with you while we're young enough to enjoy them. So we made a list.
Adelaide's BUCKET LIST: 100 things do in SA before you die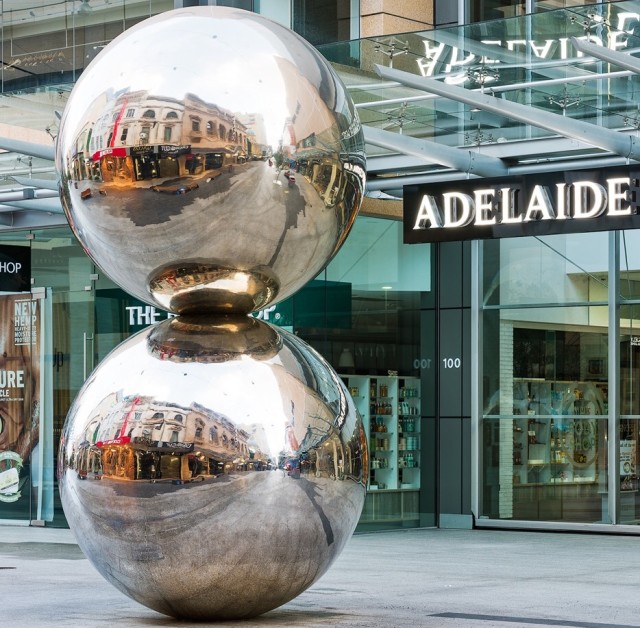 Image credit: @waynepearsonsnaps
1. Ride on the Cockle Train. If you have kids, pretend it's the Polar Express and you're on your way to the North Pole.
2. Have a coffee and pasta at Lucia's, Adelaide Central Market.
3. Go to the Garden of Unearthly Delights and see a $5 show. The best $5 you'll ever spend!
4. Hire a beach house with your girlfriends at Normanville, Port Elliot, Goolwa, Middleton, Victor Harbor or Yankalilla and eat cheese and drink wine all weekend. Living. The. Dream.
5. Climb the dangly trees along Plain Tree Drive, next to the Botanic Gardens. Doesn't matter how old you are, just climb them – it's fun.
6. Visit Woodside Cheese Factory and eat some (or a whole wheel) of cheese.
7. Go on a walking dumpling tour in the city with Feast on Foot.
8. Walk through the old Adelaide Gaol. And do a ghost tour, if you're game?
9. Do the City-Bay Fun Run and raise money for charity. There's nothing 'fun' about it, but you'll feel like a hero when you cross the finish line.
10. Eat a vanilla slice from the Port Elliot Bakery. It's worth every calorie.
11. Climb Mount Lofty and when you get to the top, take a selfie to prove that you did it.
12. Jump off the jetty at Port Noarlunga. If you're too scared (or too old), get someone to push you. (Only in the safe areas.)
13. Watch the sunrise over Horseshoe Bay — with sand in-between your toes.
14. Go to Maslins Beach. Just so you can say you went to a nude beach.
15. Have a beer and a German sausage at The German Arms in Hahndorf. If you don't do sausage, then "go to India" at The Mustard Seed, on the main street. Make sure you order the Thali Plate — your taste buds will adore you!
16. Go to the Whispering Wall in Barossa and whisper a rude word to your partner (then giggle like school girls).
17. Climb to the top of The Bluff at Encounter Bay and try not to get bowled over by the wind.
18. Go and see a local comedy show at Rhino Room. It's an institution.
19. In winter, stay overnight with your lover at Mt Lofty House.
20. Walk through the gardens at Carrick Hill and pretend you're in the cast of Downton Abbey.
21. Go on a wine tour in the Barossa or McLaren Vale, and fall asleep on the bus ride home. It's the only way.
22. Eat fish and chips at Henley Beach on a hot summer's night. Swim as the sun is going down.
23. Bring a picnic rug and a candle and sit along the Torrens for the annual Xmas carols. Don't do this by yourself or you'll look like a weirdo.
24. Have Devonshire tea at Utopia, Waterfall Gully.
25. Get a mini bus and go to the Oakbank Easter Races – bring a BBQ and stay ALL DAY.
26. Go and see a ballet at the Festival Theatre. Even if you don't like ballet, just go for the experience.
27. Go to a Showdown at Adelaide Oval and walk over the bridge BEFORE the game. Not after (if your team loses.)
28. Go to Stirling in Autumn. Have lunch at The Organic Cafe, a drink at The Stirling Hotel and dessert at Patch Kitchen and Garden.
29. Do a tour at the FruChocs factory, un-wrap a chocolate and pretend you're Charlie Bucket.
30. Swim with the dolphins at Glenelg. Yes, there are dolphins at Glenelg.
31. Eat your way through the Adelaide Central Market. A M A Z I N G !
32. Eat endless amounts of Japanese at Wasai, just off Gouger Street.
33. Go up the river. Stay at a friend's shack and jet-ski on the Murray.
34. Go to Warrawong Sanctuary and do a night tour. Don't tell me they closed it down – I refuse to believe it!
35. Walk the Heyson Trail starting at Petrel Cove, Victor Harbor. The views are spectacular.
36. Score a role in the Credit Union Christmas Pageant. It's the most exhilarating feeling you'll ever have!
37. Go strawberry picking at Beerenberg and eat as you go. Sorry Beerenberg, but we can't help it.
38. Go to Greenhills Adventure Park. Go on everything – even though it's no longer open.
39. Get a baked potato at the Royal Adelaide Show. For some reason, they taste better there.
40. Hire a bike and ride around the Torrens.
41. Ying Chow. Go there and order the Peking Duck.
42. Buy an apple pie (or crumble) from the pop-up apple store on Onkaparinga Road, Woodside.
43. Kiss your lover in your car at Windy Point look-out.
44. Walk through the Botanic Gardens in Spring — city AND Mount Lofty.
45. Experience Monarto Zoo.
46. Go for a ride on Popeye.
47. Ride the waterslides at The BeacHouse. They're even better than they were when we were kids!
48. Eat a large Pizza Rev after a big night at Red Square.
49. Go snorkelling at Port Noarlunga reef.
50. Go camping in Wilpena Pound, Flinders Ranges. The stars — oh my gosh, the STARS!
51. Take your kids to Saint Kilda playground. Go on the flying fox yourself.
52. Eat fish and chips under the jetty at Grange.
53. Go on a camel ride at Victor Harbor.
54. Have a picnic and do an Easter egg hunt in Kuitpo Forest.
55. Go to the Gepps Cross Drive-In and watch a movie.
56. Get a bunch of friends and head to the karaoke bars along Gouger Street – drunk.
57. Read Storm Boy and then go to the Coorong to find Mister Percival.
58. Body surf at Boomer Beach (and try and keep your bikini top on).
59. Go to Belair National Park, play tennis and have a BBQ.
60. Hold a koala at Cleland Conservation Park and pose for a photo, like you're a tourist.
61. Go dancing at Mars Bar.
62. Have a special dinner at Andre's Cucina and rave about the food for weeks.
63. Go to Clare. Have lunch and visit Martindale Hall, where Picnic at Hanging Rock was filmed.
64. Eat and drink your way through Adelaide's laneway bars. Hit up the Peel/Leigh Street district.
65. Wander the galleries on North Terrace. Take your kids to the Museum and the Art Gallery – they're FREE!
66. Get a day pass for Next Generation and work out with the rich and famous of Adelaide. (And by "work out", we mean grab a drink in the bar and sunbake by the outdoor pool.)
67. Go window shopping at Tiffany's. If you're single, create a story that you're looking for your engagement ring. They'll let you try on all the big rocks.
68. Have a $2.95 breakfast at IKEA. You spend nothing on breakfast and $500 on cushions, vases and candles. You win IKEA; you win.
69. Work your way through the cocktail menu at The Collins Bar in the Hilton. You can people-watch at the window overlooking Victoria Square.
70. Sit in the Japanese gardens on South Terrace and ponder life.
71. Head to Kangaroo Island and walk amongst Australian Sea-lions at Seal Bay.
72. Take a selfie with Wang Wang and Funi at the Adelaide Zoo.
73. At Christmas time, take the kids to see the Lobethal lights.
74. Have a gin and tonic at the Howling Owl, on a weekday and call it a "work meeting."
75. Dance in the crowd at WOMADelaide.
76. Enjoy the music and fireworks under the stars at the ASO's Symphony Under the Stars.
77. Have 10 cinnamon doughnuts at the Royal Show, followed by a Dagwood Dog. Then, go on the rides and try not to feel sick.
78. Run your way around the Torrens on a beautiful spring day.
79. Stay with your lover in the city and catch the tram to Glenelg. Live like a tourist for a weekend!
80. Go to Port Lincoln and experience the best seafood in the world. It doesn't get any fresher.
81. Stroll the Farmers' Markets at the Showgrounds, grab a hot coffee and listen to the live music.
82. Have a cocktail at 2KW and take photos of the AMAZING view.
83. Have a meal and a glass of red (or two) at Penfolds Magill Estate Restaurant. For serious bonus points, try the Penfolds Grange!
84. Take the ferry to Kangaroo Island. You'll see some of the best beaches in the world!
85. Go to the Tour Down Under's, Hyde Park Street Party.
86. In Autumn, stay at a Bed and Breakfast in Hahndorf.
87. Have a drink on the balcony of the Richmond Hotel in Rundle Mall and people-watch.
88. Drive to Port Willunga and have a meal at The Star Of Greece.
89. Play blackjack at the Casino in the wee hours of a Sunday morning.
90. In Summer, spend an entire day at Glenelg. Swim, eat, shop and walk around in thongs and bathers, with sand in your hair — all day.
91. Have a picnic and feed the ducks in Rymill Park.
92. Listen to live music at the Gov.
93. Sit in Saint Peter's Cathedral and admire.
94. Go to Victoria Square and sample the food trucks. All of them!
95. Try stand-up paddle boarding at Brighton – it's SO much fun!
96. Take a creative photo with the Mall's Balls.
97. Walk right around Morialta Falls. (Avoid doing this in thongs.)
98. Sail out of the Marina at Glenelg and admire the rich people's boats.
99. Have waffles AND ice cream at St Louis House of Fine Ice Cream and Dessert on Gouger Street.
100. Do a Sunday market tour. Start at Flinders Street Market; head to Gillies Street Market; end up at The Market Shed on Holland and have a wood oven pizza.
How many have you done already? 
Hayley and Lauren xx