By Emkho
As the weather heats up in Adelaide we start thinking about all of the gorgeous ways we can celebrate the arrival of our beautiful balmy evenings. A fantastic way to relax and enjoy this time of year is to get your friends and family together by hosting your own cinema in the garden.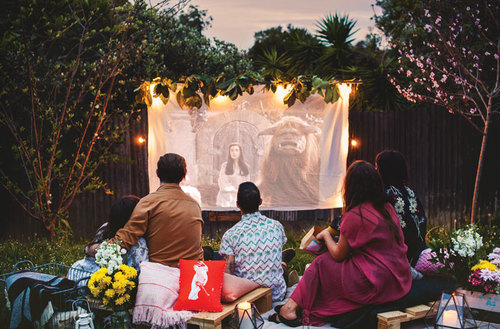 Image credit: homestyle.co.nz/
Step 1

 :: The fundamentals

The first step is to decide how you are going to watch your movie – you'll need to get your hands on a projector and speakers… Beg, borrow or hire! You will also need a screen, which can be made quite simply. Hang a plain, white sheet from a tree or off the clothesline. And if you're lucky to have a plain white wall, project directly onto that.
Image credit: kinfolk.com
Step 2

:: Comfort is key

Think about where your guests are going to sit – could you use blankets and floor cushions? Bean bags are nice and comfy, you could utilise your outdoor furniture or even bring your couches outside! Make sure you have plenty of rugs and cushions to ensure that everyone is comfy and warm once the sun goes down. If you don't have enough yourself, why not ask your guests to BYO. Remember to supply your guests with plenty of bug spray too!
Image credit: Billy Law 
Step 3

:: Movies are an excuse to eat and drink, right?

Snacks are always a big part of watching a movie – you can go simple with nice big bowls of popcorn or you can go all out and select food and drinks to match your movie; Bond? Martini's and retro finger food. If you're watching Grease you could serve cheeseburgers and milkshakes!  Or you could make things a little easier for yourself and set up a "make your own icecream sundae" bar.   What about watching Home Alone and ordering a stack of pizzas? Or go crazy with guacamole dip, green cordial and green jelly shooters while watching Aliens!
Image credit: homestyle.co.nz/
Step 4

:: Make it look AH-mazing!

It's really nice to add decorative elements to your party. A great idea is to print or purchase the movie's poster and display this as guests enter or make your own "Now Showing…." movie sign! You can use nice paper bags to serve popcorn in, find some cool paper cups for your drinks, and fun printed straws, which can also add to the look of your party. Lighting can be an effective and practical decorative solution also. Some festoon lighting strung up can look really effective, bring outside some cool lamps or light some nice big candles – just keep them in a contained vase so they don't blow out or cause a hazard.
Step 5

:: Sit back, relax and enjoy!

When hosting your party, the most important thing is to be organised. The more that you can set up and pre-make, the more you will be able to actually enjoy your time with your guests. Enjoy!

 Emkho xx
Image credit: designlovefest.com