Well girls, we're in the thick of Spring Racing Season and spring has only just begun. If you think race days are fun, you haven't seen anything until you've been to the Gawler Cup — it's country racing at it's finest! And the fashion — well, there's a kaleidoscope of colour combinations that you'll fall in love with.
Our Spring Racing Adelady, the lovely Melissa Barnes, creator of Adorn Collection, is sharing her tips on (not horses) but how to wear hats and head pieces the right way. Once you've got that sorted, get ready for September 27 — the Gawler Cup.
Hayley xx
By Melissa Barnes
Spring Racing Millinery Tips + How to Wear The Perfect Hat
Autumn and winter has seen the return of the brimmed hat. Think royals and statement pieces that influence the amazing millinery, Philip Treacy.
Image credit: Philip Treacy
Brimmed hats stand out in a Fashions on the Field line up because they have classic lines and radiate with elegance from a bygone era. They are also comfortable to wear and don't date.
Image credit : Melissa Barnes 
Image credit : Melissa Barnes 
Crowns in metallic tones, veiled headbands, visors and casual headwear are definitely still on trend. Like this piece, part of my Adorn Collection:
Last spring we saw many variations of cat ears, which I'm personally not a fan of for the races, but the variety of designs that milliners are creating in the 'headband' category are endless. They also offer a more affordable option for those not wanting to splurge on millinery. Think Kate Waterhouse  and Jodi Gordon.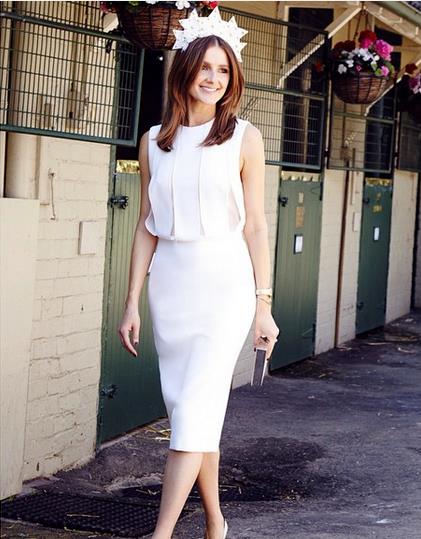 Image credit: Kate Waterhouse
Image credit: Jodi Gordon
Image credit : Melissa Barnes 
I encourage anyone who is unsure if they have their piece on correctly to double check with their milliner. Wearing your piece a little more to the left or further down on your forehead can make all the difference to the overall look of your outfit. Millinery has been designed to sit in a certain way, especially if you are entering Fashions on the Field competitions.
Here are some examples of how to secure a perched piece:
The variety of hats available means that there is no one way to wear them. Make sure you try them on and see what suits you and your style. Modern perched pieces are designed to sit approximately 1cm above they eyebrow line, while button or pillboxes look best tilted towards to one side and sitting over the hairline. The larger hats look great tilted towards the front and slightly to the side. It's my personal preference that hair is worn up so the millinery will be the stand out feature.
Here are some hairstyle examples:
If you're looking for some inspiration, why not join me at the Milliners' Showcase at Morphettville on Saturday October 10th. Ten SA milliners will be displaying their wares and would be happy to chat about custom made pieces. The Emirates Melbourne Cup will also be on show and there's a full day of racing action. What a great day!
Your next chance to enter Fashions on the Field and win the ultimate Asian holiday and a $3,000 shopping and private styling session with BNKR, is at The Gawler Cup.
Happy Spring Racing!  Until next time,
Melissa xx
Melissa Barnes is a mum, school teacher and the owner and creator of Adorn Collection; Bespoke millinery creations for racing enthusiasts and lovers of fashion. Melissa was the Fashion at The Races finalist in 2013-14 and also 2014-15,  Runner Up SA state finalist for Myer Fashions on the Field in 2014 and Darwin Cup Fashions on the Field winner in 2012. Melissa's millinery creations will be worn by Channel Seven's Amelia Mulcahy, during her role as fashion ambassador for the 2015-16 season of Fashion at the Races. Her unique pieces have been seen on local SA A-listers during the Adelaide Racing Carnival and are worn by Fashions on the Field enthusiasts Australia wide. She creates a variety of ready to wear milliner pieces which are available from her Facebook or home studio in Glenelg. 
:: Sponsored ::