By Jess from Dressed in Copper
If you're a sucker for this SA choccy icon then you are going to LOVE this rocky road. Full of Fruchocs, lollies, nuts and marshmallows, it's a chunky and sweet delight.
This recipe can also be easily modified – just take out what you don't like and add something else. Pretzels, salted peanuts, raspberry lollies – the list goes on.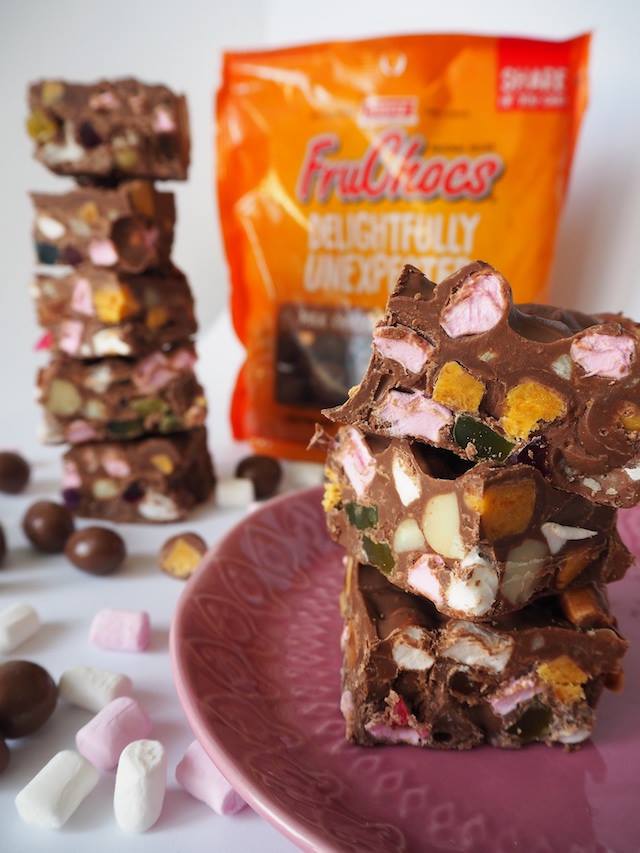 Ingredients 
1 packet of 350g Fruchocs
2 packets of 225g Cadbury Dairy Milk Melts
2 handfuls of mini marshmallows
1 bag of Allens Snakes
1/2 cup of either macadamia nuts or peanuts
Method
Chop up the snakes into bite sized pieces. Cut half of the bag of Fruchocs in half.
In a bowl, combine the snakes, marshmallows, nuts and Fruchocs.
Place a glass bowl over a simmering pot of water (so that the water is NOT touching the base of the bowl) and then melt the chocolate in the bowl over a low heat until it is melted.
Once melted, stir the chocolate into the lolly mixture, and stir gently so all the lollies are coated.
Pour the mixture into a small baking dish lined with baking paper (I used a square cake tin which made the Rocky Road approximately 1cm high).
Place dish in the fridge for a few hours to set.
Cut into squares and ENJOY!
Jess x